Throughout the year we present a range of exhibitions, featuring painting, drawing, photography, illustration, multimedia, ceramics, and printmaking. You'll find inspiration from emerging and established local, Indigenous and international artists, and we'll always try to surprise you.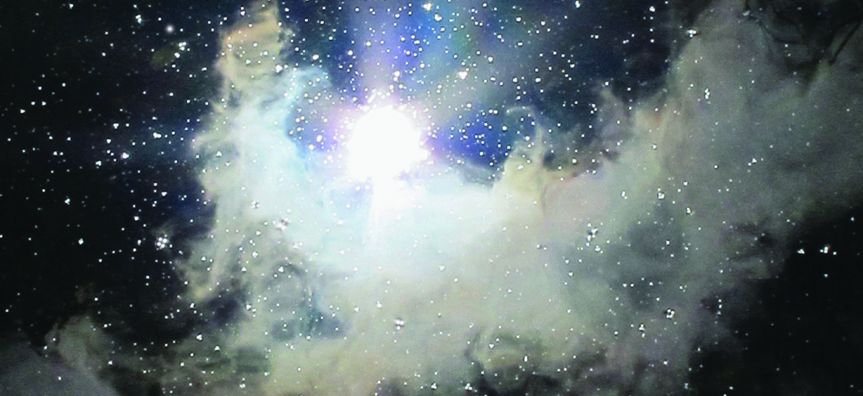 Simone Douglas: MAG&M Art Wall
29 August 2022 - 12 February 2023
Northern Beaches-born, New York-based artist Simone Douglas took over MAG&M's façade for spring with her water and skyscapes, large-scale durational photos that evoke processes of elemental change.
The luminosity of the night sky and the physicality of the water connect us with the immensity and intensity of our fragile existence on a small blue ball shimmering in the deep. Made in 'slow time', each image was formed over a period of months using light drawings and alchemical processes, encapsulating a year of skies, tides, and storm waves. The artist gently resists photography's historical emphasis upon capturing a moment. Here, photography's task is instead directed towards capturing the magnitude of time.
Simone Douglas spent the previous few years in dialogue with light as a medium. Having returned from New York when the COVID-19 pandemic first hit in March 2020, the Australian-born artist lived a semi-nocturnal existence, spending long nights teaching her New York-based students at Parsons School of Design via Zoom.
Watching the nightly journey of the moon across the sky became a familiar sight to the artist. By day, Douglas immersed herself in Sydney's coastal waters, and skirting its edges, she has alchemically conjured up a series of images that mark the time and land in which she finds herself. For Douglas, the ocean, harbour, and water are connective forces that hold our collective history. Here, making sense of the local landscape and waterways through different lenses and readings has, on one level, also become a metaphor for making sense of the world.
This iterative lived experience is evident in her latest series of otherworldly works that slowly developed into a series of carefully nurtured apparitions through periods of pandemic lockdown. Consequently, each work is implicitly reflective of this profoundly collective contemporary experience. We get the feeling that time slowed, the world subtly tilted on its axis, and we see things as we have never quite seen before.
With thanks to Simone Douglas and Rhianna Melhem, Curator, Artereal Gallery whose texts are woven together through this statement.
The artist acknowledges the Saltwater People of the Northern Beaches area, including the Gayamaygal and Garigal people, on whose land this work was made.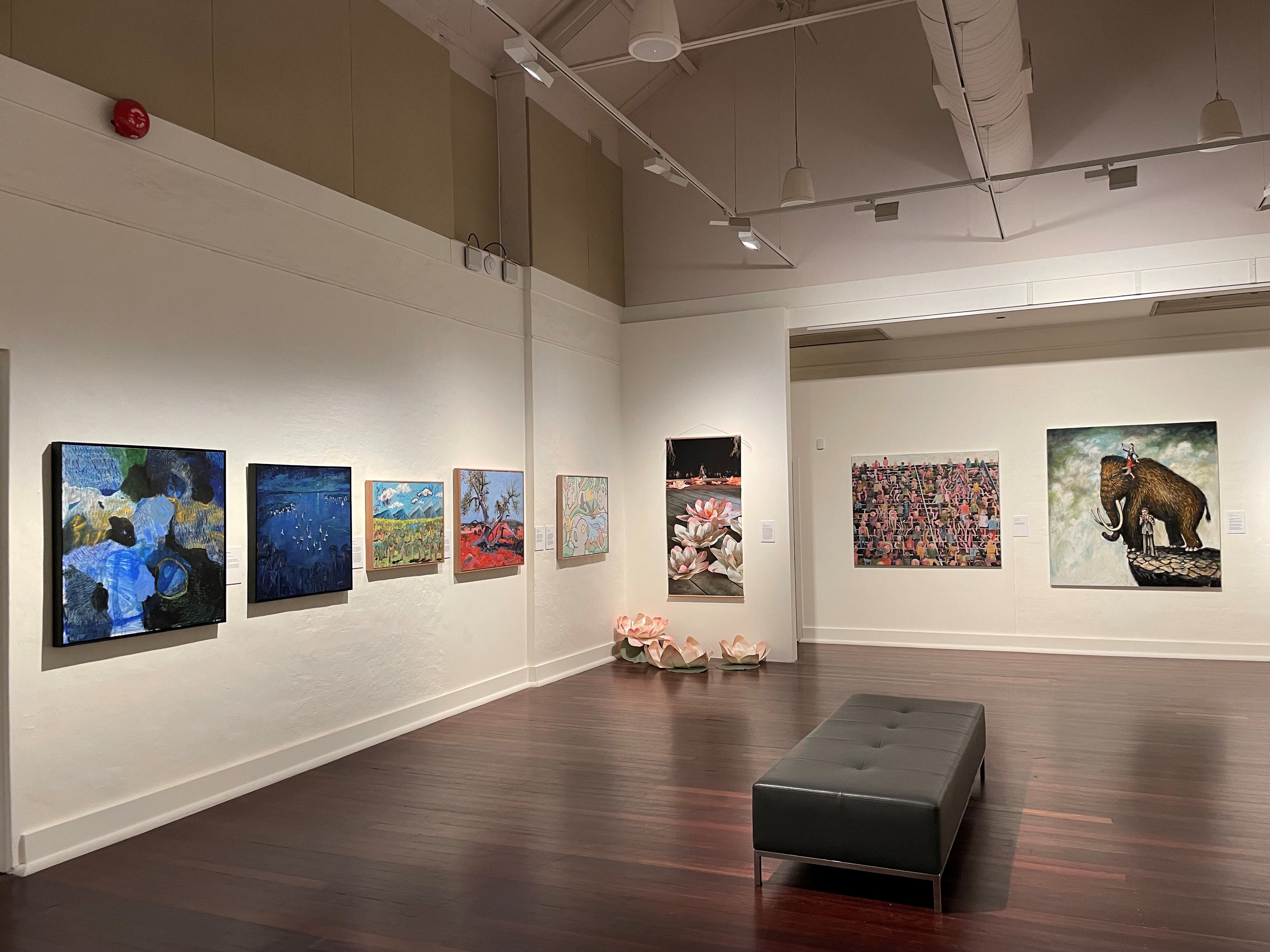 Environmental Art & Design Prize 2021
12 November 2021 - 12 December 2021
A cross-disciplinary exhibition of selected works by artists and designers across the country who are engaged with the natural world, environmental renewal, regeneration and the circular economy. In its inaugural year, the award celebrates contemporary art and design practices that are socially engaged, environmentally aware and that seek to contribute to positive change.

To The Edges: 60 Years of Sydney Printmakers
12 October - 7 November 2021
By considering the use of the printmaking media in innovative and unconventional ways, as well as co-opting new media in the development of their works, the artists of Sydney Printmakers have worked 'to the edges' physically and metaphorically pushing their materials, ideas and themselves to their limits.
Sydney Printmakers is the longest-running independent printmaking membership organisation in Australia. It continues to demonstrate its currency in the quality and diversity of the work its artists create, and in the collegiate way its members work to share ideas and resources, and to support each other. As a group, it is thriving - and celebrates its sixty year milestone with this especially curated exhibition.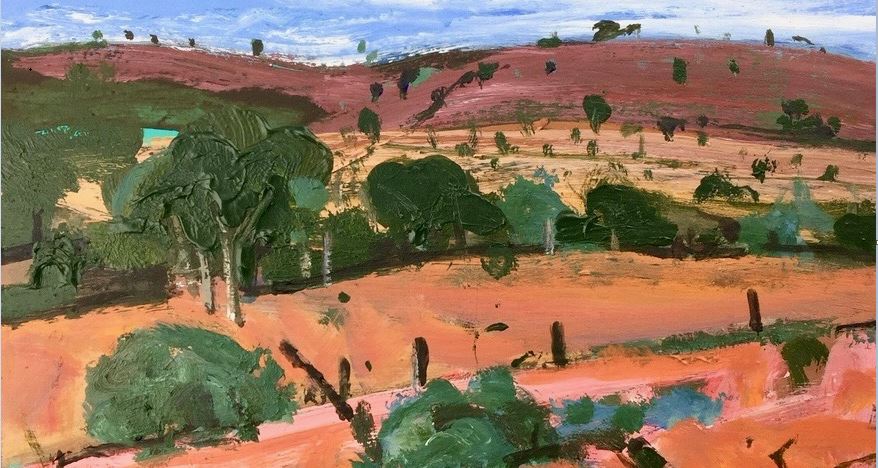 Peter Sharp: Accidental Tourist
12 October - 7 November 2021
Prominent Sydney artist Peter Sharp and MAG&M present forty 'plein air' paintings selected from Sharp's practice over the past thirty years. These works reflect the artist's travels around regional and remote Australia and have become part of his 'toolkit' for larger abstract works. Photographs of the painted view in situ illuminate the artist's process of capturing the essence of the landscapes with which he engages.
With subject locations as diverse as Fowlers Gap Broken Hill, Dog Fence near Tibooburra, Darling River Western NSW, Bay of Fires Tasmania, Royal National Park and Sydney's Northern Beaches, Sharp hones in on the textures, objects and colours that make give these places unique character, and explores the very notion of landscape.
Peter Sharp is Senior Lecturer, Art and Design, UNSW Sydney and is represented by Liverpool Street Gallery.

Ceramix
14 May - 20 June 2021
CERAMIX is an exhibition in which ceramic artists worked in collaboration with invited artists of their choice (working in other mediums), to create new works. By pairing ceramics with non-ceramics practices, CERAMIX explores the potential outcomes from cross-disciplinary collaboration and dialogue with a focus on experimentation. Moving beyond medium-specificity, it focuses on the open possibilities of clay as a starting point for making work.
A Manly Art Gallery & Museum and The Australian Ceramics Association partnership exhibition with guest curator Sophia Cai and featuring the following artists:
Glenn Barkley, Ceramics, NSW & Louise Meuwissen, Textiles, VIC
Canbora Bayraktar Ceramics, NSW & Yeliz Yorulmaz, Mixed Media, NSW
Claybia (Cassandra Chilton & Molly O'Shaughnessy), Ceramics, VIC & The Huxleys (Garrett Huxley & Will Huxley), Performance/Fashion, VIC
Alan Constable, Ceramics, VIC & Peter Atkins, Painting/Sculpture, VIC
Sam Gold, Ceramics, SA & Sarra Tzijan, Jewellery, SA
Varuni Kanagasundaram, Ceramics (TACA), VIC & Kate Beynon, Painting, NSW
Sassy Park, Ceramics, NSW & Mara Schwerdtfeger, Music/Composer, VIC
David Ray, Ceramics, VIC & Hannah Bertram, Installation, VIC
Sarah Rayner, Ceramics, QLD & Sophie Carnell, Jewellery/Silver, TAS
Simon Reece, Ceramics, NSW & Vicky Browne, Sound/Installation, NSW
Franz Schroedl, Ceramics, ACT & Shesha Reddy, Architect/Sculpture, ACT
Vipoo Srivilasa, Ceramics, VIC & Sai-Wai Foo, Mixed Media, VIC
Eloise White, Ceramics, ACT & Noel McKenna, Painting, NSW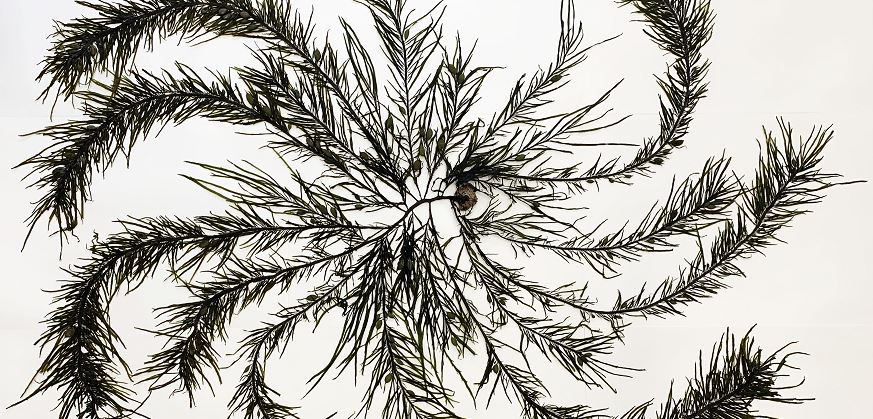 Seaweed Arboretum
10 April 2021 - 9 May 2021
Exploring the intersection of art and science, this unique exhibition celebrates the extraordinary world of our hidden underwater forests. 'Seaweed Arboretum', by artists Jennifer Turpin and Michaelie Crawford of Turpin Crawford Studio, is part of Manly's Seaweed Forests Festival, a unique collaboration between the artists and Sydney Institute of Marine Science (SIMS). The Festival's innovative program of talks, workshops and events will bring MAG&M to life.
This project is supported by SIMS and the NSW Government's My Community Project.
Artists Jennifer Turpin and Michaelie Crawford describe their practice as 'collaborations with nature'. Their work engages directly with material or energy of nature – plants, light, wind, water - to develop artworks that are responsive to the specific qualities or rhythms of their chosen medium. Their artworks are the manifestation, and continuation, of a dialogue between artists and aspects of nature. In Seaweed Arboretum, the dialogue is with seaweeds, their water memories, and light.
The three installations in Seaweed Arboretum – Forest, Flora and Float, provide a poetic and experiential 'habitat' for Manly's Seaweed Forest Festival. The exhibition has been developed especially for the Festival, and is the most recent project in a long-term collaboration between the artists and the Sydney Institute of Marine Science, as well as marine biologists from the University of Sydney and the University of NSW.
The investigative knowledge of science, and the poetic expression of art, are interwoven to immerse us in the wonder, value, and critical importance of the seaweed forests of the Great Southern Reef. We are encouraged to consider our inter-relationship to the life-sustaining and finely-balanced ecosystems of the incredible marine environment - just metres beyond the gallery door.
The Manly Seaweed Forests Festival is grateful to Australian Kelp Products for their generous donation of Bull Kelp used in Seaweed Arboretum - Forest.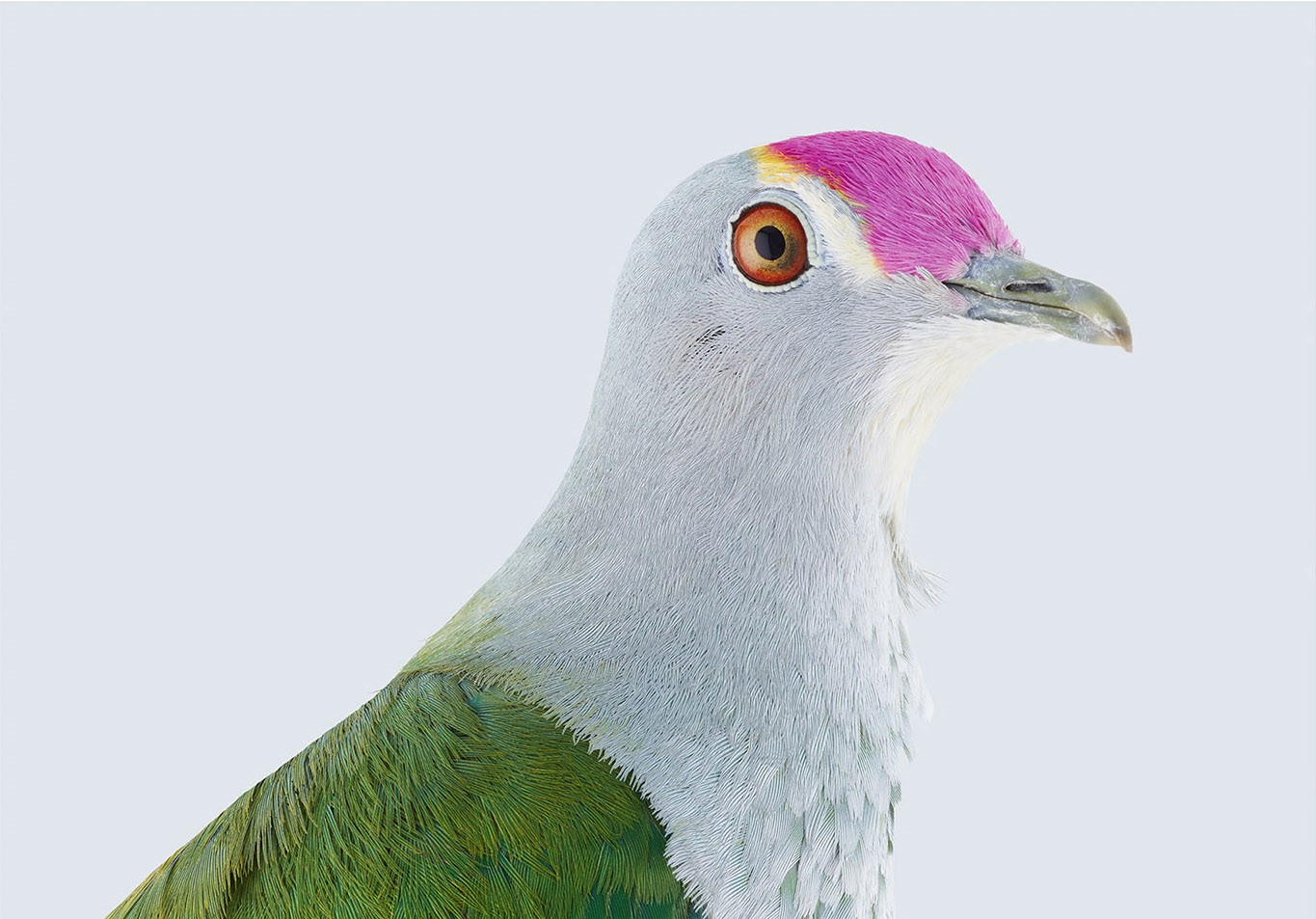 Leila Jeffreys: Birdland
3 April - 20 June 2021
An exhibition by acclaimed Australian contemporary artist Leila Jeffreys, uniquely curated for MAG&M. The artist is best known for visceral and mysterious images of birds that explore and subvert the traditions of portraiture. Her avian subjects are photographed at human scale with a startling attention to colour, line, form and composition. For Jeffreys, birds are both medium and message. Her practice opens windows into critical questions about the shared anthropomorphism that connects humans with animals, the sense of wildness that tugs at the fringes of everyday existence and the fleeting and precious connections that bind us to the natural world.
Increasingly, Jeffreys' work as an artist is inextricable from her concerns as an environmentalist. Working in the tradition of artist-activists, Jeffreys' arresting images are the result of years-long periods of research, exploration and investigation. The artist collaborates with conservationists, ornithologists and sanctuaries around the world to find her subjects before forging an intimate relationship with the birds that she photographs in her studio.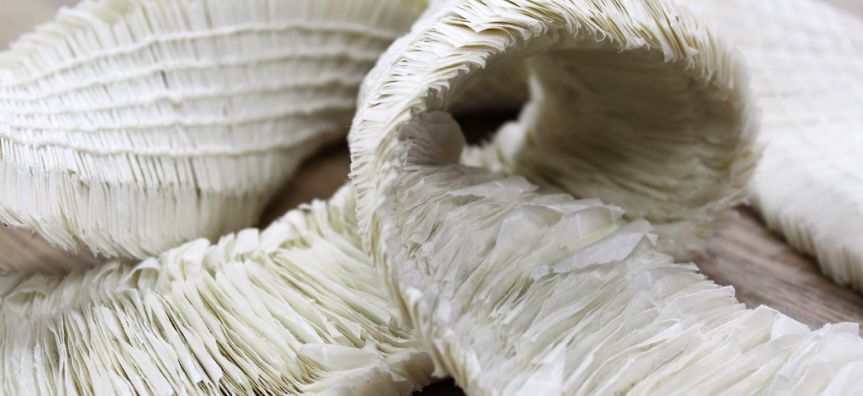 2021 Artists' Book Award Exhibition
19 February - 28 March 2021
In partnership with MAG&M, Northern Beaches Council Libraries hold an Artists' Book Award attracting entries from around the world.
From the exhibited selection of finalists, judges choose several books to be acquired and added to the Library's collection which is unique in our community and the only one of its kind in a NSW local government library collection.
Find out more about the Artists' Book Award.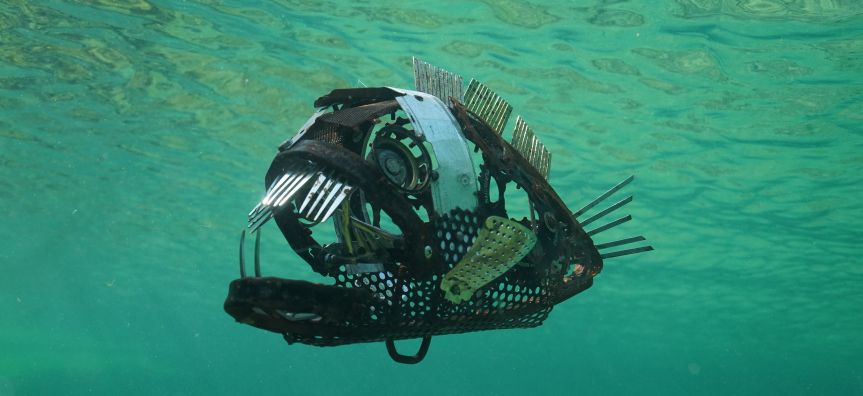 Express Yourself 2021
19 February - 28 March 2021
A significant annual curated exhibition of artworks by HSC Visual Arts students from the 20 high schools across Sydney's Northern Beaches. Represented are diverse bodies of work including multi-media, digital, sculpture and drawing.
In conjunction with Express Yourself, three awards are granted to students featured in the exhibition: Manly Art Gallery & Museum Society Youth Art Award and the Theo Batten Bequest Youth Art Award, awarded to a student continuing tertiary study in the arts, and KALOF People's Choice Award. Presented in partnership with Northern Beaches high schools and Northern Beaches Council Youth Services.