Throughout the year we present a range of exhibitions, featuring painting, drawing, photography, illustration, multimedia, ceramics, and printmaking. You'll find inspiration from emerging and established local, Indigenous and international artists, and we'll always try to surprise you.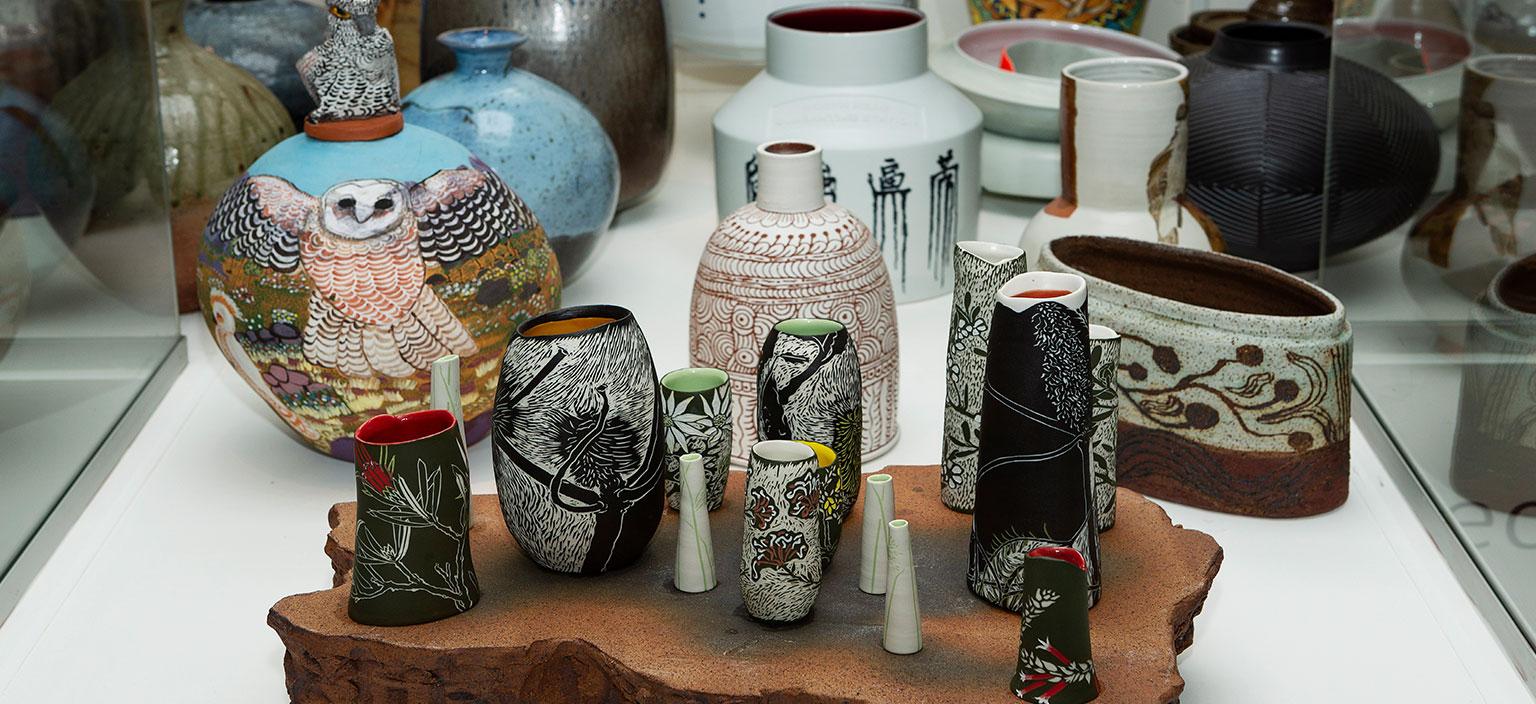 In the Storeroom - MAG&M's Ceramics Collection
1 Jan - 31 Dec 2019
One of Manly Art Gallery & Museum's (MAG&M) key collection focuses is ceramics and the collection currently comprises over 390 works dating back to the 1970s.
The ceramics storeroom has been opened to the public and filled the cabinets with as much of the collection as possible. Open all year!
You will see the collection which brings together a diverse range of functional vessels and sculptural pieces which represents more than 160 Australian artists.
This display includes:
Our most recent acquisitions of ceramic pieces by artists including Julie Bartholomew, Gudrun Klix, Simone Fraser and Willi Michalski.
Local ceramicists, including Peter Rushforth, Lex Dickson and Andrew Halford.
Significant pieces by Indigenous artists Ngayuku Walka Milyika, Rahel Ungwanaka, Rupert Jack and Danie Mellor, and an historical collection of ceramics from the Tiwi Islands.
Works by three influential Japanese ceramicists who worked in Australia are also on display; Shiga Shigeo, Mitsuo Shoji and Hiroe Swen. Two collaborative pieces are also on display, by printmaker/painter Belinda Fox and ceramicist Neville French, and painter Elisabeth Cummings and ceramicist Barbara Rommalis, exemplifying the impulse for artists to experiment across disciplines.
Thanks to the generosity of donors Roger Pietri, Theo Batten and Lady Askin who bequeathed funds for the development of this unique collection. The collection has also benefitted from pieces donated by private collectors such as Dorothy Juknaitis, Helen Robin and Penny Coleing. The years of research by Leslie and Janice Haynes into Indigenous pottery provides the collection with a special perspective.
MAG&M Society deserves special recognition for the many ceramic pieces it has purchased over the years to add to the scope of the collection.
Image caption: Manly Art Gallery & Museum ceramics gallery installation © the artists and Karen Watson Photography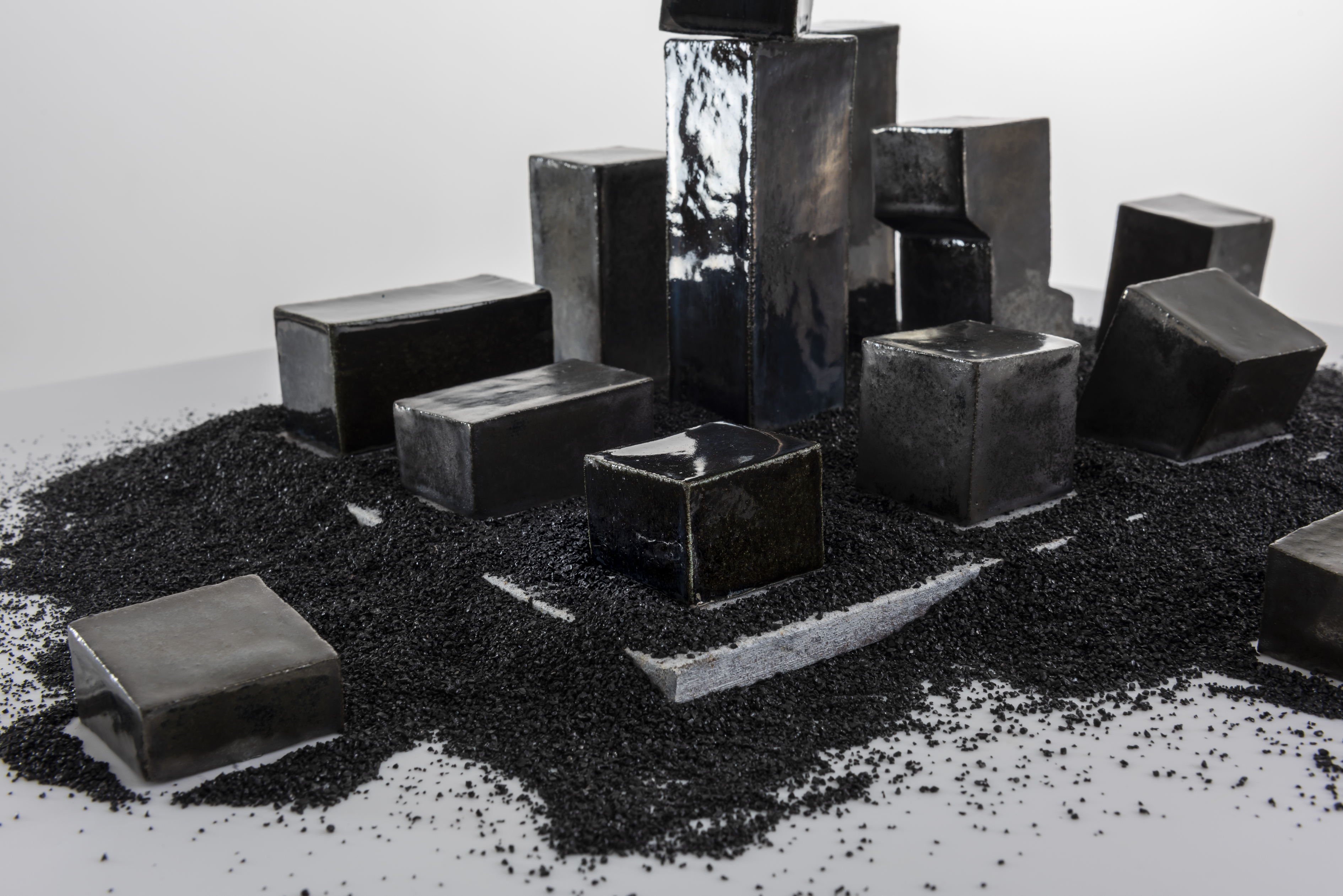 From the Ground Up
25 Oct - 1 Dec 2019
This exhibition features selected works by the 2019 Advanced Diploma graduates from Northern Beaches TAFE Ceramics; Fiona Alvarez, Sue Buckle, Jules Irving, Dana Lundmark, Mandie Robertson, Kay Runcie, Heidi Steller and Ron Tuck.
Manly Art Gallery & Museum has long-established links with the ceramics department of Northern Beaches TAFE. It has been a mutually supportive partnership which enriches the visual arts exhibition program and benefits the viewing public who are able to see what is being produced at this renowned local teaching facility.
The diversity of the work in this exhibition reflects the artists' skill and creativity, as well as the agility of the clay medium which can be moulded and transformed into sculptural objects. The artists' statements provide the opportunity for the artists to articulate their ideas and inspiration, and alongside their work, present a deep experience for the viewer of their work.
The artists would like to acknowledge and thank Grace Cochrane for officially opening the exhibition; the ceramics teachers Chris James and Walter Auer for generously sharing their abundant knowledge and expertise and for bringing out the best in them over the past four years; Greg Piper for photographing the works, and Katherine Roberts for her enthusiasm and time in selecting the pieces for the exhibition.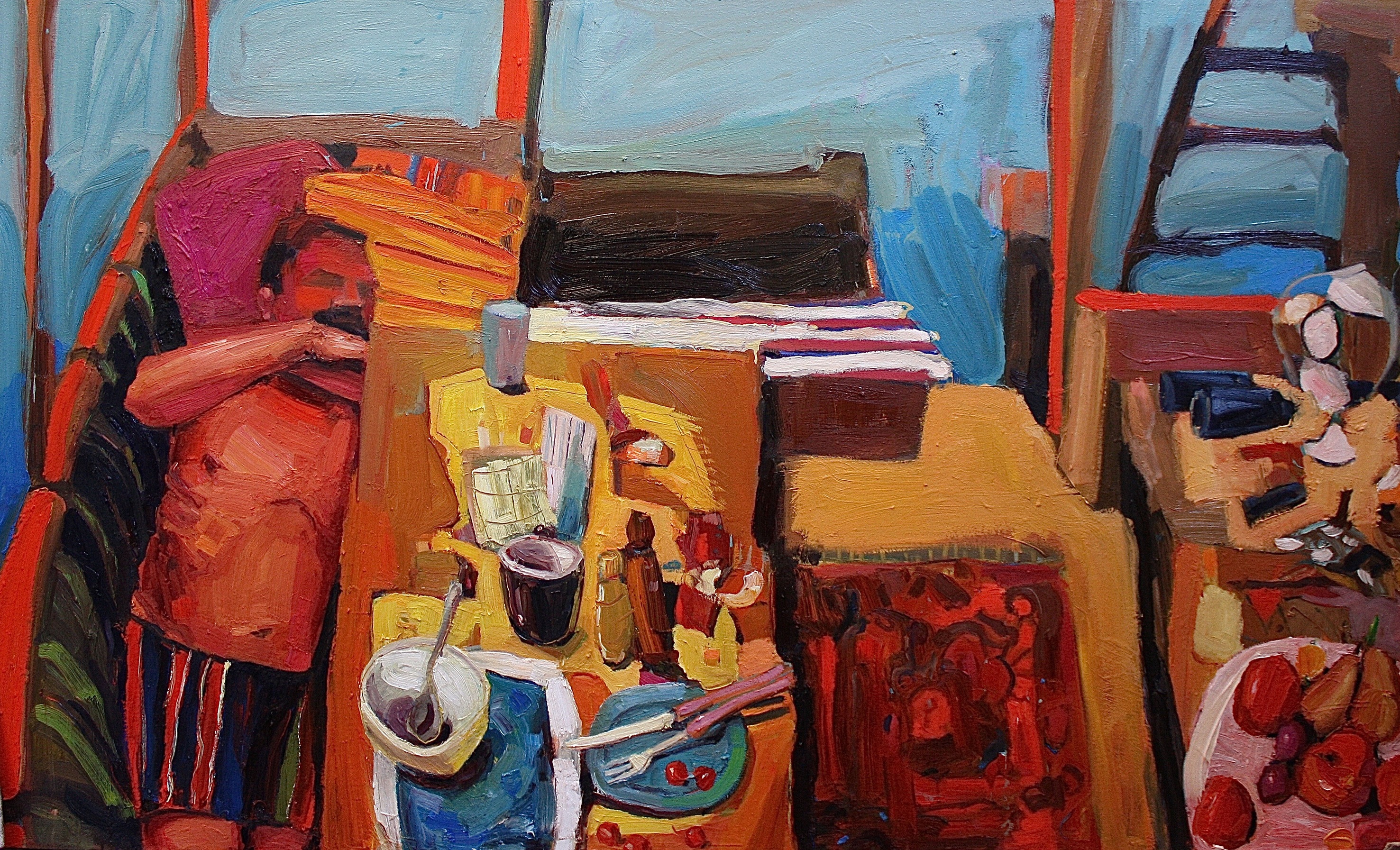 Home Affairs
25 Oct - 1 Dec 2019
This exhibition features new works by 38 artists, predominantly from Sydney's Northern Beaches and members of the Manly Art Gallery & Museum Society. This year, artists have taken inspiration from a single theme, 'home affairs'.
… home, homeland, homeless, home affairs, homing, home-grown, home owner, home-made, homewards …
Artists explore the concept of home as; a place, an idea, a possibility, a refuge, a presence, a contested space, somewhere to escape to or from, a memory. The exhibition showcases works from the wide range of artistic practice, including installation, photomedia, painting, drawing, printmaking, sculpture, wood and ceramics.
The exhibition supports and connects this region's contemporary artists with MAG&M, providing a valuable opportunity to show their work, to challenge their art practice, and to connect with other artists. Thank you to all artists for their enthusiasm and level of engagement with this exhibition project. The exhibition is curated by Katherine Roberts, Senior Curator, Manly Art Gallery & Museum.
ARTISTS
Art & Soul Collective, Ivy Baddock, Mary-Anne Barnes, Sandy Bliim, Patrick Carroll, Elizabeth Cashmore, Fiona Chandler, Sue Cheney, Helen Clare, Dianne Cook, Peta Dzubiel, Helen Earl, Bernadette Facer, Joanna Gambotto, Libby Gilkes, Marisabel Gonzalez, Trudy Goodwin, Kate Gradwell & Penny Philpott, Jude Hungerford, Megan Jones, Nettie Lodge, Richard Magee, Lisa Marshall, Eunice McAllister, Julie Nicholson, Anne Numont, Adrienne Overall, Suzi Poland, Catriona Pollard, Julia Sample, Katika Schultz, Christine Simpson, Rick Tailby, Julie Toke, Goya Torres, Amanda Tye, Sandra Williams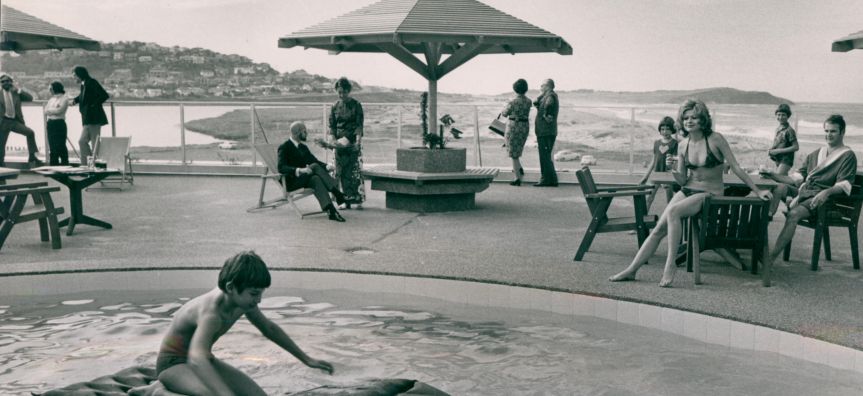 From the SMH Archive
25 Oct - 1 Dec
In 2017, Northern Beaches Council Library Services purchased around 3,500 documentary photographs related to the Northern Beaches. The images are from The Sydney Morning Herald photo archive, and the prints were purchased after the Herald digitised its vast photographic print collection.
MAG&M's Senior Curator and Council's Local Studies Library Staff and volunteers selected around 130 of these fascinating images from the 1950s to 1990s which provide glimpses into our recent past, looking at our culture, environment and community.
From the rooftop pool of the former New Surfside Motel overlooking Dee Why beach and lagoon, to people queuing at the hydrofoil booth on Manly Wharf, to the Modernist architect-designed homes of Palm Beach, this exhibition provides a fascinating snapshot of our recent past.
The Local Studies Unit at Manly, Dee Why and Mona Vale Libraries holds a vast collection of historical material relating to the Northern Beaches. This includes photographs, maps and plans, posters and tourist information, oral histories, films, newspapers and council minutes, all accessible to the public for viewing.
MAG&M would like to thank the library local studies team members, Michelle Richmond and Rose Cullen, and local history writer John Morcombe for their assistance with the preparation of this exhibition, and to The Sydney Morning Herald for permission to exhibit the photographs.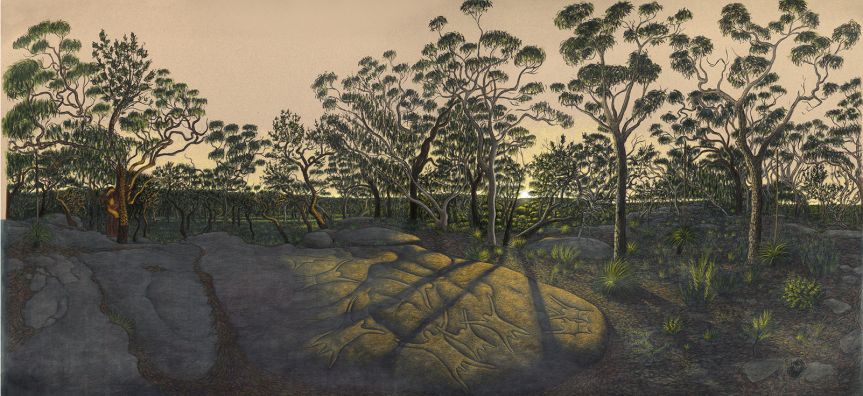 Mick Glasheen - Garigal Country: Drawing on the Land
6 Sep - 20 October 2019
Mick Glasheen has been a pioneering force in the fields of experimental film and interactive media. For the past twenty-five years, living on the Northern Beaches, he has been drawing and painting the Hawkesbury sandstone landscape of Ku-ring-gai Chase National Park with a vision of creating art that becomes an immersive 360 degree experience. This has now been realised in large-scale scroll drawings of major Garigal rock engraving sites through to their transformed state in 3D virtual reality.
Image caption: Mick Glasheen, Ceremonial Site at Dawn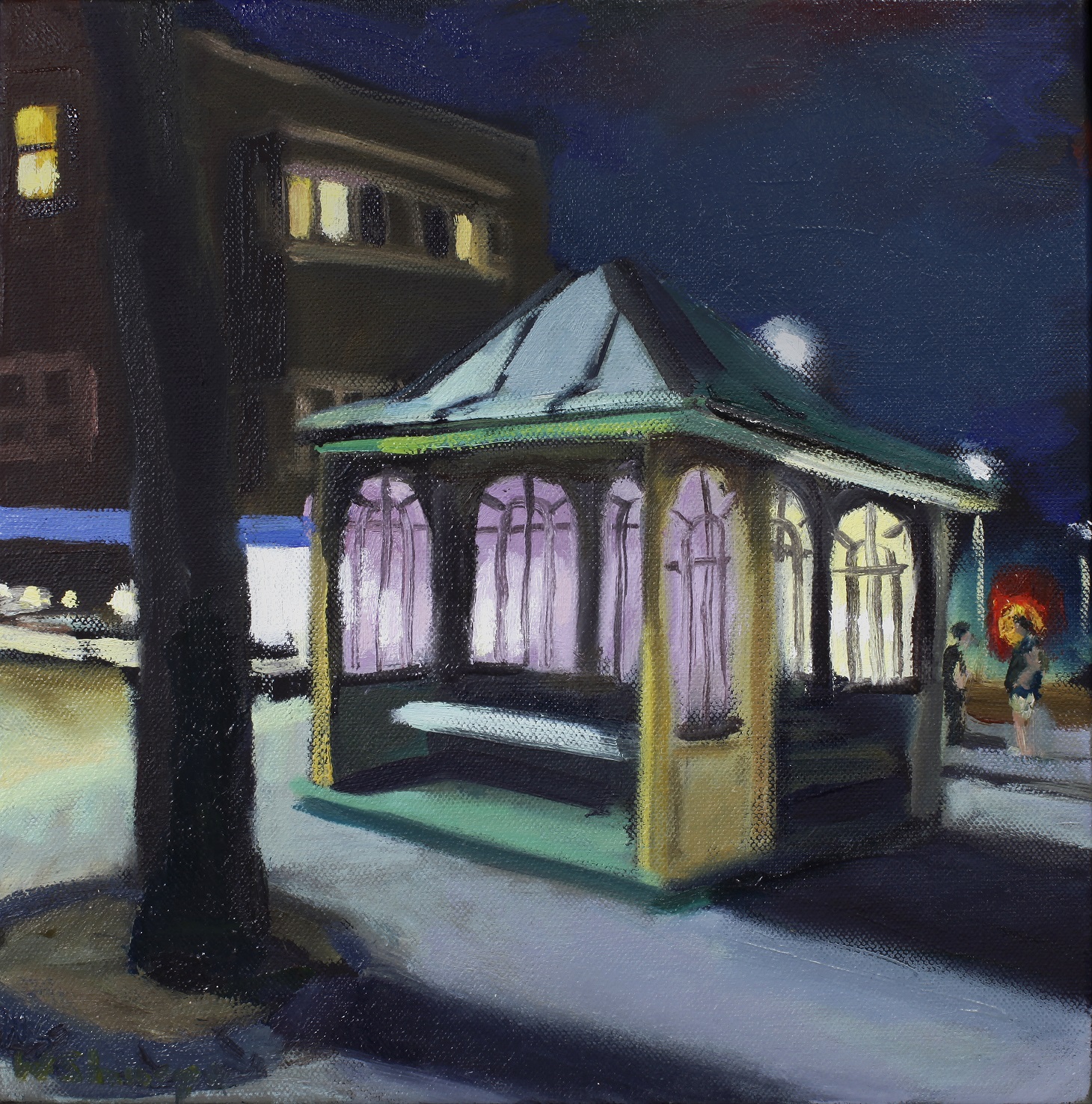 Wendy Sharpe: Wanderlust
6 Sep - 20 Oct 2019
Specially curated for MAG&M by the artist, this new iteration of Wendy Sharpe's travelling exhibition, Wanderlust, evoked experiences of the artist's world travels, and reflections upon her time growing up on the Northern Beaches.
Her globetrotting explorations over the past 10 years were portrayed in a wide range of paintings, works on paper and artist books. Through travel, Sharpe seeks to encounter what is new and unknown to her, and to discover her own identity and place in the world.
Part of the Manly Arts Festival 2019.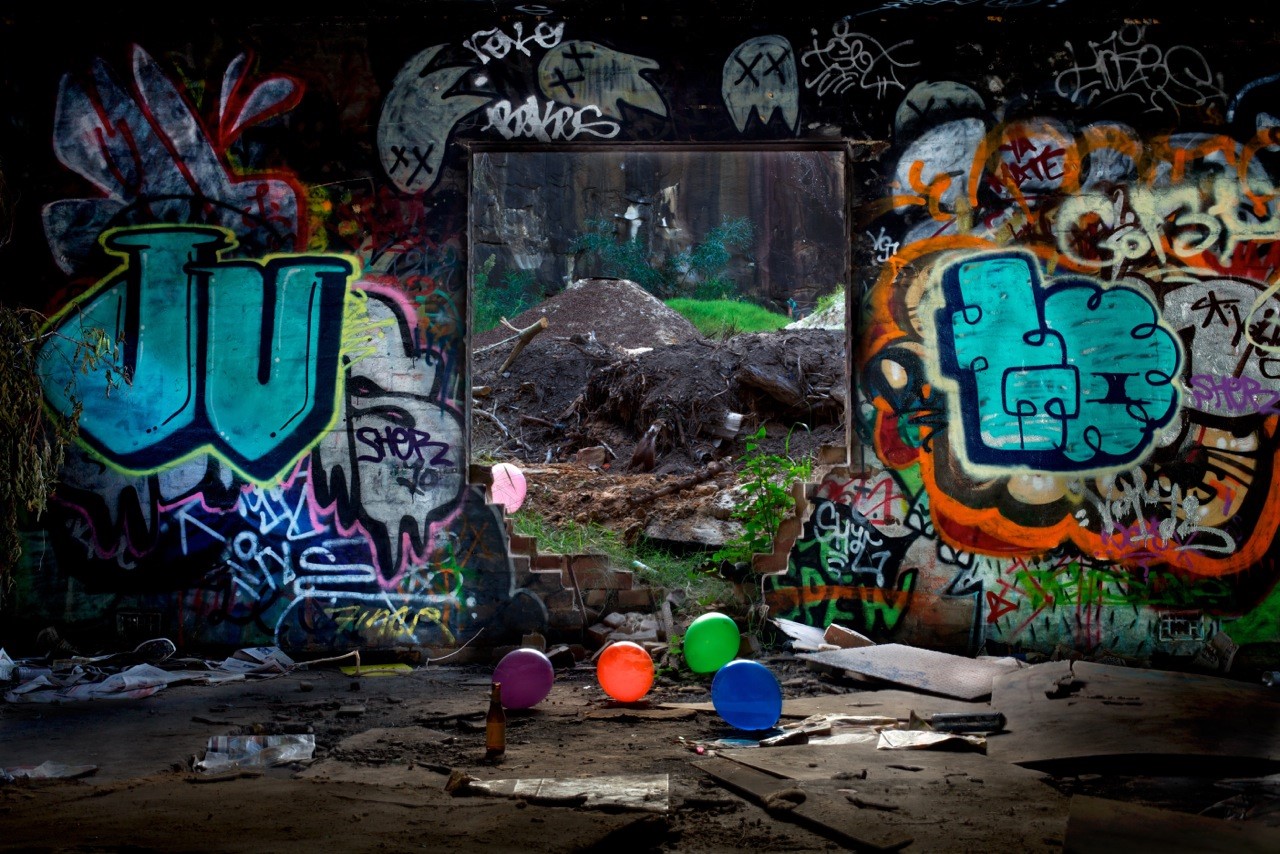 Louise Whelan: A Portal in Transition, The Accidental Archive
26 Jul - 1 Sep 2019
Distinguished and prolific photographer, Louise Whelan, is known for her honest portrayal of outsider communities and cultures. This exhibition brings together her powerful series of images documenting the Portside DIY Skate Space on the Northern Beaches through photographs, sound and bio art installations. Louise's intrigue of this site is its continual transformation, its inhabitants, its duality of uses and the idea that place and identity are inextricably bound to one another.
Image caption: Louise Whelan, Portside Skate Space, 2010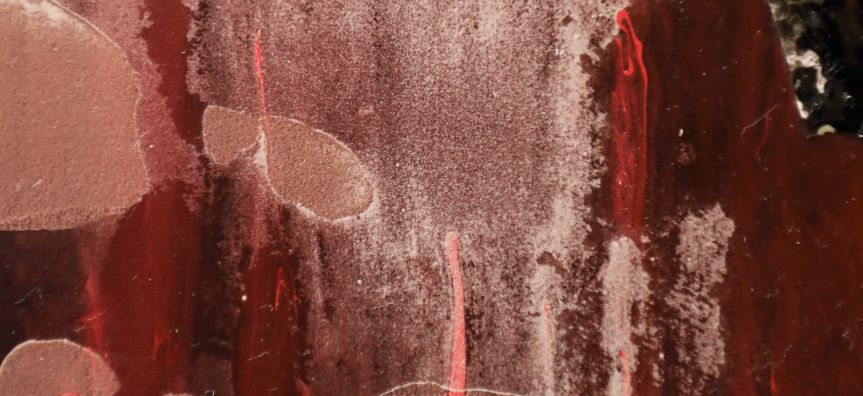 Charlie Sheard: Absolute Abstraction
26 Jul - 1 Sep 2019
This exhibition presents the work of Charlie Sheard, one of Sydney's most respected abstract painters who has spent the last forty years developing a language of pure abstract forms. His practice is deeply concerned with the history and development of techniques and materials, and his large paintings reflect upon his wide ranging interest in European, Chinese and Australian cultural history. Charlie Sheard is represented in Sydney by May Space.
Image caption: Charlie Sheard, Poem 5, 2017-2018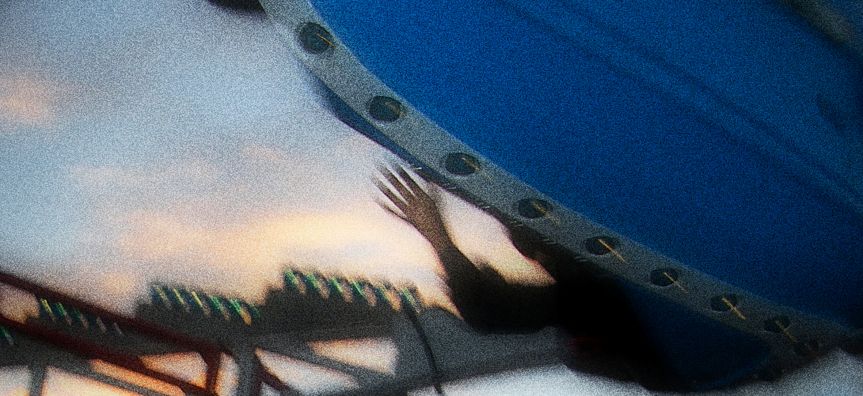 Stu Spence: Unclear, Becoming Clearer
26 Jul - 20 Oct 2019
Stu Spence's photographs are oblique observations of fleeting moments. Ambiguous in meaning, they wait for interpretation and narrative. He is a photographic artist not afraid of 'blur 'or 'grain', or the breaking of conventions. This exhibition illustrates the storytelling possibilities of the photographic medium with original interpretations from writers, poets and some of Australia's most celebrated songwriters, all inspired by a Stu Spence image. Curated by Ross Heathcote.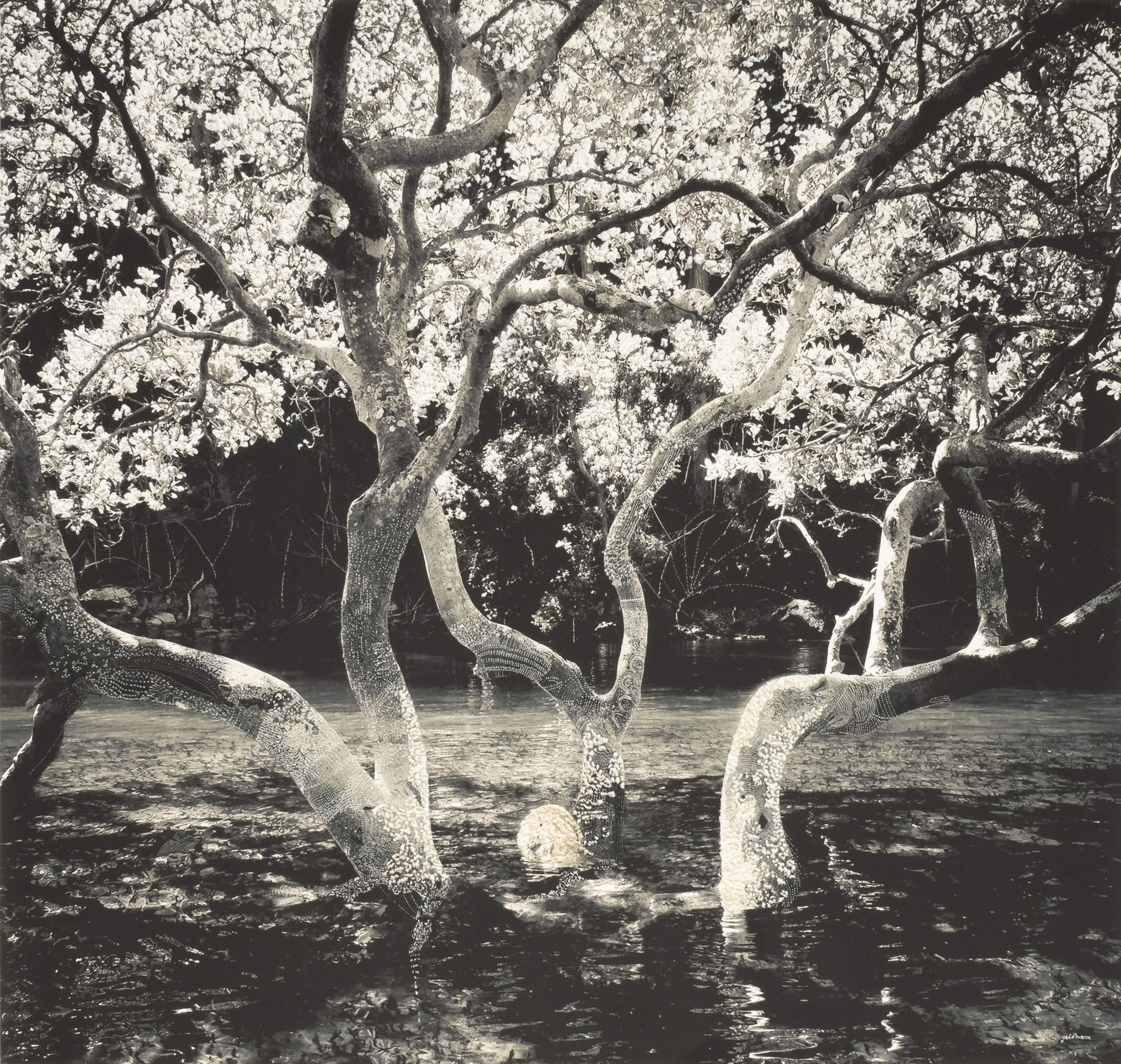 Recent Acquisitions
28 Jun - 21 Jul 2019
Highlights from the collection featuring selected acquisitions from the past 10 years, including paintings, photographs and ceramics by Herbert Badham, Grace Cossington Smith, Elisabeth Cummings, Joshua Yeldham, Hobie Porter, Salvatore Zofrea, Barbara Campbell-Allen, Danie Mellor, Anne Zahalka and Bill Leak.
Each work has a unique story about how and why it was acquired, and the support provided by MAG&M Society, the Theo Batten Bequest, Northern Beaches Council, the Australian Government's Cultural Gifts Program and through donations by the artists and donors.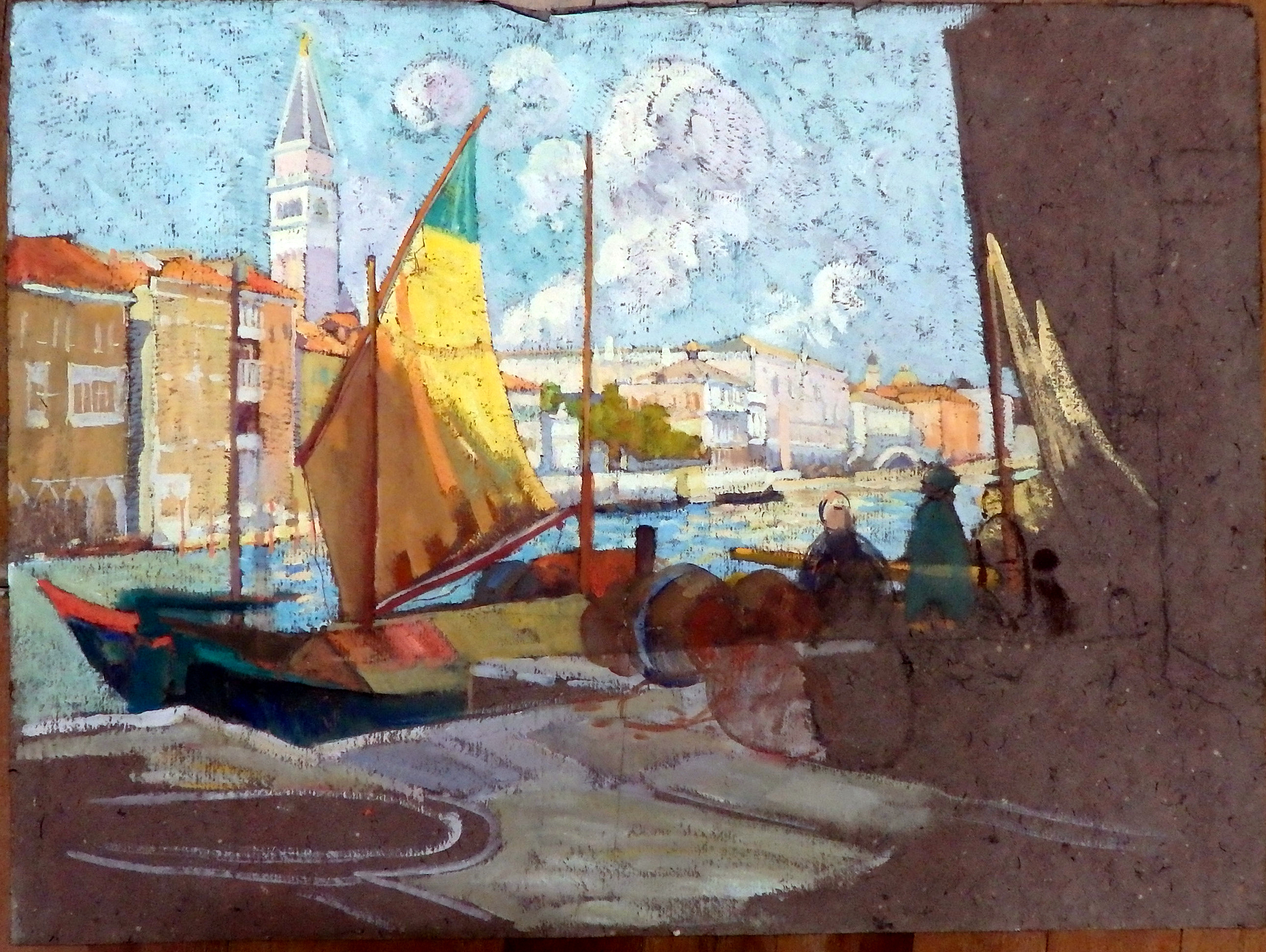 Art from the Vault: Artists Abroad
28 Jun - 21 Jul 2019
Two diverse exhibitions provide insights into scale, scope and stories of Manly Art Gallery & Museum's permanent collection.
ARTISTS ABROAD explores the notion of European travel by Australian artists over the past century; from plein air sketches and watercolours to large-scale oil paintings. Artists include; Will Ashton, Theo Batten, Charles Bryant, Theodore Penleigh Boyd, Rupert Bunny, Ethel Carrick-Fox, Evelyn Chapman, George Duncan, Douglas Dundas, Rah Fizelle, Emanuel Phillips Fox, John B Godson, Harold Greenhill, Beth Hamilton, Newton Hedstrom, Lionel Lindsay, William Lister Lister, Gladys Owen, Marjory Penglase, Lloyd Rees, Robert Hay Robertson, Pamela Thalben-Ball, Michael Winters and John Henry Young.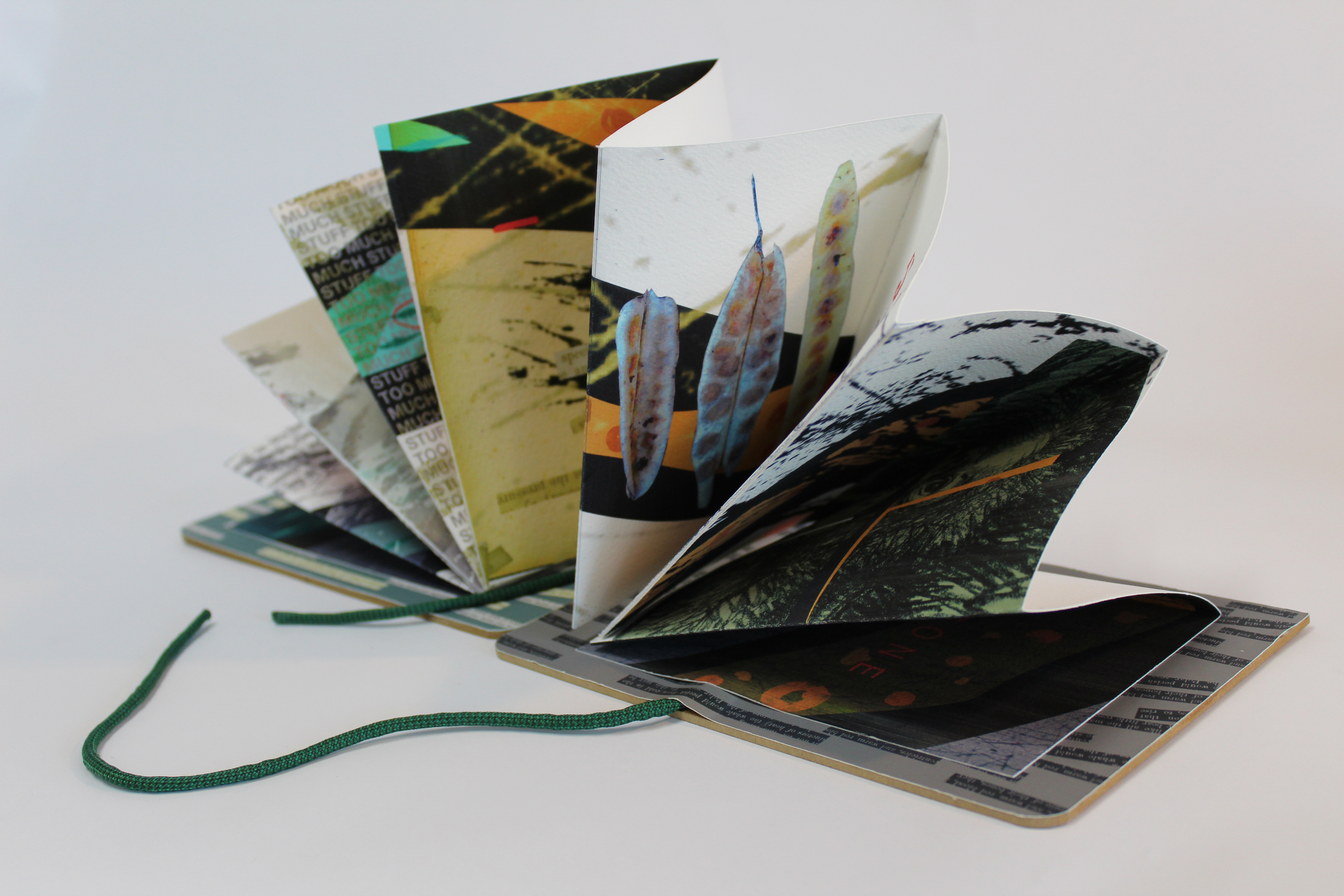 Library Artists' Book Award 2019
2 May - 9 Jun 2019
Artist books challenge the conventional book format and are a unique art form. They can use traditional print techniques or digital media, be recognisable in book format or appear as sculptural objects.
The Northern Beaches Library Service presents a biennial Artists' Book Award and exhibition. Over 40 artist books from around the world will be displayed at Manly Art Gallery & Museum. Judges' selections are acquired to join the Northern Beaches Library Service Artist Book Collection, the only one of its kind in NSW.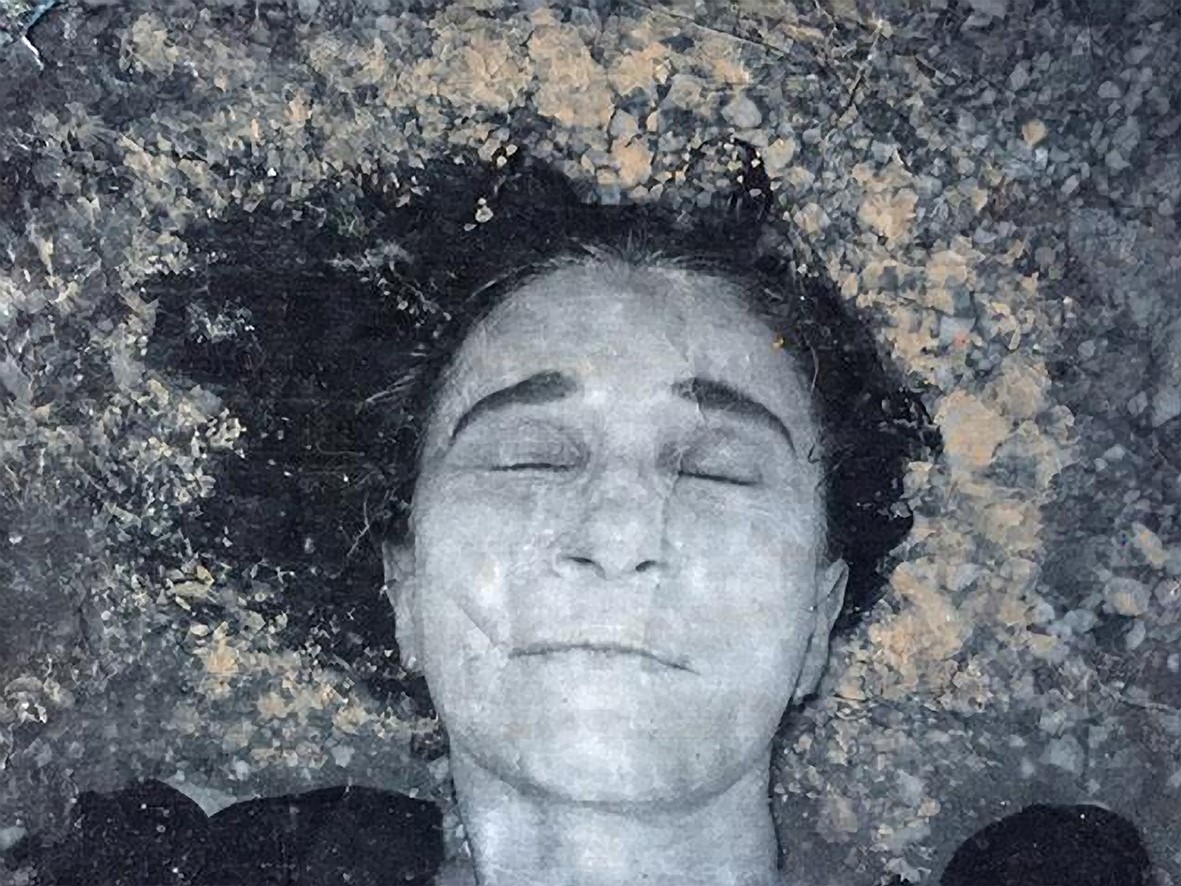 Teena McCarthy: Down by the River, Darling
3 May - 9 Jun 2019
Teena McCarthy is a visual artist and poet working predominantly in painting, photography and performance art. She is an Italian/Barkindji woman and a descendant of The Stolen Generations.
McCarthy's work documents her family's displacement and Aboriginal Australians' loss of culture and 'hidden' history. While acknowledging the intergenerational pain of post colonialism, she uses wit, humour and pathos to explore her own identity.
Teena is represented by Art Atrium and is the winner of the recent King & Wood Mallesons Contemporary ATSI Art Prize.
This exhibition was part of the 2019 Gai-mariagal Festival.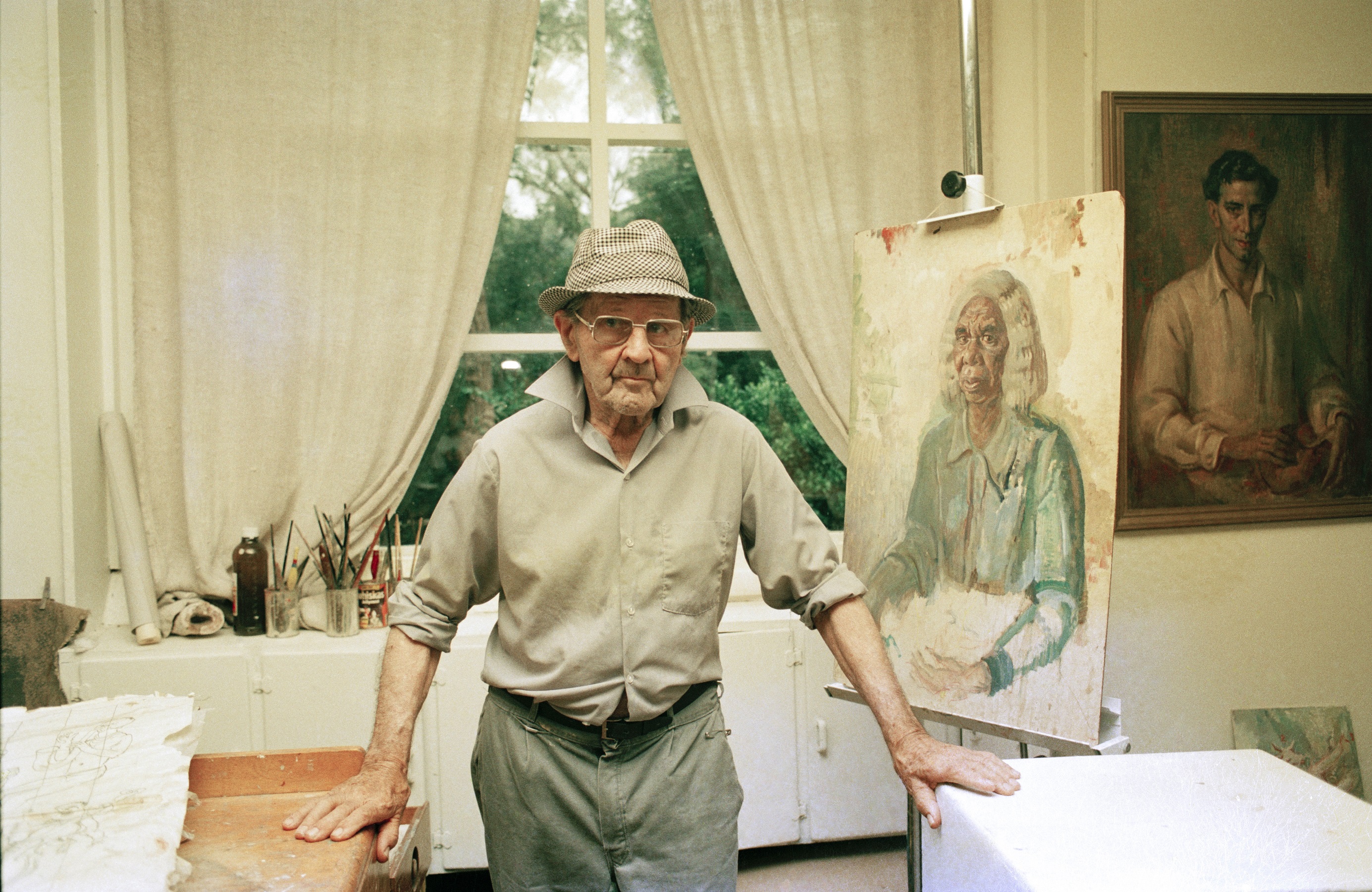 Keepers of the Flame: The Legacy of Murch & Miksevicius
3 May - 9 Jun 2019
This exhibition celebrates the histories and art of Arthur Murch and Jurgis Miksevicius. It also reveals the work of their 'keepers of the flames', Michelle Murch and Carolyn Leigh. The empire and the living history of an artist ultimately become the bequest and responsibility of the family. Having lived with the artist, the family members are in a unique position to provide insights into the art and its production.
Although these artists had very different backgrounds, there are common processes, priorities and problems faced by the inheritors of their diverse artworks. For Carolyn Leigh and Michelle Murch it is an absorbing and at times emotional voyage through the practicalities of managing the art legacies of their artist-fathers. They are bound to the artworks through love, respect and filial duty.
Michelle Murch (b. 1951) is the daughter of Arthur and Ria and sister to John. The Murch family lived in Avalon on the Northern Beaches, an environment which provided much figurative and landscape material for the artist. Michelle recalls an idyll – home life, the beach and bush – and a very close relationship with Arthur. During the 1950s and 1960s, Ria made the long trek via bus to the city each day to work to keep the family afloat while Arthur turned the home into his studio. He taught Michelle to read and write while he worked at his easel and introduced her to a wealth of ideas, processes and people. Ria championed the work of Arthur and wrote the biography – Arthur Murch, An Artist's Life (Ruskin Rowe Press).
Carolyn Leigh (b.1947) is the step-daughter of Jurgis, daughter of Elva and sister of Martyn and Helena. Elva and Jurgis built their home in Killara on the edge of the Lane Cove River Park where they lived from 1953 – 2004. Carolyn enjoyed, what felt to her, the magic of growing up in the midst of Jurgis' creative activity. Inspired by an interview with Matisse's son, she realised that it was important to document her father's life and work and to collect his words and thoughts. Over the last 20 years of his life, Carolyn began to catalogue Jurgis' artwork and to record conversations which she drew on for her book, Jurgis Miksevicius – Portraits Real and Imagined.
The accompanying film was commissioned for this exhibition and produced by Catherine Hunter Productions. Thank you to Catherine Hunter, Bruce Inglis, Carolyn Leigh and Michelle Murch.
Exhibition curated by Katherine Roberts.
Image caption: Arthur Murch, Avalon studio, 1987. Photo by Chris Duczynski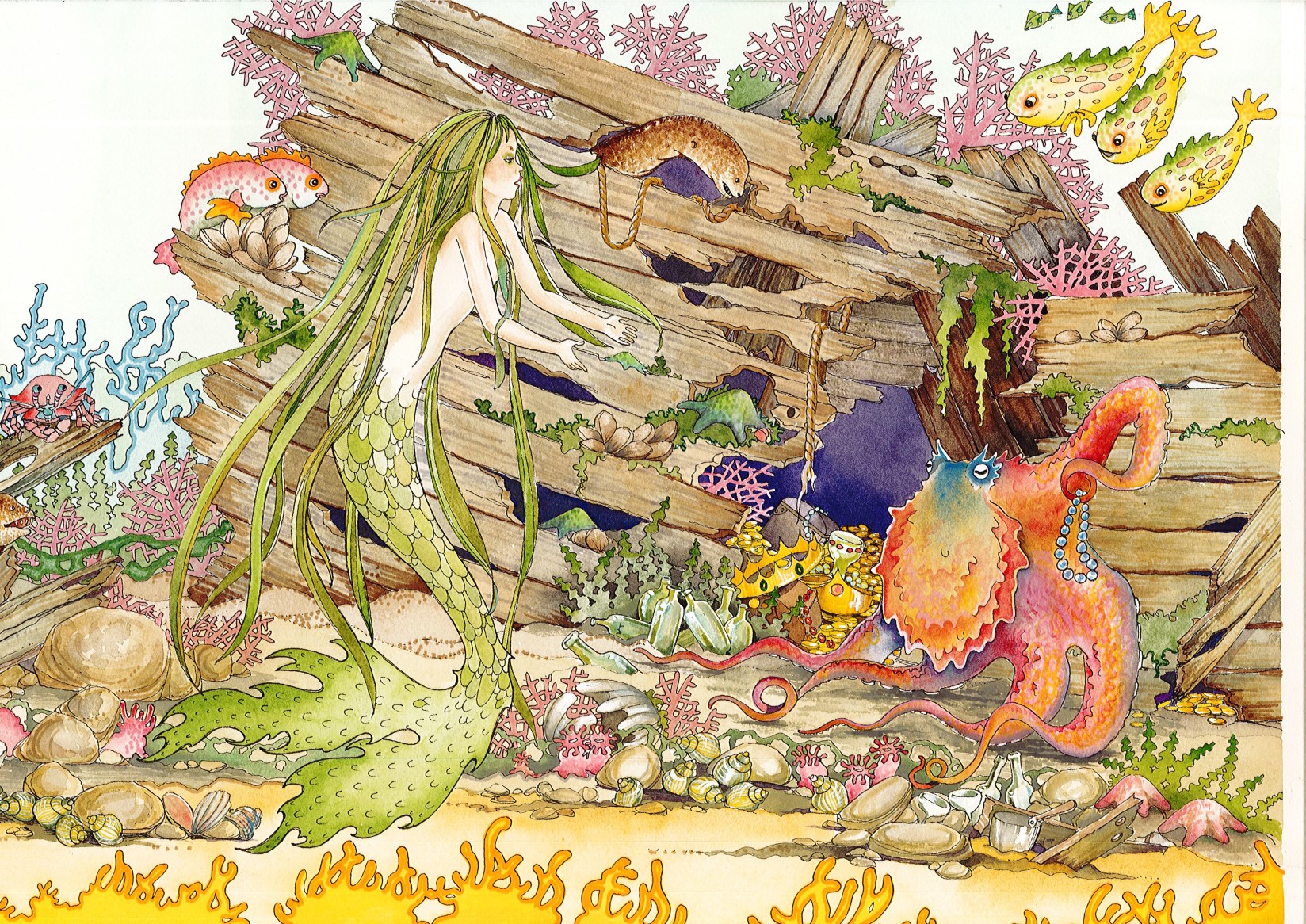 Valerie Taylor - Artist, Author and Marine Conservationist
22 Mar - 28 Apr 2019
Valerie Taylor is recognised around the world as a pioneer ocean explorer, marine conservationist, cinematographer, photographer and author. Less well-known is her first career as an illustrator and cartoonist. For this exhibition, the words and paintings of 'Melody the Mermaid: Adventures in the Kingdoms of the Sea' leap onto the gallery walls and take you on a literary and visual journey through the exhibition space and story.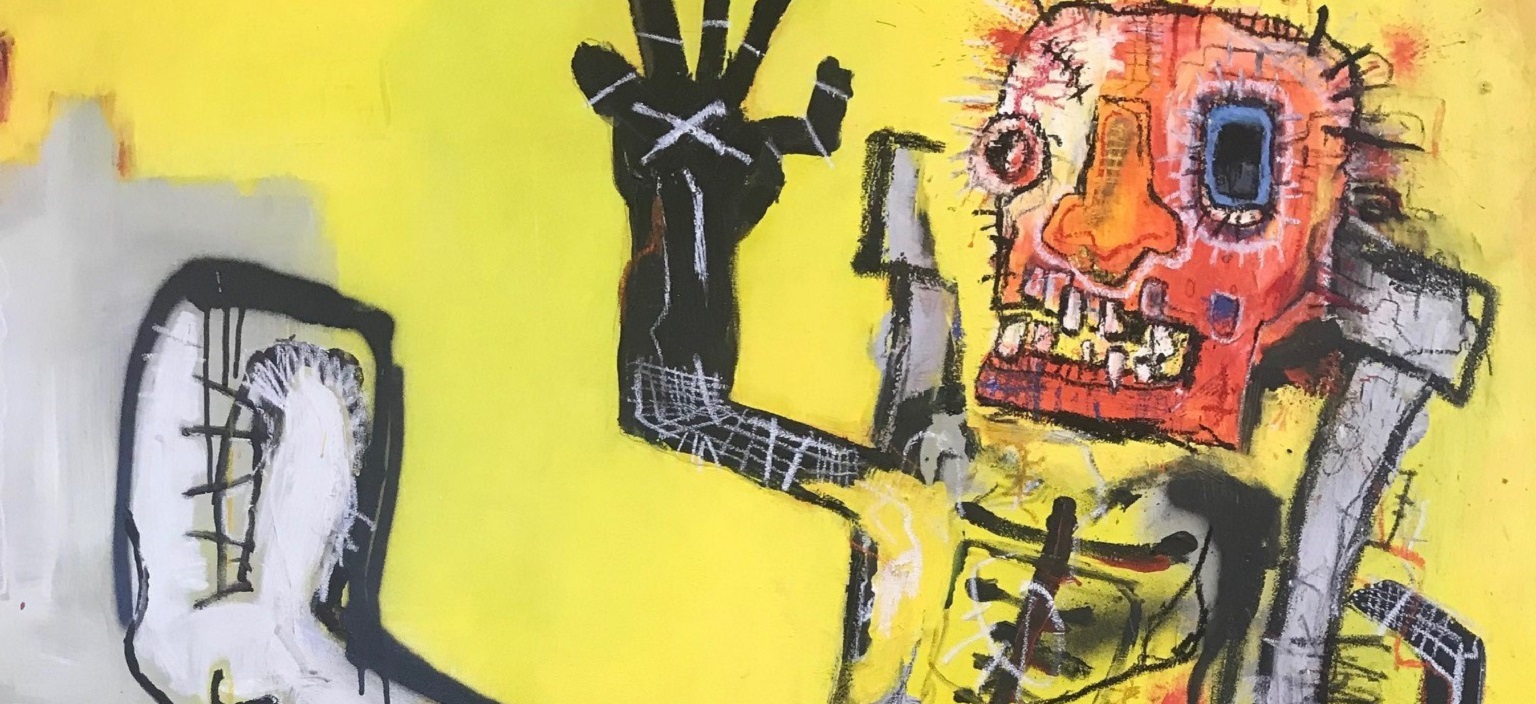 Express Yourself 2019
22 Mar - 28 Apr 2019
A significant annual curated exhibition of artworks by HSC Visual Arts students from the 20 high schools across Sydney's Northern Beaches region. It represents diverse bodies of work including multi-media, digital, sculpture and drawing, and celebrates the creativity of emerging artists in this region. Curated by Ross Heathcote.
In conjunction with Express Yourself, two awards are granted annually to students featured in the exhibition; the Manly Art Gallery & Museum Society Youth Art Award and the Theo Batten Bequest Youth Art Award, presented to a student continuing tertiary study in the arts. This exhibition is part of ARTMONTH, Sydney.