Throughout the year we present a range of exhibitions, featuring painting, drawing, photography, illustration, multimedia, ceramics, and printmaking. You'll find inspiration from emerging and established local, Indigenous and international artists, and we'll always try to surprise you.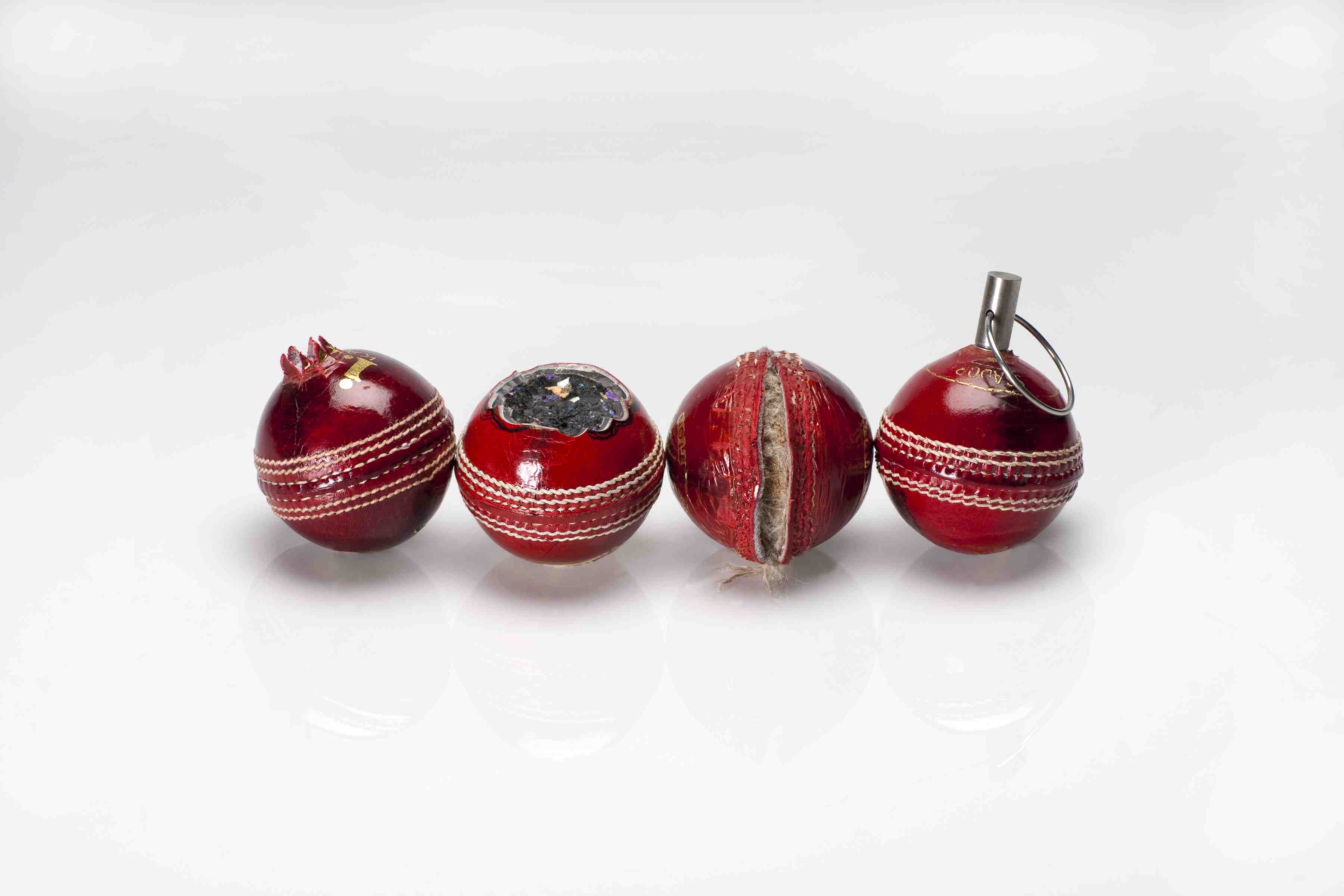 Fair play
9 Dec 22 – 26 Feb 23
This exhibition brings together a diverse group of artists to create works that reflect on the role sporting activities play in our lives. The works presented in the exhibition are meant to expand the audience's appreciation of their favourite sports and highlight the possibility to better understand ourselves and our cultures through a unique perspectives on the sports we as Australians love so much.
There is a myth that sport and art are natural enemies, as exemplified by the ongoing debate about the allocation of public funding by governments at all levels in Australia. Fair Play seeks to bridge the gap between these two forms of cultural production and to demonstrate that they both empower us to express ourselves physically, emotionally and intellectually, enabling us to connect and communicate with each other around the world — across borders, cultures, languages, and generations. The exhibition is intended to create a deeper discourse on the role of sports and their connection to arts and to ourselves.
The artists selected for this exhibition work in multi-disciplinary and experimental art practices and use sport motifs as metaphor to inspire the viewer to reflect on the broader social issues that confront contemporary society. Issues such as post-colonialism, environmentalism, belonging, masculinity, and mental health.
In addition to the selected artist's works, the curator has selected works from MAG&M's collection of paintings, ceramics, and sporting paraphernalia, to encourage the viewer to further consider the fundamental roles of sports and art.
Fair Play's exhibiting artists are Billy Bain, Amber Boardman, Michael Garbutt & Sehar Naz Janani, Rew Hanks, Lyndal Irons, Kellie O'Dempsey, Ben Rak, Abdullah M.I Syed, and Gerry Wedd.
Image caption: Abdullah M. I. Syed, Forbidden Fruits, 2012 to 2018. Photo Mahmood Ahmed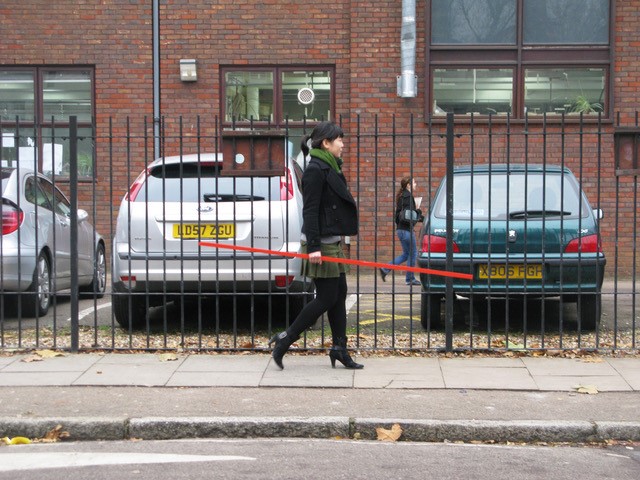 ABSTRACT REALITIES: The MAG&M Project
21 Oct – 4 Dec 2022
Abstract art sits at the intersection of the real world of sensory experience and the abstract realm of ideas. It offers the viewer the potential to reflect on the reality of the inner worlds of feeling and imagination (a contemplative function) as well as the external realities of material and form. The movement of meaning in time (inner and outer). This exhibition brings together three artists, Julian Goddard (Perth), Sarah Robson (Sydney) and David Thomas (Melbourne) to create site-sensitive installations of discrete works for the experiencing of abstract art in a way that is temporal, open, sensory and real—connected to rather than excised from the world we inhabit.
In addition to their own works, they will present a selection of works by other artists engaged in the field. Abstract Realities invites the viewer to move beyond theoretical definitions and experience abstract art as a unique and multifaceted way of elaborating, questioning and revealing the simple complexity of our encounters. Encounters that are paradoxically both real and abstract.
Want to learn more about 'Abstract Realities: The MAG&M Project'? Why not listen to the fascinating Artw*nk podcast interview with artist Sarah Robson. Follow the link.
Image caption: David Thomas, Taking a Timeline for a Walk, (Min Sun/red), 2011. Image courtesy of the artist and Blockprojects Gallery, Melbourne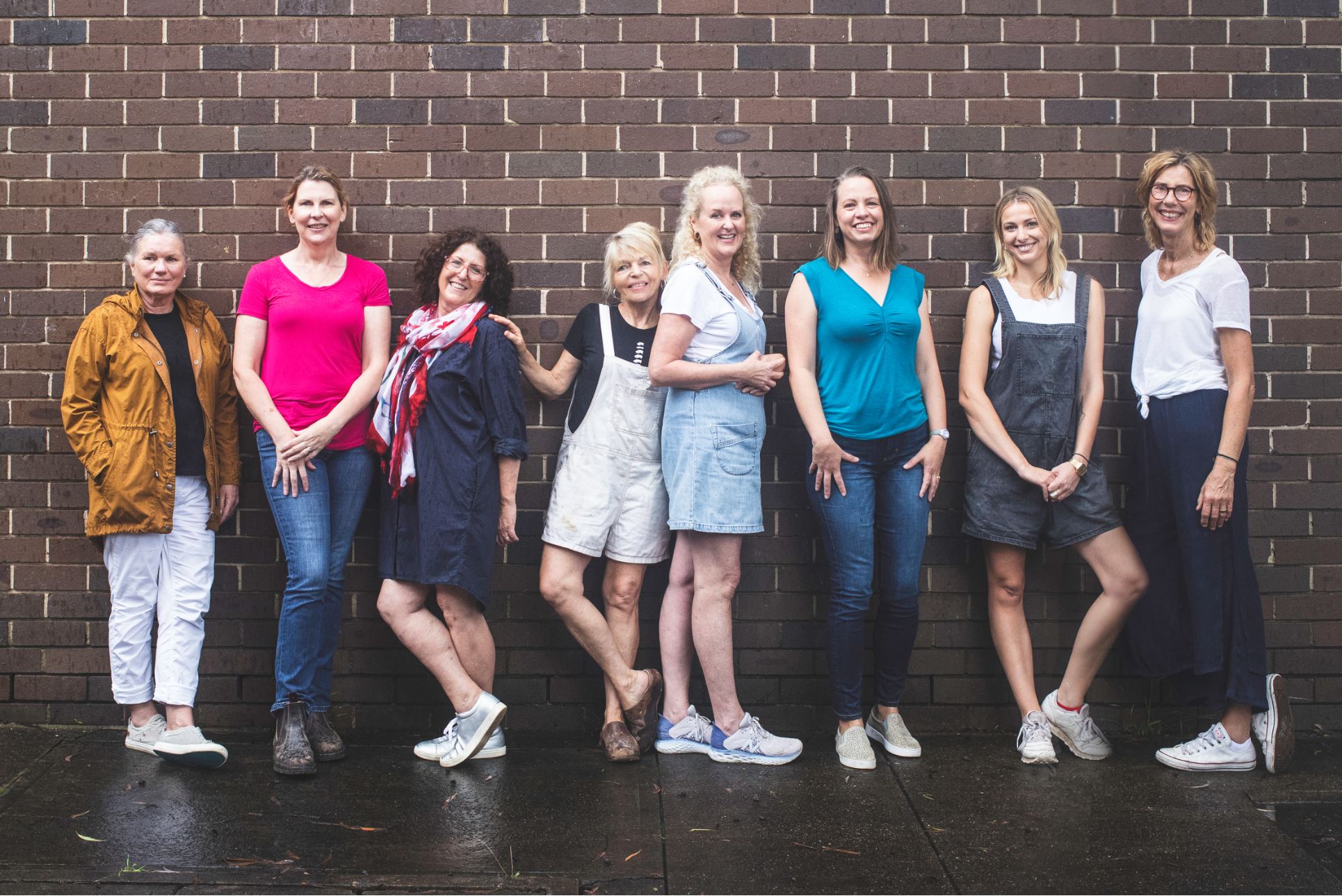 Resonance
21 Oct - 4 Dec 2022
This exhibition features selected works by the 2022 Advanced Diploma of Ceramics graduates from Northern Beaches TAFE Ceramics. The agility of clay as a medium is reflected in the sculptural and functional objects in the exhibition.
Nicky Cooney, Caressa Gonsalves, Dorine Louwerens, Angela Maryska, Cathy McMichael, Lesley Murray, Anna Weaving, and Lisa Wiley Strong draw on the memories, losses, and inspirations that have contributed to their life stories and creative journeys.
MAG&M has long-established links with Northern Beaches TAFE Ceramics, providing a platform for new and emerging artists working with clay.
The ceramics facility at Northern Beaches TAFE has provided an environment for ceramic education for over 40 years. The artists acknowledge their teachers Janine Brody and Chris James, and the staff at TAFE for generously sharing their abundant knowledge and expertise and for bringing out the best in them over their period of study, as well as Greg Piper for professionally photographing their works.
Image caption: Photo of the 2022 Advanced Diploma graduates from Northern Beaches TAFE Ceramics by Mark Rose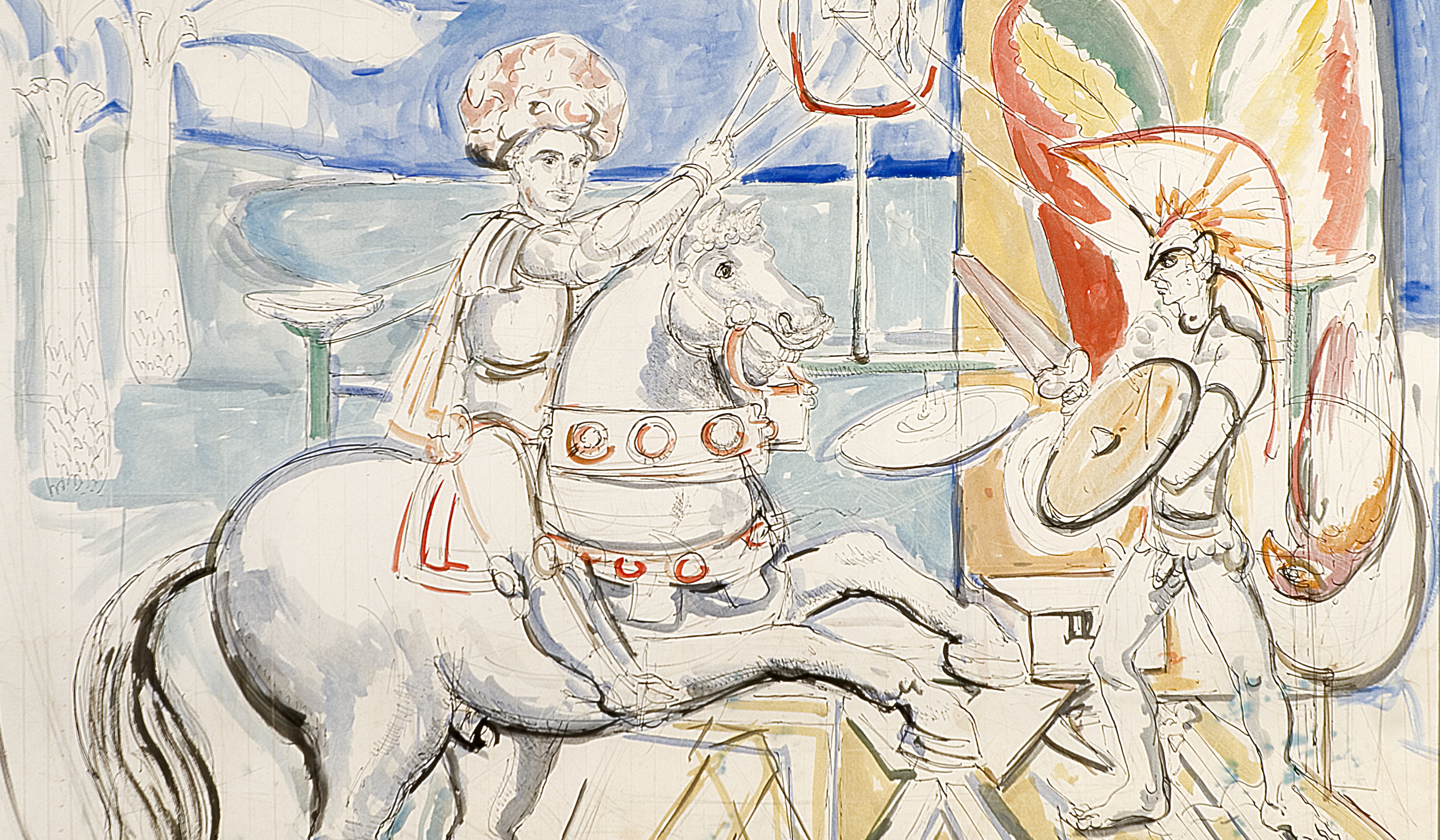 Salvatore Zofrea: The Drawn Line
2 Sept – 16 Oct 2022
Drawing and the power of mark-making are the foundations of Salvatore Zofrea's artistic practice. This survey exhibition explores the underlying narrative of Zofrea's personal journey from Italy to the Australian landscape.
Celebrating Zofrea's 75th year, the exhibition traces his artistic development through drawing; from his early sketches to preliminary drawings for woodblock prints, psalm paintings, frescoes, stained glass windows and his most recent Circle series of multi-panelled paintings.
Presented in partnership with Orange Regional Gallery.
Spirit of Renewal online poetry reading
Inspired by the work of Salvatore Zofrea, twenty poets read their original works on the themes of resilience, reinvention, and renewal. The readings were filmed on Zoom and presented virtually, as part of MAG&M's partnership with Michele Seminara and Verity La, and supported by Poetry Sydney and Sydney Underground Streaming Sessions. Dylan Thomas' 'Poem in October' is also performed by Salvatore Zofrea who cites the poem as a major inspiration on his visual arts practice. Watch the recording
Image caption: Salvatore Zofrea, Psalm 37, 1989, ink, pencil and watercolour on paper, 127 x 152cm. MAG&M Collection - Gift of Lesley Walford through the Cultural Gifts Program, 1998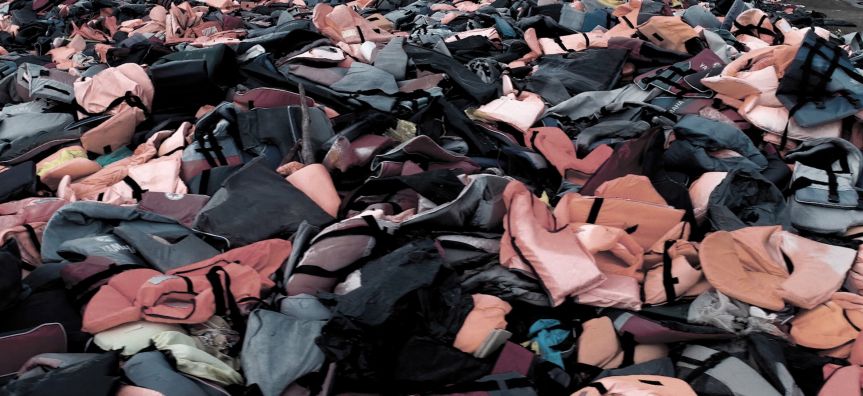 Settled/Unsettled: art on asylum-seeker, migrant and refugee experiences
24 June – 31 July 2022
This multidisciplinary exhibition explores personal and profound issues around war and cultural displacement through the lens of asylum-seeker, refugee, and migrant experiences.
Hedar Abadi, Mehrdad MehrAeen and Raneen Shamon reflect on the experiences that have shaped their lives as new Australians. Mehwish Iqbal, Kathrin Longhurst, Angus McDonald and Penny Byrne highlight the social justice issues facing asylum-seekers, refugees and migrants.
By exploring conflict and exile, home and belonging, Settled/Unsettled contributes to the global movement of empowerment and acceptance of all refugees. This project connects artists and communities through art and conversation, acknowledges our shared human experience and fosters mutual understanding.
This exhibition is part of Refugee Week 2022, presented in partnership with Settlement Services International and supported by Community Northern Beaches and The Social Outfit. Curated by Katherine Roberts, Senior Curator, Manly Art Gallery & Museum.
Exhibiting artists:
Hedar Abadi
Penny Byrne
Mehrdad MehrAeen
Mehwish Iqbal
Kathrin Longhurst
Angus McDonald
Raneen Shamon
Image caption: Angus McDonald, Manus, film still

Thresholds: underlands – Julia Davis + Lisa Jones in collaboration
24 June – 31 July 2022
This exhibition forms part of an ongoing collaborative project between Julia Davis and Lisa Jones that reflects upon transience and embodiment of place.
The drawings were created in the darkness of the subterranean underlands of Paris and Sydney and register the natural physical movement of each site together with the actions of the artists.
Image caption: Julia Davis and Lisa Jones, Thresholds No.280520, 2020, Sediment (Middle Head, Sydney) on clayboard, 40x30x3cm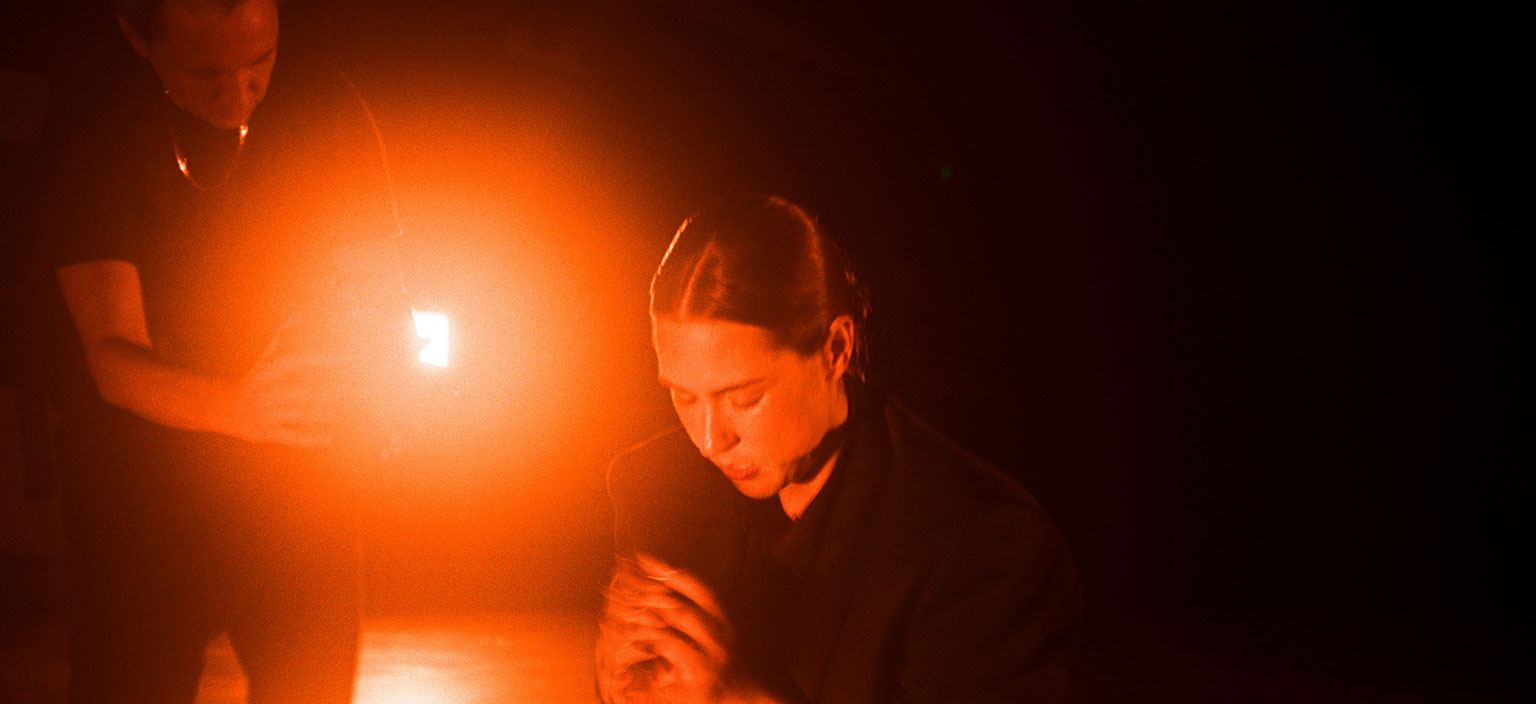 Suspended Moment
6 May - 19 Jun 2022
This exhibition brings together new works by artists Frances Barrett, Giselle Stanborough and Sally Rees - the three recipients of Suspended Moment: The Katthy Cavaliere Fellowship.
Established in the name of Italian-born, Australian artist Katthy Cavaliere (1972 - 2012), the fellowship was a one-off opportunity that provided support to Australian women artists working at the nexus of performance and installation.
Suspended Moment contextualises key works by Cavaliere alongside the fellowship artists who benefited from her enduring legacy.
A Carriageworks and Museums & Galleries of NSW touring exhibition, curated by Daniel Mudie Cunningham, developed in partnership with the Australian Centre for Contemporary Art, Melbourne and the Museum of Old and New Art (Mona), Hobart. This project has been assisted by the Australian Government through the Australia Council for the Arts, its arts funding and advisory body. This project is assisted by the Australian Government's Visions of Australia program.
Education
An education resource for schools has been produced by Amy Babach in partnership with M&GNSW and Carriageworks to support this touring exhibition, offering:
insights into the practice of Katthy Cavaliere and Fellowship recipients
Frances Barrett, Sally Rees and Giselle Stanborough
a glossary of terms
discussion and making activities for use in the classroom, or the gallery
links for further reading and exploration.
Image caption: Frances Barrett, 'A Song for Katthy', 2022, single channel HD video. Image series by Samuel Hodge. Courtesy of the artists.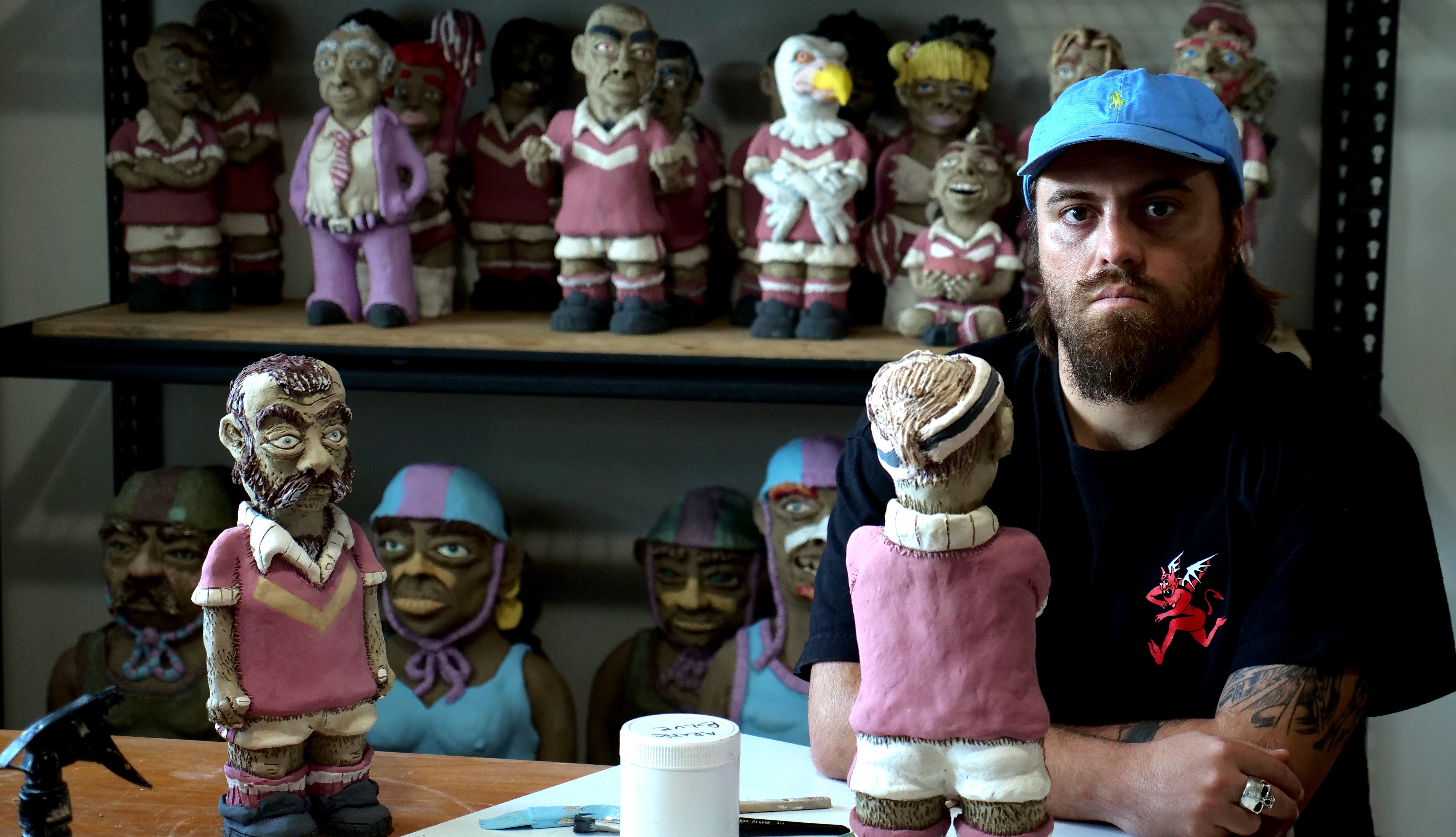 Being Manly: Billy Bain
25 Mar - 19 June 2022
Being Manly seeks to unsettle colonial narratives of masculinity by playfully deconstructing popular iconography and histories related to Manly's cultural identity. By subverting these narratives using the presence of Indigenous figures, Bain shifts our perception of Manly's cultural identity away from being a strictly white construct to imply the continued presence of the traditional custodians of the land. As an Indigenous man, Bain aims to reclaim self-agency in how he identifies with the Manly area where he was born and raised.
Billy Bain explores representations of Australian masculinity through taking perceptions of the Australian male and playfully deconstructing them. By interrogating and subverting representations of the Australian male in both popular culture and the everyday suburban life he exists within, Bain seeks to create works that humour our Australian sense of identity. By poking fun at perceptions of who he is meant to be, Bain reclaims power and autonomy over his sense of identity as an Darug man.
Bain's interpretation of suburban life is subtly autobiographic, with each of his characters embodying a piece of the artist's personal experiences. His work transcends both the celebratory and the critical. This is communicative of his inner conflict when navigating the dualities of being a young Indigenous man in a community and country where Indigenous identity and representation has been systematically denied.
Billy Bain completed a Bachelor of Fine Art in 2019, graduating with first class honours from the University of New South Wales. He is currently based on Sydney's Northern Beaches where he creates work from his home studio.
Listen to Billy Bain's interview on podcast Art is W**k
Image caption: Image detail: Billy Bain studio portrait by Lachlan Bain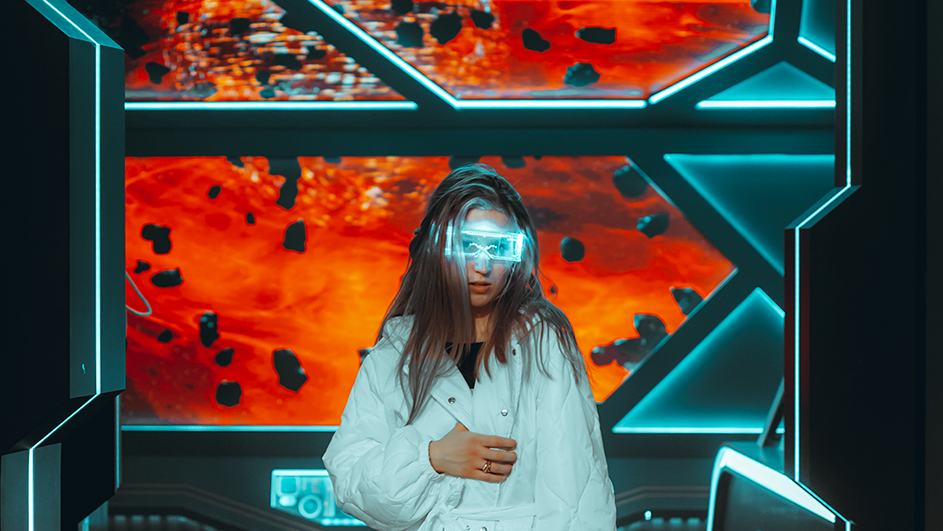 Express Yourself 2022
25 Mar - 1 May 2022
Express Yourself is an annual MAG&M exhibition of artworks by HSC Visual Arts students, selected from the 20 secondary schools across Sydney's Northern Beaches.
This exhibition project has been a significant aspect of MAG&M's program since 1995 and demonstrates our ongoing commitment to connecting with secondary schools across the region and to supporting visual arts education.
Express Yourself celebrates the extraordinary talent and creativity of young emerging artists from our local community. It features a broad range of expressive artforms including painting, printmaking, ceramics, documented forms, graphic design, photomedia, sculpture, textiles and fibre, time-based forms, and collection of works.
The exhibition is presented by MAG&M and Northern Beaches Council in partnership with Northern Beaches secondary schools, MAG&M Society and NBC Youth Services.
Three awards are granted annually to students featured in the exhibition.
Theo Batten Youth Art Award - $5,000 is awarded to a student continuing studies in the creative arts or a related field.
MAG&M Society Youth Art Award - $3,000 award open to all students participating in the exhibition.
KALOF People's Choice Award – gallery visitors vote for their favourite work. This award is presented by Council's Youth Services and is announced at the close of the exhibition.
Participating schools:
Barrenjoey High School
Covenant Christian School
Davidson High School
Forest High School
Killarney Heights High School
Mater Maria College
Narrabeen Sports High School
NBSC - Balgowlah Boys Campus
NBSC - Cromer Campus
NBSC - Freshwater Senior Campus
NBSC - Mackellar Girls Campus
NBSC - Manly Selective Campus
Northern Beaches Christian School
Oxford Falls Grammar School
Pittwater High School
St Augustine's College
St Luke's Grammar School
St Paul's Catholic College
Stella Maris Catholic College
The Pittwater House Schools
View the 2020 Express Yourself video
Image caption: Luke O'Donnell, 2056, photomedia. (NBSC – Balgowlah Boys Campus)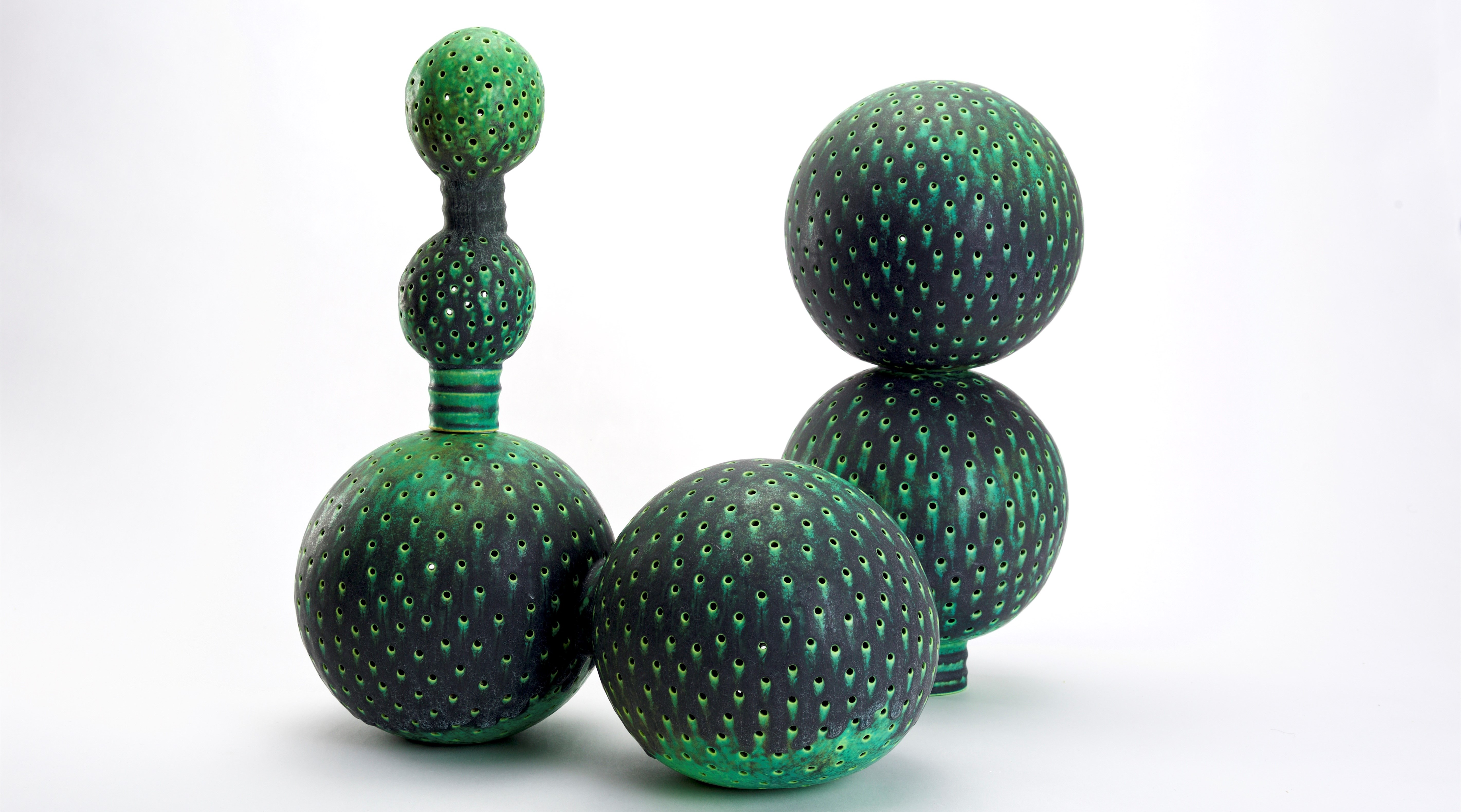 Destination Sydney: The natural world
4 Jan 2021 – 20 Mar 2022
The third exhibition in a special series of collaborations between three Sydney public galleries, Manly Art Gallery & Museum, Mosman Art Gallery and the National Trust's S. H. Ervin Gallery.
Like its preceding exhibitions, it showcases artworks responding to the theme of Sydney as a place of creative endeavours, with a strong focus on the work of major Australian women artists, all connected by their concern for landscape and the environment.
Destination Sydney: The natural world presents the work of a select group of key Australian artists whose art practice has become synonymous with the natural world: Joan Ross, Fiona Lowry, Merran Esson (Manly Art Gallery & Museum), Janet Laurence, Caroline Rothwell, Robyn Stacey (Mosman Art Gallery), and Bronwyn Oliver, Juz Kitson and Jennifer Keeler-Milne (S.H. Ervin Gallery).
The accompanying exhibition catalogue is generously sponsored by the Gordon Darling Foundation.
Image caption: Merran Esson The Roundness of Silence 2019 ceramic copper glaze 42 x 43 x 33cm. Private collection courtesy Stella Downer Fine Art (detail)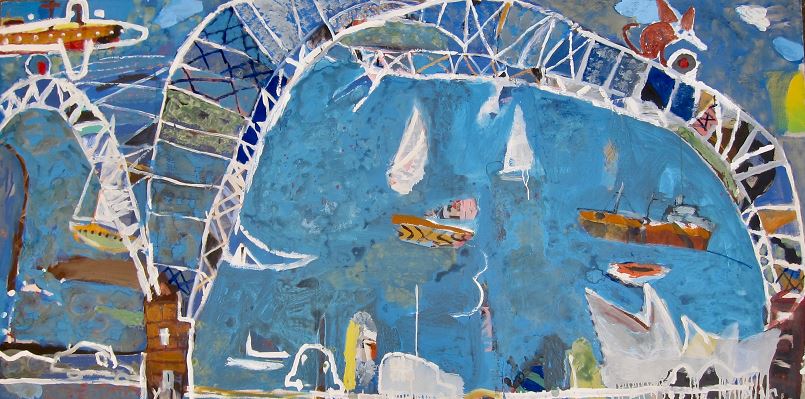 Sydney Harbour: Treasures from the Vault
14 Dec 2021 - 20 Mar 2022
MAG&M celebrates Destination Sydney: The natural world with a focus exhibition featuring highlights from its collection depicting Sydney Harbour. Our collection continues to grow and represents some of Australia's greatest artists, with a particular focus on recent donations of works featuring the harbour by Geoff Harvey, Rodney Pople, Wendy Sharpe, Nick Hollo and Richard Ashton.
This special exhibition provides rare insights into the stories of place and of the artists themselves. The exhibition features paintings, etchings and photographs acquired through MAG&M Society, the Theo Batten Bequest, and from the artists and donors through the Australian Government's Cultural Gifts Program.
Image caption: Geoff Harvey, Possum crossing the Bridge, 1988, acrylic on board, 90 x 180cm.jpg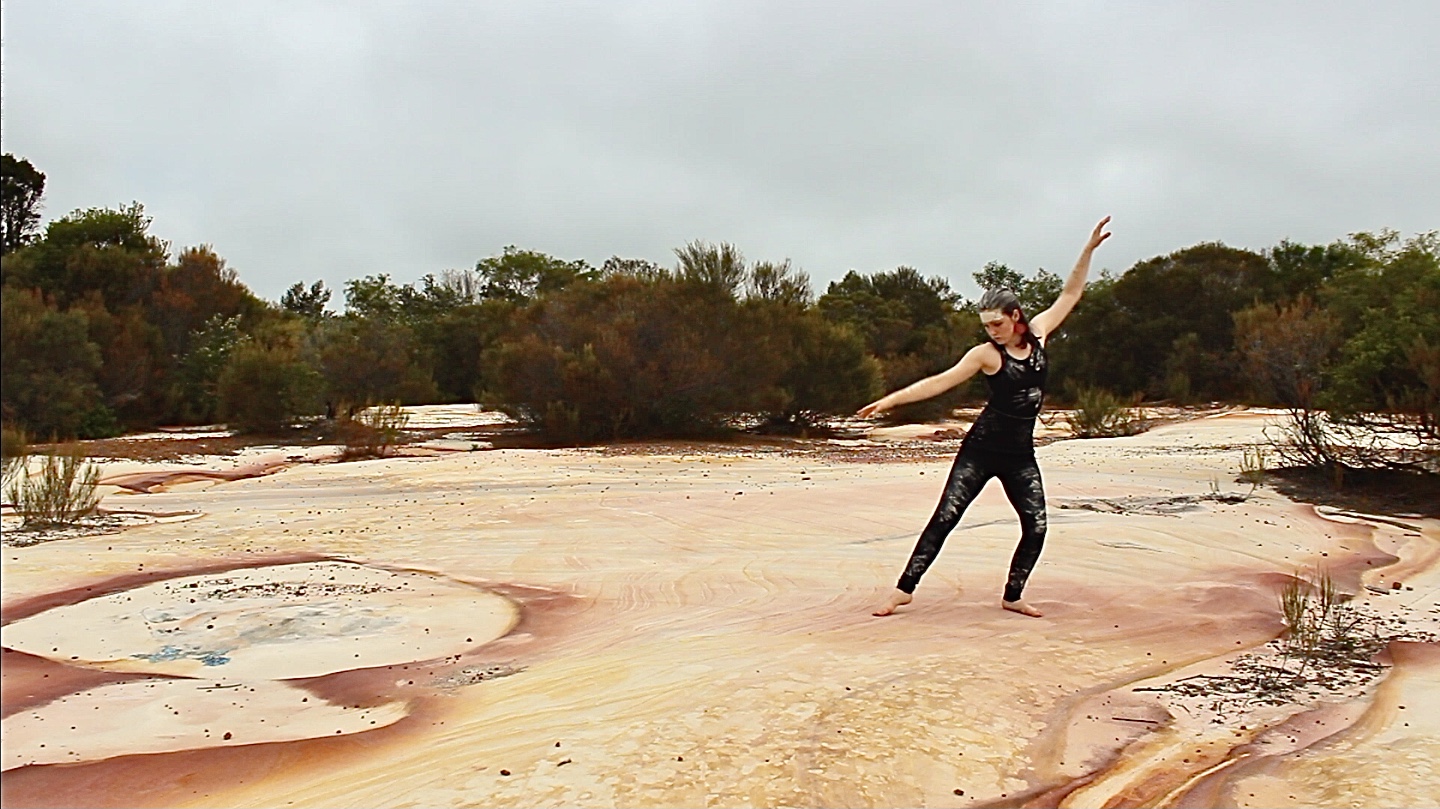 Aleta Wassell: Burumerring Nura (Wedge-Tailed Eagle Country)
14 Dec 2021 - 20 Mar 2022
This immersive exhibition is by young Northern Beaches based Aboriginal artist, Aleta Wassell whose original work presents a contemporary expression of dance, sound and art inspired by the natural landscape and Aboriginal and Torres Strait Islander Australia.
At the heart of the exhibition is a film that combines recorded tracks of the natural environment with traditional language and a range of melodic and percussive instruments. Visual footage that incorporates both traditional and contemporary aspects of ceremonies and dance is integral to this piece, bringing a deeper meaning to the work. The film is at the crossroads of traditional and contemporary artistic expression, using voice, rhythms, and synthetic sounds to accompany the visuals of the dancer.
Aleta Wassell first came to the attention of MAG&M curators when she sang Budjari Gunyalungalung Baraya-La (Let's sing good dreaming) by Jacinta Tobin and Nardi Simpson at Northern Beaches Council's Big Ideas Forum 'Why Art Matters: How Creativity Makes a Difference', in March 2020. Aleta was then invited to turn her various dance and performance pieces into an exhibition experience.
Aleta is a member of the Northern Beaches Council Youth Advisory Group which gives young people an opportunity to engage, contribute to and be heard in their local community by actively participating in decisions that affect them. She also enjoys volunteering for the Manly Warringah Pittwater Aboriginal Support Group for their meetings and events open to the wider community.
Image caption: Film Still - Aleta Wassell