Forestville
The Place
Forestville is a popular Northern Beaches suburb – surrounded by parks, close to shops and the new Northern Beaches Hospital. Forestville is a leafy suburb and a gateway to Chatswood and the Sydney CBD.
In 1856, James French cleared land to create Forestville and Frenchs Forest. French built a small wharf at Bantry Bay to ship timber to Sydney. After World War II, the densely wooded land was allocated as returning soldier settlements. However many of the plots were not suitable for agriculture and were instead developed for housing in the 1960's.
Forestville is located 12km northeast of Sydney CBD in the south-western corner of the Northern Beaches Local Government Area. Middle Harbour and Garigal National Park frame Forestville to the east and west respectively.
'The Centre' is a pedestrian-only shopping centre with an array of cafés, restaurants and lifestyle shops that locals enjoy. Adjacent to the shopping strip are a community centre, library and primary school. There are several schools and churches within the suburb and a number of active sports groups which all help to create a strong community.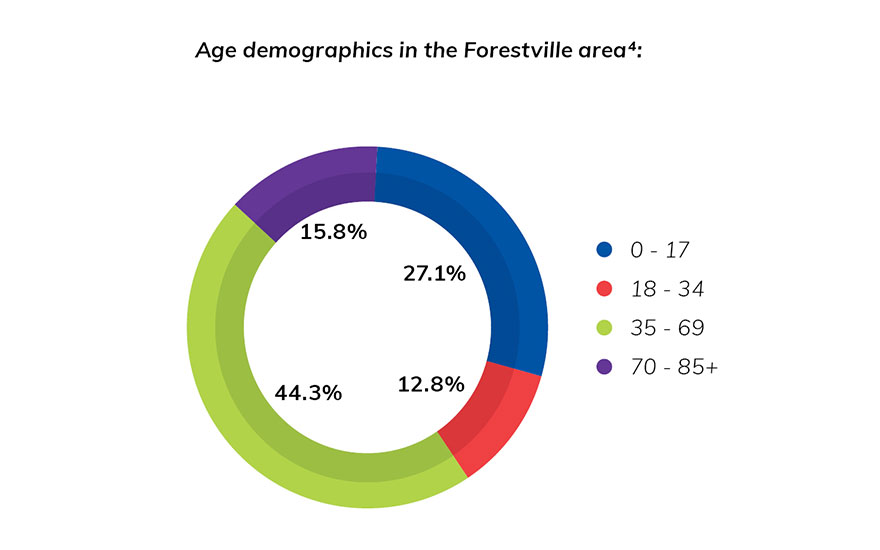 The People
Forestville is a laid back, family friendly suburb where residents and visitors are welcomed.
54% of Forestville households are families with children living at home*1. The family focused trend continues with a higher proportion of people aged 0-17 (27%) than the Greater Sydney average.
There is a higher proportion of people 60+ years old (25%)*2 than the Greater Sydney average. This cohort are active in the many local community groups and centres.
Forestville has a resident labour force of 3,958 people. 58% of these work full-time, slightly lower than the Northern Beaches and Greater Sydney average of 61%. There is a higher number of part-time workers (37%) than Greater Sydney*3.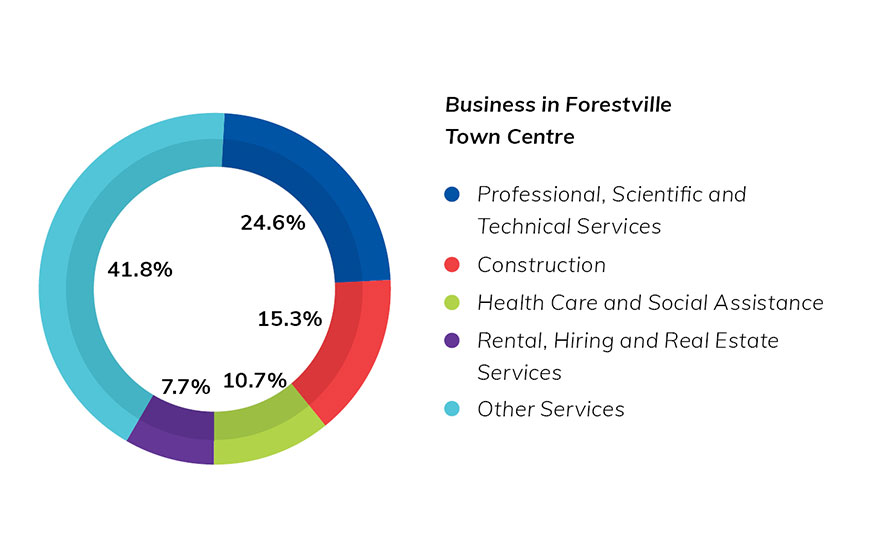 Who is doing Business Here?
Business and retail activity is concentrated at 'The Centre' shopping centre.
A large supermarket anchors the shopping centre, with visitors attracted to the café and restaurant culture complemented by lifestyle shops. Business variety ensures high levels of visitation throughout the day. Services include accounting, IT, banking, legal and health services.
The Forestville business community is predominantly professional, scientific and technical services (25%)7. Construction comprises a further 15%, which is dotted throughout the suburb. The 56 construction businesses are largely sole traders or smaller operations. A further 10% of businesses are health and social assistance.
Medical and allied health services include a Medical Practice, podiatry, physiotherapy and pharmacy. These are critical to the area, with a significant number of retirement and aged care living villages within Forestville.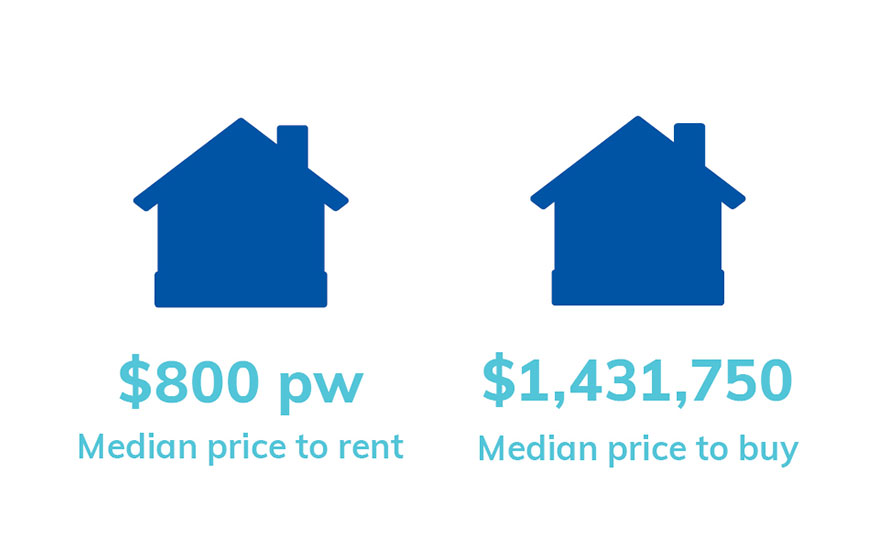 Land Use
Forestville is renowned as a leafy green suburb on the Northern Beaches. National parklands surround the area providing a beautiful outlook and buffer to the Sydney CBD.
Homeowners make up 74.6% of all Forestville residents with a further 18.8% renting a property*5. Across Forestville 81% of homes are free-standing. This is noticeably higher than the Greater Sydney average of 55%*6.
Forestville has a variety of parks and open spaces. This includes eight open spaces with room for ball games, playgrounds and picnic areas. Brown Street Reserve also has BBQ facilities. Melwood Oval provides synthetic sports fields for a variety of sports. Visitors can enjoy a walk through 24 hectares of bushland in Forestville Park. The Forestville War Memorial Playing Fields provides an off-leash area at certain times throughout the week.
Getting There And Around
Forestville is a local gem hidden just off Warringah Road. It is a key commuter route and connects nearby suburbs with public transport and key infrastructure.
There is a mix of car parking around 'The Centre' including the Darley Street car park adjacent to the Forestville Community Arts Centre. The site accommodates approximately 98 three hour timed car spaces. There are two levels of underground parking beneath Coles, accessed from Starkey Street.
There are several great bushwalks and mountain bike tracks in the Garigal National Park link to Bantry Bay and Manly Dam*8. 'The Centre' provides bicycle parking and on-road cycling routes connect Forestville with Frenchs Forest and Killarney Heights. Forestville road cycling routes form part of the Council's draft Safe Cycling Plan*9.
Fourteen bus routes service Forestville. Routes connect to Chatswood, Sydney City and suburbs across the Northern Beaches and North Shore. In March 2019 a rapid bus service connecting Dee Why to Chatswood via Forestville every 10 minutes was announced*10.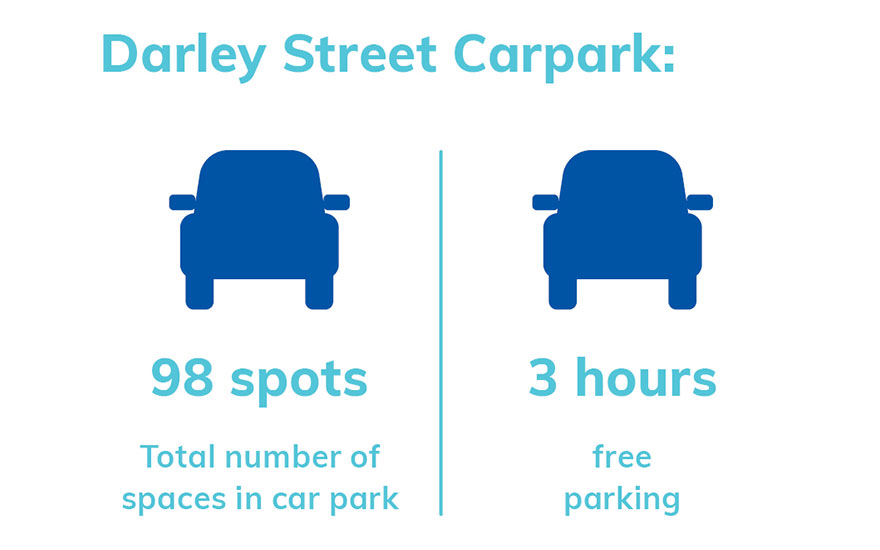 Visiting Forestville
The majority of residents drive a car to work (57%) with a further 15% catching a bus to work.
Forestville town centre has one Council car park located between the Community Arts Centre and The Centre with three hours free parking.
---
References
* 1. profile.id.com.au/northern-beaches/households-with-children?WebID=280
* 2. profile.id.com.au/northern-beaches/service-age-groups?WebID=280&BMID=10
* 3. profile.id.com.au/northern-beaches/emploayment-status?WebID=280&BMID=10
* 4. profile.id.com.au/northern-beaches/service-age-groups?WebID=280
*5. profile.id.com.au/northern-beaches/tenure?WebID=280
*6. profile.id.com.au/northern-beaches/dwellings?WebID=280&BMID=20
*7. economy.id.com.au/northern-beaches/business-locations
*8. northernbeaches.nsw.gov.au/things-to-do/recreation-area/forestville-park
*9. northernbeaches.mysocialpinpoint.com/northern-beaches-bike-plan#/
*10. northernbeaches.nsw.gov.au/council/news/media-releases/east-west-rapid-publictransport-link-game-changer-northern-beaches