Freshwater
The Place
Freshwater is the quintessential coastal village. Situated 2km north of Manly, Freshwater village is 500 metres inland from Freshwater Beach. The village is known for its attractive highstreet, which features boutique fashion and surf-wear, homewares, cafes, bars, beauticians and bakeries. The unique retail mix, combined with a laid-back atmosphere, beckons barefooted surfers, workers and families alike.
The village services the populations of surrounding suburbs of Freshwater and Queenscliff. Shops and services – including pre-schools, community library and general practice – are concentrated on Lawrence and Albert Streets.
History and heritage are important to Freshwater. The Aboriginal Heritage Office, which celebrates and builds understanding of Aboriginal culture, moved to Freshwater in 2019. Next door is the Harbord Literary Institute, a heritage building that was constructed in 1918. Stories and history capture the local imagination. The genesis of surfing at 'Freshie' beach, the great Harbord/ Freshwater naming struggle, and the sacrifice of local soldiers abroad are some of the stories commemorated in print and public art.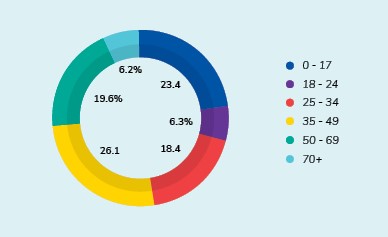 The People
The people of Freshwater are active and up early, taking advantage of the beautiful surrounding environment and the welcoming cafes and businesses.
Freshwater has an active and passionate community. There is a strong volunteer community participating at the Harbour Literary Institute, Friends of Freshwater, Surf Life Saving Club and local schools. Bush regeneration and community gardening are also driven by local volunteers.
Freshwater is a suburb with broad age appeal. 40% of households comprise couples or singles with children. You regularly see families at the local reserves or soaking up the sun on Freshwater Beach. Compared to Northern Beaches averages, Freshwater has a high proportion of share houses, couples without children and young workers (25 – 34 year olds).
Freshwater has a resident workforce of 5,010 people. There is a higher proportion in employment than the Northern Beaches average with 65% of workers employed full-time with a further 32% employed part-time. There is a high number of professionals (28.6%) and managers (18.6%) living in Freshwater.
What's Happening Here?
Freshwater village's attractive high street and wealth of eateries make it a popular spot to while away time.
On weekdays the village is awake early. Commuters are up and grabbing a coffee, pre-schoolers are getting dropped off, and students are making their way to school.
When the working week is done, locals make the most of the eat street. Sunday mornings are busy with people grabbing takeaways and settling in for brunch.
In and around the village, an interest in exercise and wellness is evident. On any given morning you can spot surfers at the beach and personal training or running groups in session. Surf and swim competitions bring large numbers of visitors to Freshwater Beach and surrounds during the summer. Nippers is very popular and there is a terrific bustle on the beach on Sundays during summer. The community embrace opportunities to come together for formal and informal gatherings. For example, Armistice Day 2018 was presented by Harbord RSL sub-branch and Soldiers Avenue of Honour stakeholder group.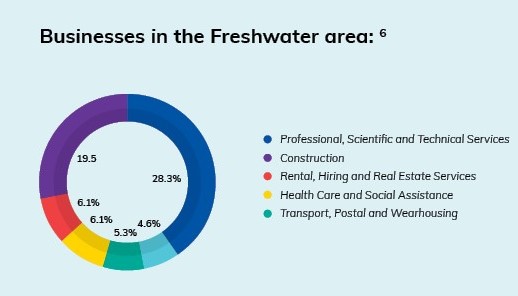 Who is doing Business Here?
Freshwater has a bustling high street hub located along Albert Street and Lawrence Street. In the village, you can find a butcher, florist and bakeries as well as boutique fashion and homewares. A cluster of cafes and eateries has emerged in recent years, with an emphasis on day-time dining. The retail offerings are supplemented with local necessities including pharmacy and banks.
Beyond the high street, Freshwater businesses are predominantly professional services, scientific and technical services (28.3%). This is followed by construction (19.5%) and health care and social assistance businesses (6.1%) . This reflects the diverse business opportunities harnessed in Freshwater.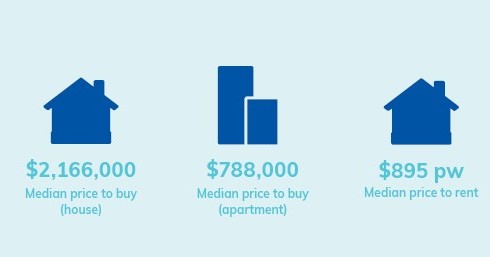 Land Use
Freshwater is a coastal suburb, rich in recreational space. The prized Freshwater Beach and iconic ocean pool are a short stroll from the village centre. The suburb boasts many reserves and parks. Freshwater Beach Reserve is very popular for picnics and barbecues – particularly in the summer – and Jacka Park, Freshwater Community Garden and Freshwater View Reserve are favourite places for play, cultivation and celebration.
The town centre is zoned mixed-use and features retail on the ground floor. Outside of the town centre, Freshwater is largely residential. In recent years, redevelopment on Lawrence and Albert Streets has seen the introduction of shop-top housing in the village centre. Along the southern border of Freshwater there is a concentration of apartment blocks. 57% of dwellings in Freshwater are medium to high density, compared to the Northern Beaches average of 43%. Freshwater also includes a small pocket of light industrial land along Pittwater Road. This pocket is useful for housing urban services – such as mechanics – and large format retail.
Getting There And Around
Most visitors get to Freshwater by car or bus, while residents access the village by active transport.
Harbord Road and Pittwater Road provide key north/south linkages to Freshwater, while a smaller network of roads run along the coastline. Carrington Parade on the northern side of the suburb offers one of the most scenic outlooks for drivers on the Northern Beaches. While driving is commonplace, buses play an important role. A high level of connectivity between Manly Wharf and the village means that Freshwater can attract day-trippers, and residents can connect to work and recreation in Manly and then to the city.
Active transport – walking, jogging, bike riding and scooting – brings residents and visitors into the retail hub. Freshwater has a walk score of 66, which means that it is a somewhat walkable suburb and that some errands can be accomplished on foot in Freshwater.
Freshwater village is on the Coast Walk, which stretches from Manly to Palm Beach. The village is well-positioned to cater to visitors who want to stop for refreshments on the 36km walk.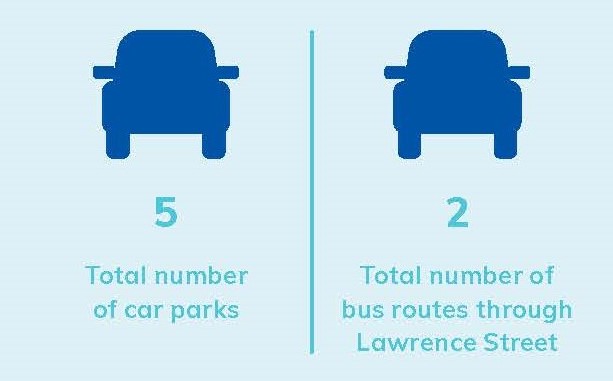 Visiting Freshwater
Parking
Freshwater village has two Council car parks, with 3 hours free parking Monday – Saturday and unlimited parking on Sunday.
Oliver Street car park
43 spaces – includes disabled parking, 3 hours free parking
Lawrence Street car park
12 spaces – includes disabled parking, 3 hours free parking
Freshwater arcade roof-top car park
18 spaces
The Freshwater development – Wilson car park
57 spaces - 1 hour free, then paid parking
Freshwater Village Plaza car park
37 roof-top spaces
50 covered spaces – including disabled parking, 2 hours parking and 60-minute express parking available
On-street parking includes:
Lawrence Street
Parallel parking
½ hour limit Monday - Saturday
Albert Street includes:
45-degree parks
13 spaces
1-hour limit Monday – Saturday
Buses
139 - Connecting Freshwater to Warringah Mall and into Manly
E65 - South Curl Curl to Wynyard Express connecting Freshwater Village with Queenscliff, Fairlight and Cremorne
Cycling
A combination of Shared Paths and on-road marked cycle ways connect Freshwater to Manly, and Balgowlah to the South, to Warringah Mall and to Curl Curl and Dee Why to the North. From Dee Why routes connect out to Cromer, Collaroy and Narrabeen and beyond.
---
References
* 1 profile.id.com.au/northern-beaches/households?WebID=300&BMID=20
* 2 profile.id.com.au/northern-beaches/occupations
* 4 realestate.com.au/neighbourhoods/freshwater-2096-nsw
* 5 economy.id.com.au/northern-beaches/business-locations
* 6 economy.id.com.au/northern-beaches/business-locations