Road safety is more than just fatalities and serious injuries. It is a part of our daily life as a pedestrian, rider, motorist or user of public transport.
Road safety is something that affects us all. The choices we make can have a real impact on the safety of ourselves, our loved ones, and our community.
Road Rules - General Information
Transport for NSW is the lead authority on road rules in our area.
Local police and Council Rangers enforce these rules.
Council raises awareness on the road rules and provides information on how to use our roads and paths more safely.
The information on this page is correct at the time of posting and is reviewed periodically.
Recent road rule updates
Mobile phone detection cameras
There are both fixed and mobile cameras now in place, including the Northern Beaches. You can be fined if these cameras detect you are using your phone illegally.  Find out more
Emergency vehicles
If you see stationary emergency vehicles with flashing lights, you must slow down to 40km/h when you pass them, and where the speed limit is 80km/h or less. Where the speed limit is 90km/h or more, you must slow down, move over and give space.  Find out more and also via this short video
Bicycles
When driving, you must give one metre of space when you pass a bicycle in a 60km/hr zone or less, and 1.5 metres when you pass in an 80 km/hr zone or more.
You CAN overtake a bicycle on double lines IF it is safe. Find out more.
Also check that you understand the rules in sharing the road for both motorists and bicycle riders.
Resources
---
2023 Road Safety Calendar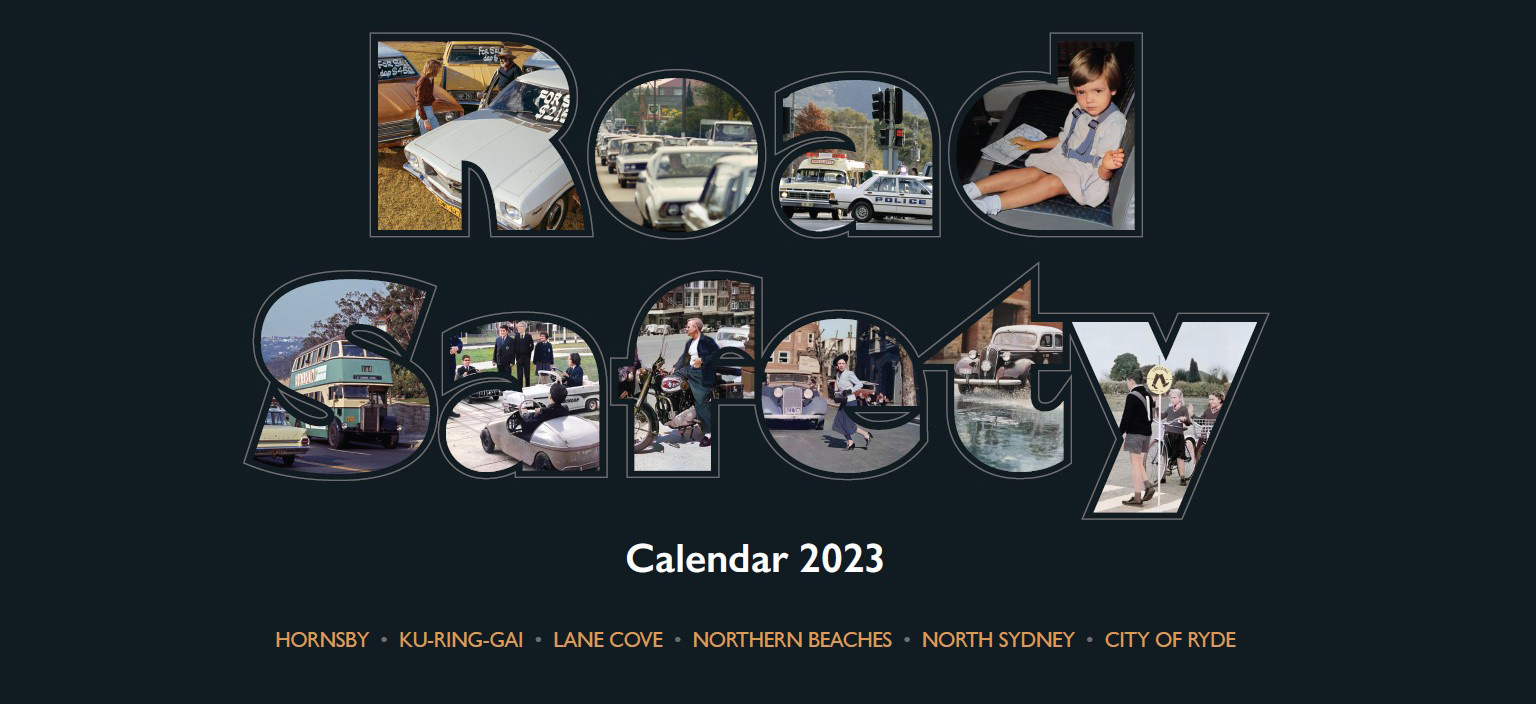 Now available
The 2023 calendar takes an historical look at how things were. Times have changed, and our roads are considerably busier. The message to take care and be safe on our roads is the same. However, today we have the advantage of improved technology to assist our road safety.
In 1955 vehicle ownership in Australia was 1.4 million. In 2021 it rose to 21 million. Many of the photos reflect the difference that the rise in traffic has made for both pedestrians and motorists relative to times gone by.
The calendar is a collaboration between Hornsby, Ku-ring-gai, Lane Cove, North Sydney, Northern Beaches and City of Ryde Councils.
You can get your copy of the calendar from our customer services, libraries and many of our local sports and community centres.
For any information on this calendar, including requesting a copy, please email the Road Safety team.