Congratulations to the winning artists and designers across the nine categories for this year's Environmental Art & Design Prize.
People's Choice Winner - Manly Art Gallery & Museum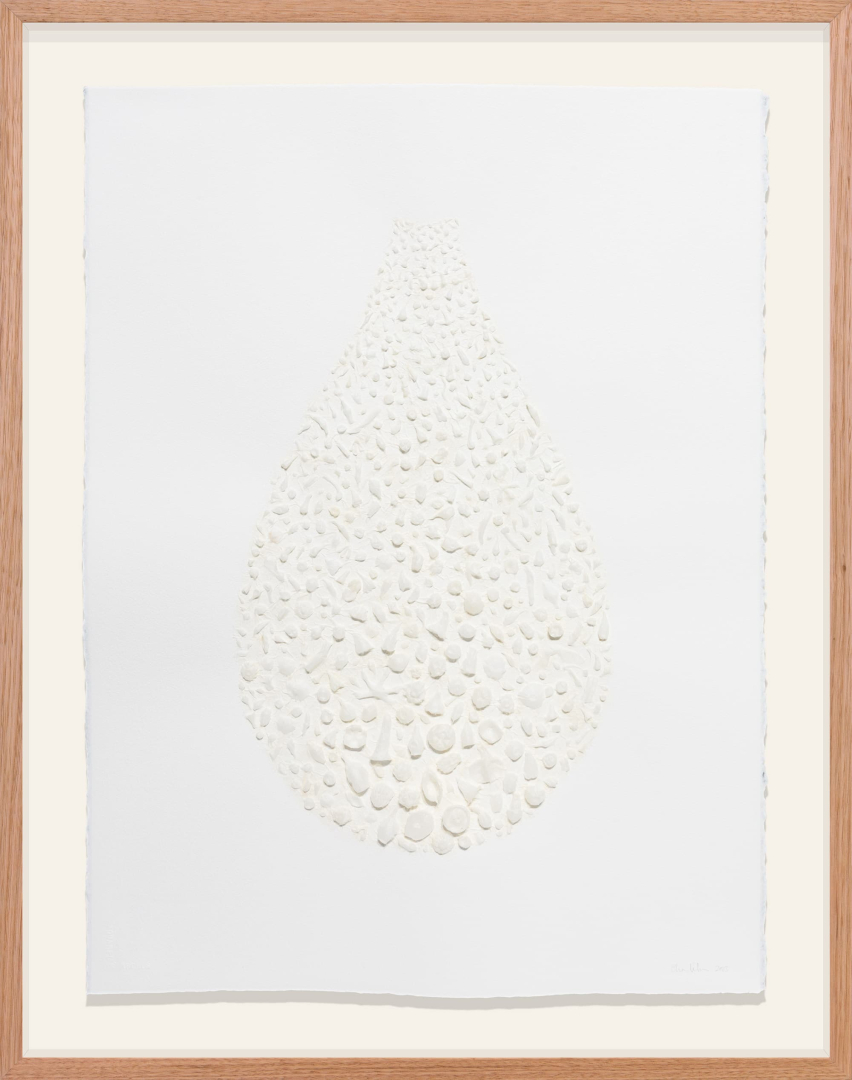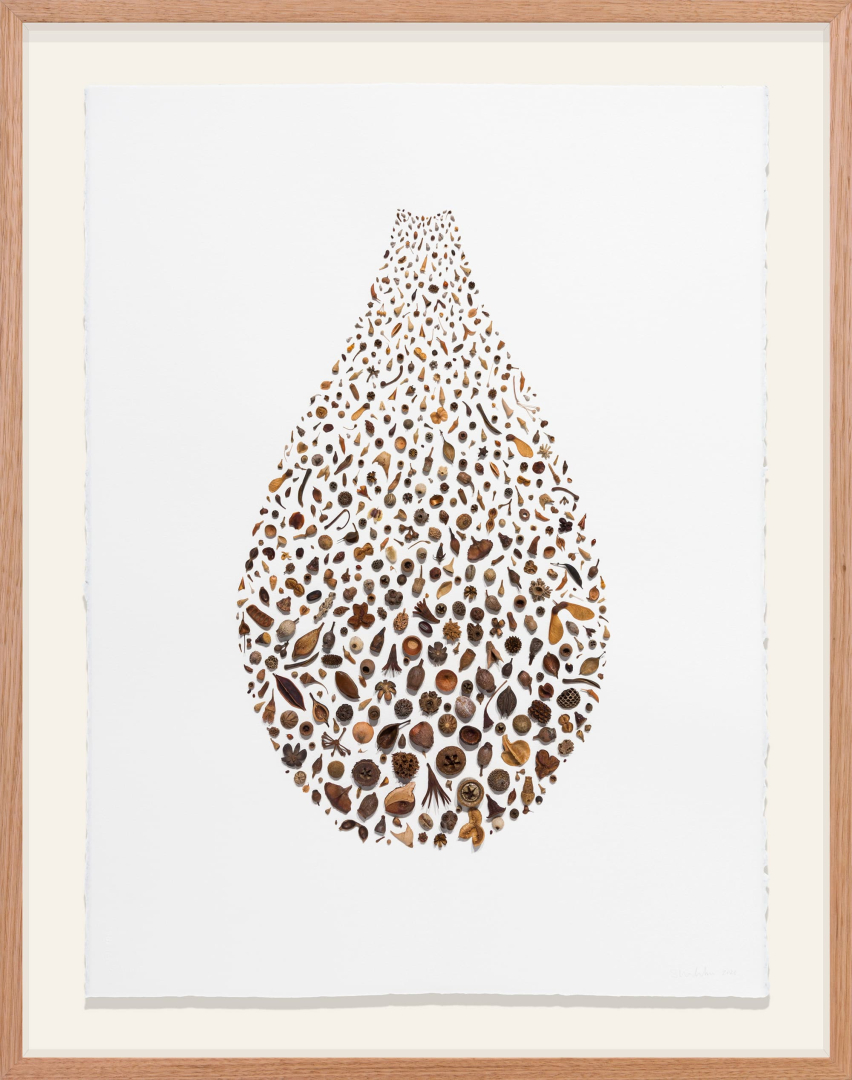 SHONA WILSON - Seeding | Receding
Seedpods and seeds, archival Japanese Sekishu paper impression mould on paper, 66 x 132cm (diptych)
Artist statement
Seeds and seedpods carry within them both symbolic, real promise and hope for the restoration of the natural environment. With so much at stake in our environment these droplets filled with seeds offer abundance and biodiversity. Underlying that, the work speaks to and embodies the notion of an infinite exchange of matter between formed and formless. 
There is an apparent paradox in their titles, with the white paper pockets of 'air-seeds' titled Seeding emerge from their background seemingly 'dissolving' but also 'becoming' and similarly the actual seeds and seedpods titled Receding, seemingly solid yet also in a process of dissolving. Between these two states of being, birth and death dance their timeless pas de deux in which we are thoroughly entwined. Although each appears self-contained, together they dance with the perpetual movement of change and carry the potential flourishing for us all on this beautiful planet Earth.
Prize
$1,000
People's Choice Winner - Curl Curl Creative Space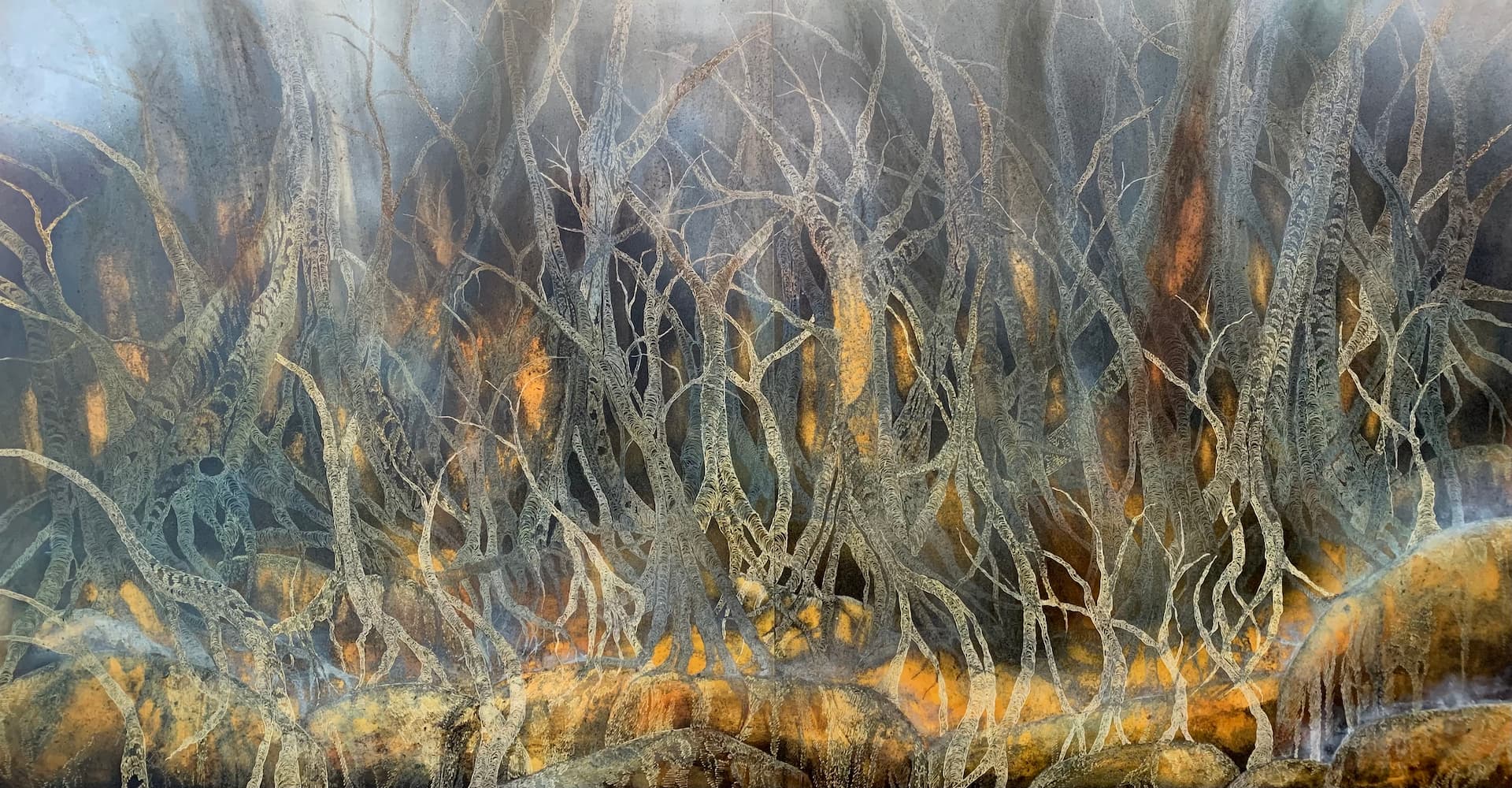 PENELOPE OATES - Entangled
coloured inks, acrylic, heated soldering iron on board - 78 x 144cm
Artist statement
Entangled references the duality of extremes we are all experiencing with more fires and floods around the globe. In my own pocket of paradise, the Hawkesbury area of NSW, we have experienced two years of fires followed by three years of flooding. I have seen many oak trees uprooted and mangled along the Hawkesbury River. Too large to move, they are left as reminders of the persistent climate challenges we face. 
Trees with their extensive root systems are the most effective carbon capture technology we have and are precious markers of the health of our planet.
Prize
$1,000
People's Choice Winner - Mona Vale Creative Space Gallery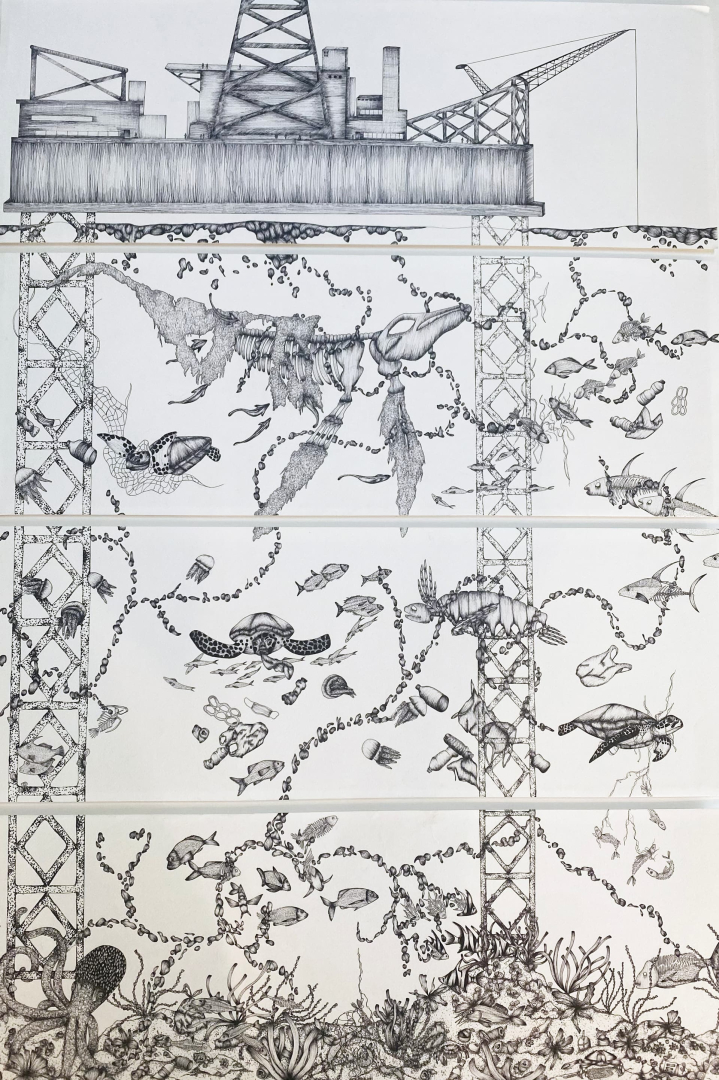 EMBER MCCABE - Ripple effect
Black artline pen on paper, using a mixture of hatching and stippling techniques, 117 x 84cm
Artist statement
My artwork explores the deterioration of natural marine environments due to human-caused impacts including oil drilling from offshore oil rigs, pollution, and overfishing, placing emphasis on the destruction of our world's beautiful marine life. I have included images of rubbish, tangled fishing lines, oil bubbles, an offshore oil rig, and dissolving marine life to portray my ideas to the audience. My work aims to educate audiences on the consequences our actions have on marine life, urging them to take more responsibility and strive to be more informed about their environmental choices.
As an aspiring artist drawing from my local, Northern Beaches environment, I look to capture the natural world through a monochromatic lens. I typically work with Artline on paper to achieve this, employing techniques such as hatching and stippling.
 
Prize
$1,000
Functional Design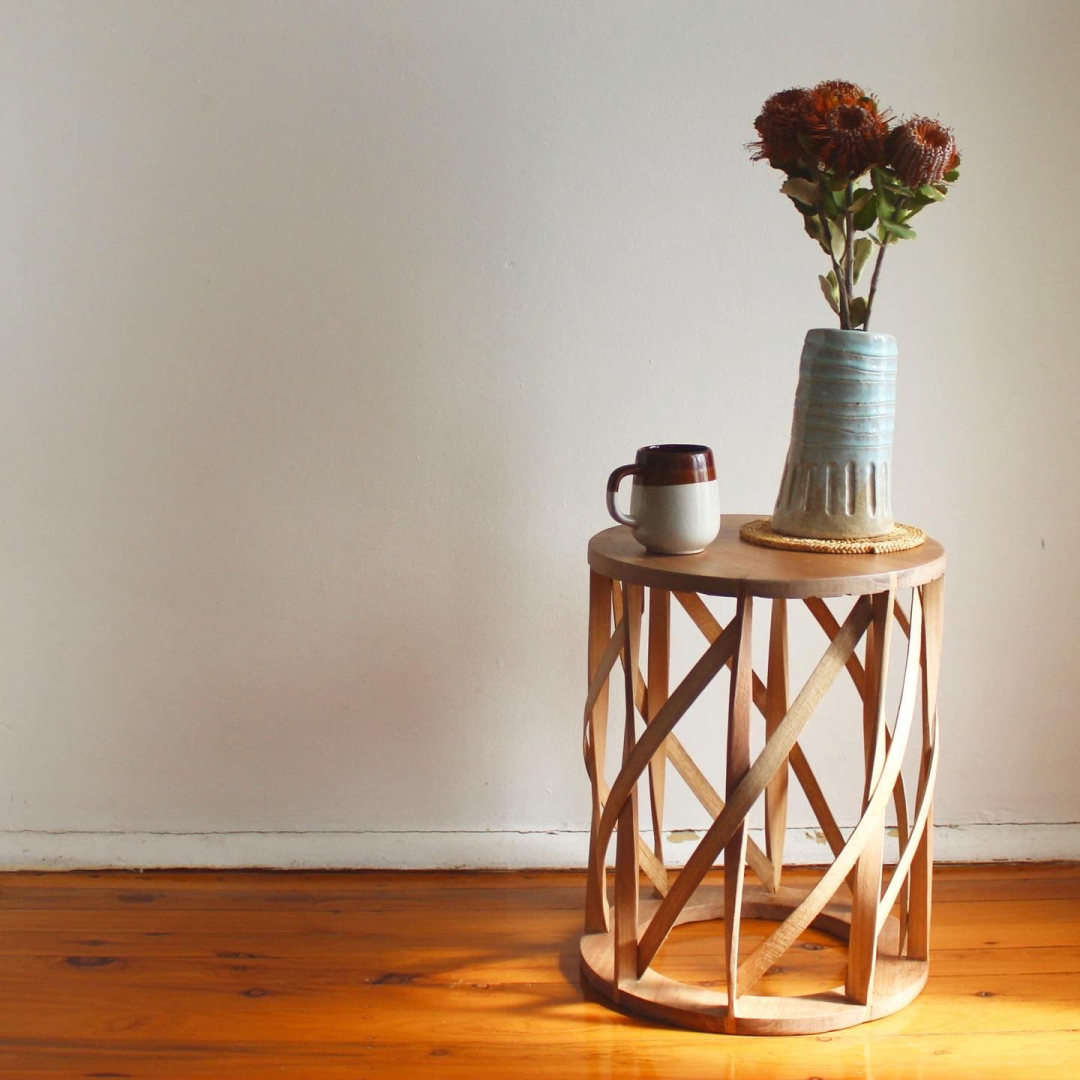 JACK STANNARD (ILUKA STUDIO) - Spindle Stool
native recycled timber: Blackbutt & Spotted Gum sourced from a residential construction site in Balmain, Sydney, 50 x 38 x 38cm
Artist statement
The Spindle Stool is a celebration of the unique properties of native reclaimed timber. The supporting legs of the stool are made from Spotted Gum that has been carefully steam-bent and twisted into place. The density and strength of these native timbers allow the timber to be soaked and steam bent into beautiful curves. The two circular ends are made from native Blackbutt and securely contain the beautiful natural curves of the twisting legs.
The stool is designed to nestle next to your favourite chair or be used as a plant stand. Made from reclaimed Blackbutt floorboards and Spotted Gum construction joists, finished with a durable water-based varnish and beeswax.
Judges' comments
A perfectly resolved timber piece of furniture. Visually simple but incredibly sophisticated in its construction. I really love it!
Prize
$5,000
Highly Commended
ORLANDO LUMINERE - Trash-Cam
Discarded PC computer case, discarded cooking oil tin, styrene box, old hoodie, scrap cardboard, second hand lens, coat hangers, vintage tripod parts, plywood and timber offcuts, nuts, bolts, screws and hose clamps, 71 x 57 x 85cm
MARLO LYDA - Remnants Collection
Salvaged and hand-finished stone with sea-patinated, hand-crafted frames, 50 x 80 x 100cm
Painting and mixed media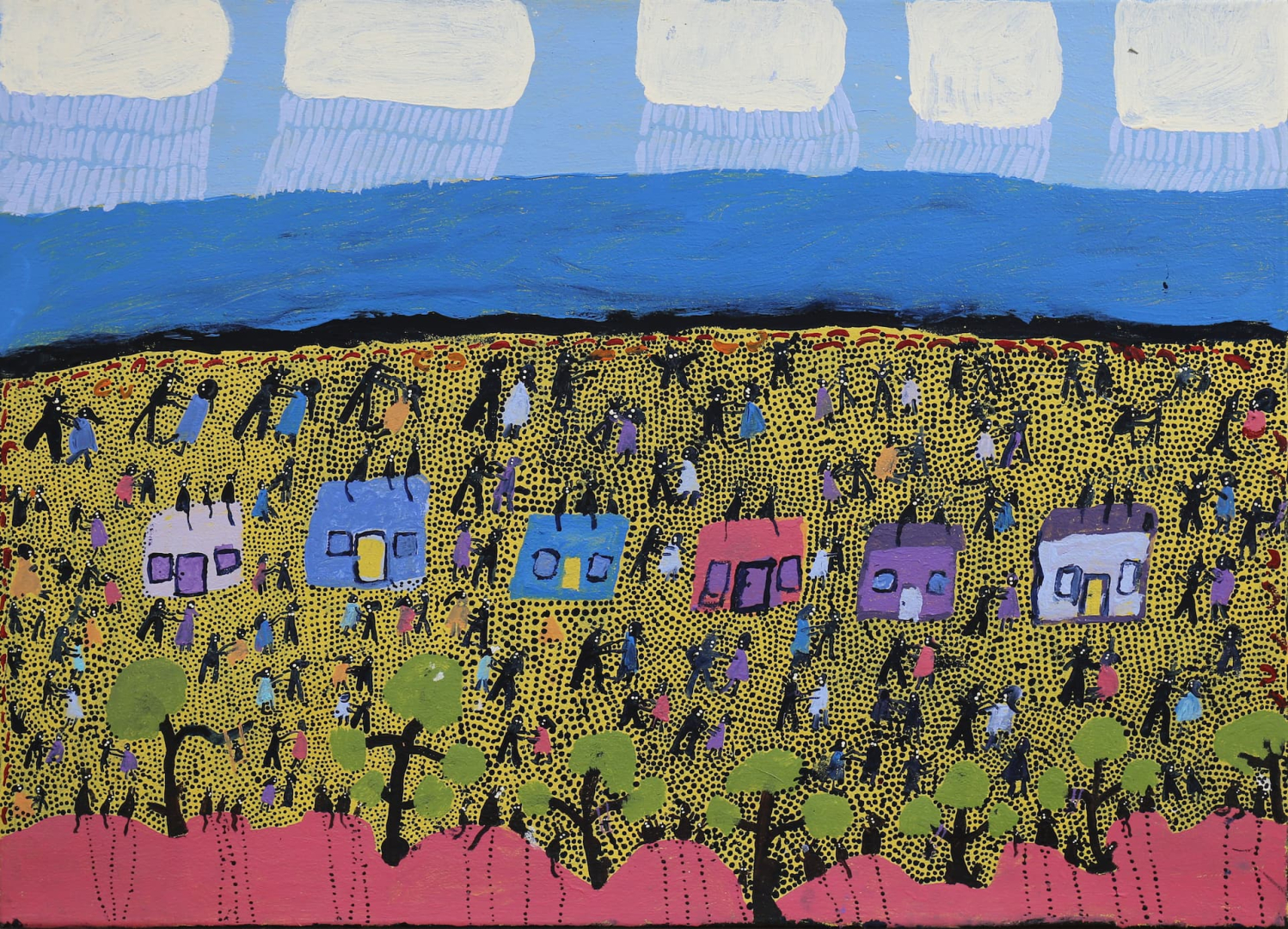 GRACE KEMARRE ROBINYA - Raining over Laramba, different times
Acrylic on linen, 56 x 76cm
Artist statement
Laramba, different times. There's good raining coming, all the dogs sitting on the low hills there, watching. Early days of Laramba. We had small houses first time. Napperby Station days before Laramba called that name. They called it Napperby Station Aboriginal Camp. That's where I lived with my husband and kids. All grown up now. And then that camp called Laramba Community. Build proper houses first time. Only small houses. Dogs on top of houses all the time.
And now they build big houses. Dogs not on top anymore. But they still on the low hills, watching the raining coming. I saw all these big changes a long time. All the time dogs still climbing the low hills.
Judges' comments
A wonderfully structured composition with a rich story and dynamic painting style
Prize
$5,000
Highly Commended:
GEORGINA POLLARD - Map of Capertee Valley
watercolour and collaged seed catalogue on plywood, 120 x 120cm
Ceramics and Small Sculpture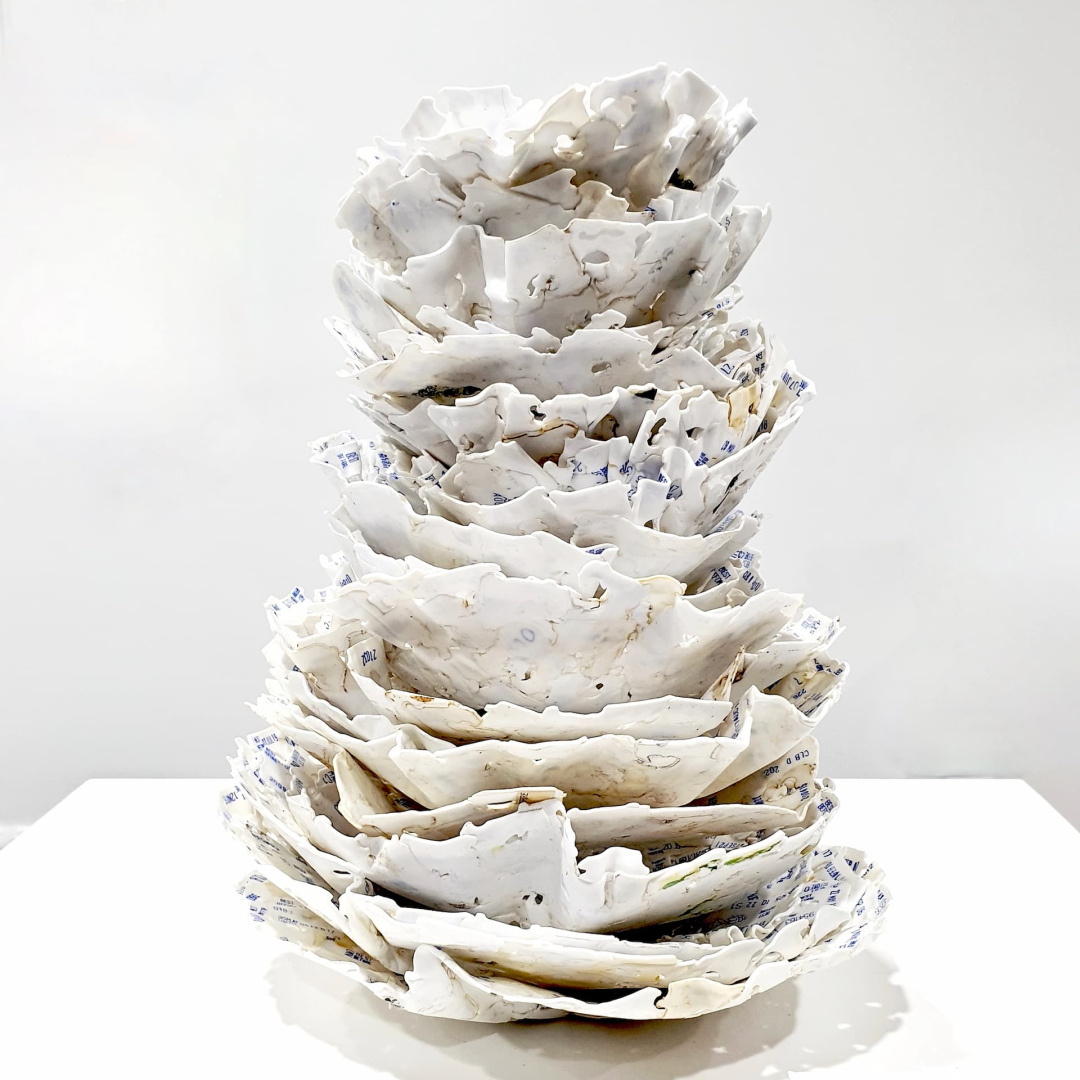 SHANI NOTTINGHAM  - Colligo – A False Comfort
Single use (plastic number 6) breadtags, 30 x 20 x 20cm
Artist statement
Colligō - verb: to gather, draw, bring or collect (together), assemble. I grew up with a collection of blue and white plates lovingly and carefully displayed on our kitchen walls and shelves, becoming intrinsically linked to familial domestic moments of comfort.
These vessels reference this china, but are actually made of bread tags. Small mundane pieces of single-use plastic, bread-tags are abundant, a waste material, a polluting product. The creation of such single use plastics is unsustainable, and contrary to our long-term comfort. With this work I reclaim and transform the breadtags, moving past their initial purpose and usual disposability to become something 'other', having value and meaning, provoking response and creating a space for dialogue about plastic waste. The breadtags used here have been saved and sent to me from people all over Australia and the world.
Judges' comments
A deceptively simple-looking work drawing us to familiar domestic collections of earthenware china. In fact the work is made using abundant plastic waste, stacked tenuously.

A clever play or comment on one-use plastic and fine china, as an heirloom that will be passed down to the next generation.
Prize
$5,000
Highly Commended
SARAH ROBSON - FELT or felt?
Industrial felt, cast bronze, 176 x 25 x 6cm
Film & video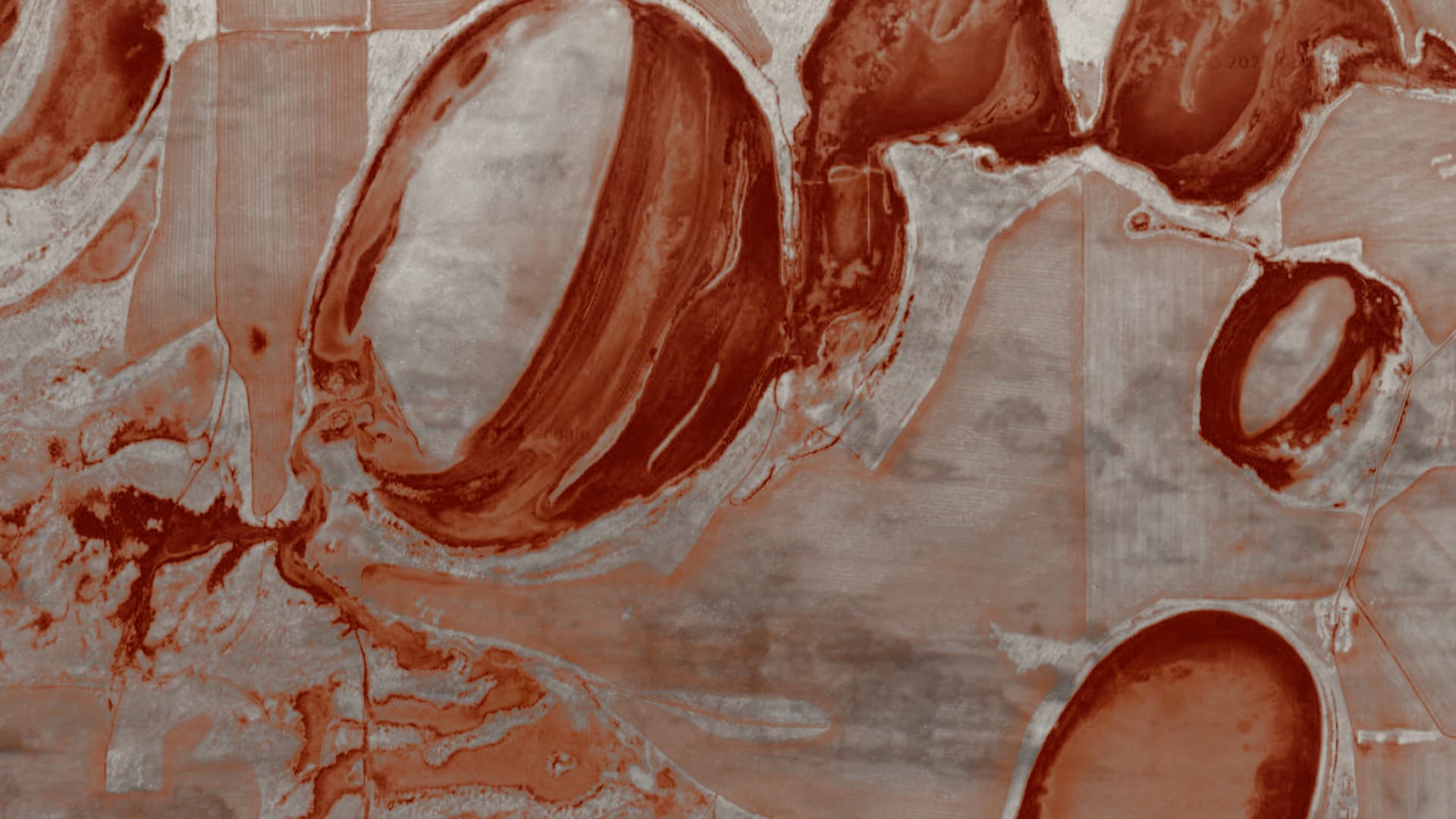 PERDITA PHILLIPS - Wheatbelt anticipatory archive II
Video, 4:59mins
Artist statement
My recent practice has included creating 'anticipatory archives' — working with historical sources to comment on futures not already in existence. In February I was given an unassuming tray of about five or six thousand small photographs. The origin and date of the archive is obscure, but it shows farming properties in southwest Western Australia. Taken from a plane they are an archive made by humans, for humans. I scanned in around 500 photographs and set myself the task of unsettling the eye of settler colonialism with a more ecological vision.
The video contains images and details of the photographs -- and salt lakes -- aerial footage, strings of lakes as blood from near where my grandfather cleared the land, detail of salt crystals, fringing vegetation and catchment recovery at Toolibin Lake, in the wheatbelt of Western Australia.
Judges' comments
Political and poetic take on found historical archives. The film uses the Western Australian wheatbelt to question colonial land use and calls for a reconsideration of the local ecology.

A beautifully choreographed expression which exposes the extent of colonisation.
Prize
$5,000
Highly Commended:
THE ARCHIVAL FUTURES COLLECTIVE - Musca
Video, 5:47mins
CELOSIAFIELDS - Tatsuya and Moog
Video, 3:01mins
Interdisciplinary collaboration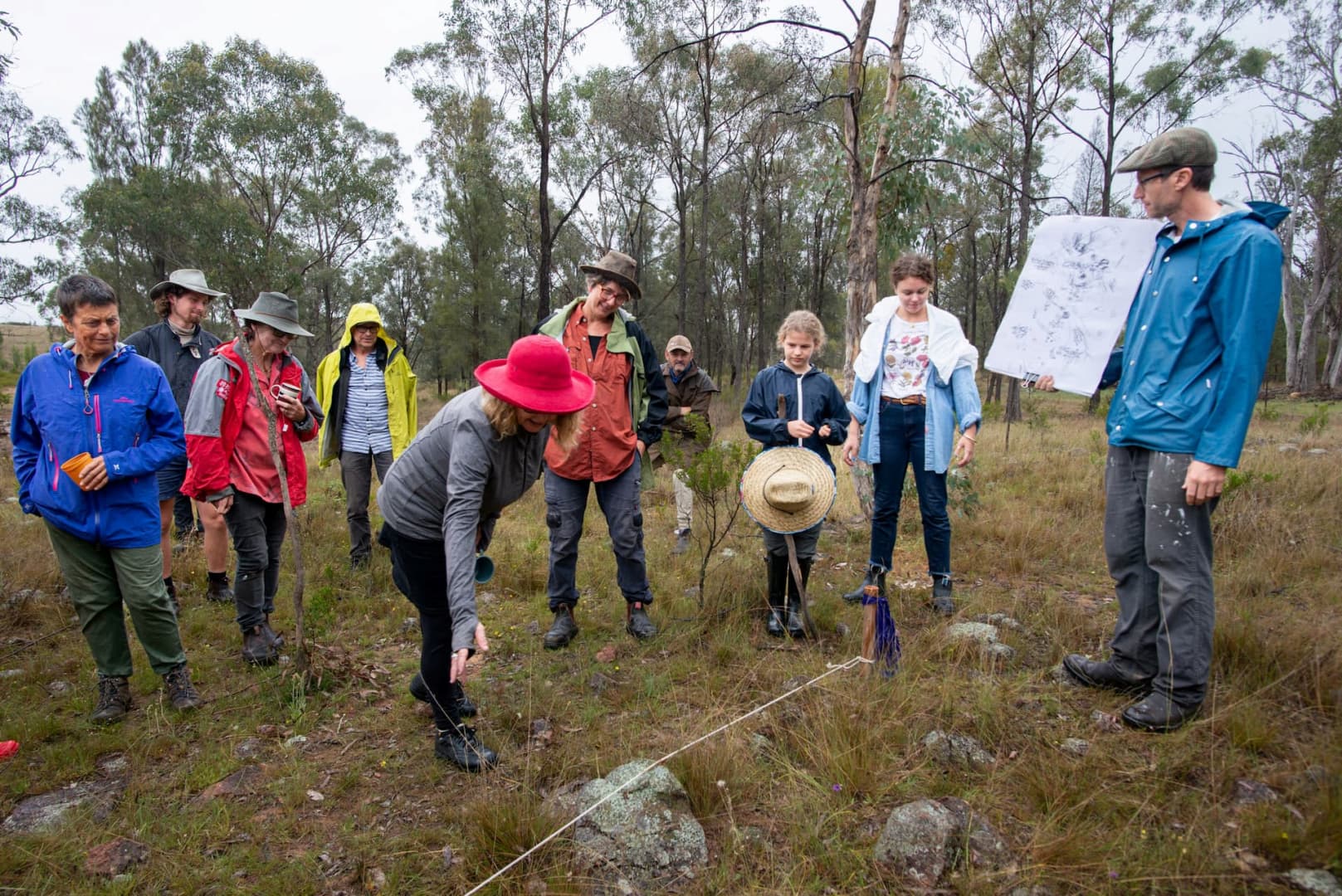 KANDOS SCHOOL OF CULTURAL ADAPTATION - Land studio
Drawing and film, 200 x 200 x 100cm
Artist statement
Land Studio is a participatory artwork mingling art, science and land restoration. The video showcases KSCA's third 'Land Studio' camp on a farm in Gundungurra Country, Hartley. The camp ran for 3 days and brought together artists with geographers and other mostly urban participants. At Land Studio, campers contributed labour in exchange for knowledge. They created natural infrastructure to slow water, constructed contour fencing to improve land management, and planted trees. Farmers, Indigenous custodians, artists and scientists led a range of activities, campfire talks and walks. Together these experiences enabled deep engagement with the complexity of sustainable land management and climate change adaptation. Land Studio fosters the exchange of land-based labour, knowledge and culture "in the field", bridging social and disciplinary domains. The project deploys art to model a new form of land stewardship that is multi-dimensional, collaborative and adaptive. This video was shot and edited by videographer Justin Hewitson.
Judges' comments
Beautiful initiative, bringing so many different groups of people together – resulting in important real outcomes.

A wonderful collaboration - generative work harnessing the energy of community, collaboration, and care for place.
Prize:
$5,000
Wearable Design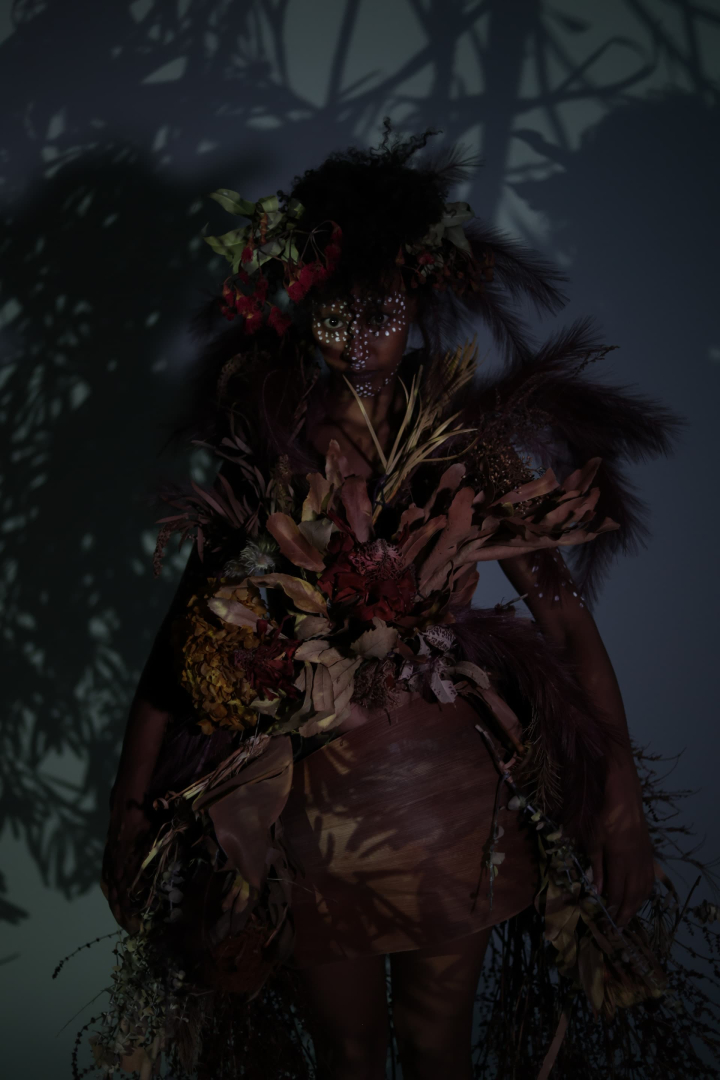 ADELASH PARSONS - Wild Elizabeth 
Dried gum leaves, Banksia flower, Wattle leaf, 100 x 100 x 50cm
Artist statement
My work was created to enable a connection to a land I have not forgotten. I am adopted from Ethiopia and I create art to help me answer and heal from this complicated world. I want to bring together the two worlds I belong to and create unity and understanding. Nature to me is the answer to it all.
For I have always turned to her and I have always felt like she has all the answers in this world. My narrative is to make sure that she will survive for generations of humans like me, wandering the earth looking to belong. I hope to show that you actually belong everywhere.
Judges' comments
Anti-fashion. A beautiful symphony of botanical wear.

A wearable piece of artwork that connects us to the plant world in a beautiful, physical, and immediate way.
Prize
$5,000
Works on paper & photography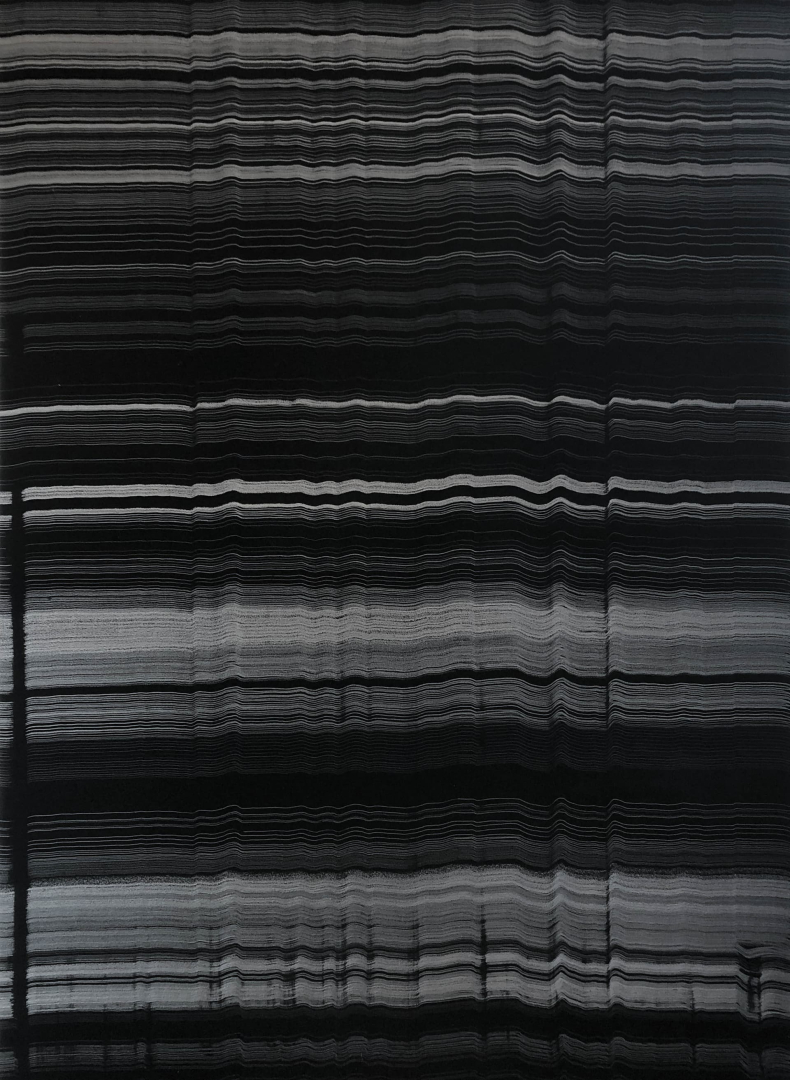 BELINDA YEE - Interference Pattern
Graphite, charcoal and acrylic binder on watercolour paper, 72 x 56cm
Artist statement
The Interference drawings are meditations on time, through materiality, process and form, they foreground notions of time. The materials used, graphite and charcoal, are allotropes of carbon which represent markedly different temporalities. When produced naturally, charcoal takes only hours to make, while graphite metamorphoses at geological timescales.
Interference Pattern is a process drawing where each line is drawn in response to the one preceding it, slowly, rhythmically. I use my breath as a metronome to link the temporality of my body to the process of mark-making. In terms of form, the resultant drawing is a grid of lines like rock strata or wave forms, which catch the light and seem to shift.
Judges' comments
A subtly powerful and beautiful work considering the material of carbon, time, and human breath.

From a distance this work holds a 3-dimensionality like a draped textile. Upon close inspection the graphite lines depict rock strata or fine timber grain. The work is a visual juxtaposition.
Prize
$5,000
Highly Commended
JOYCE LUBOTZKY - Souvenirs of Consumerism: To Contain
Photograph on Ilford fibre gloss paper, 124 x 84cm
VANESSA INKAMALA - The Gumtree Got Everything
Watercolour paints on archival watercolour paper, 38 x 52cm
Young artist/designer 7 - 12 years
Four joint winners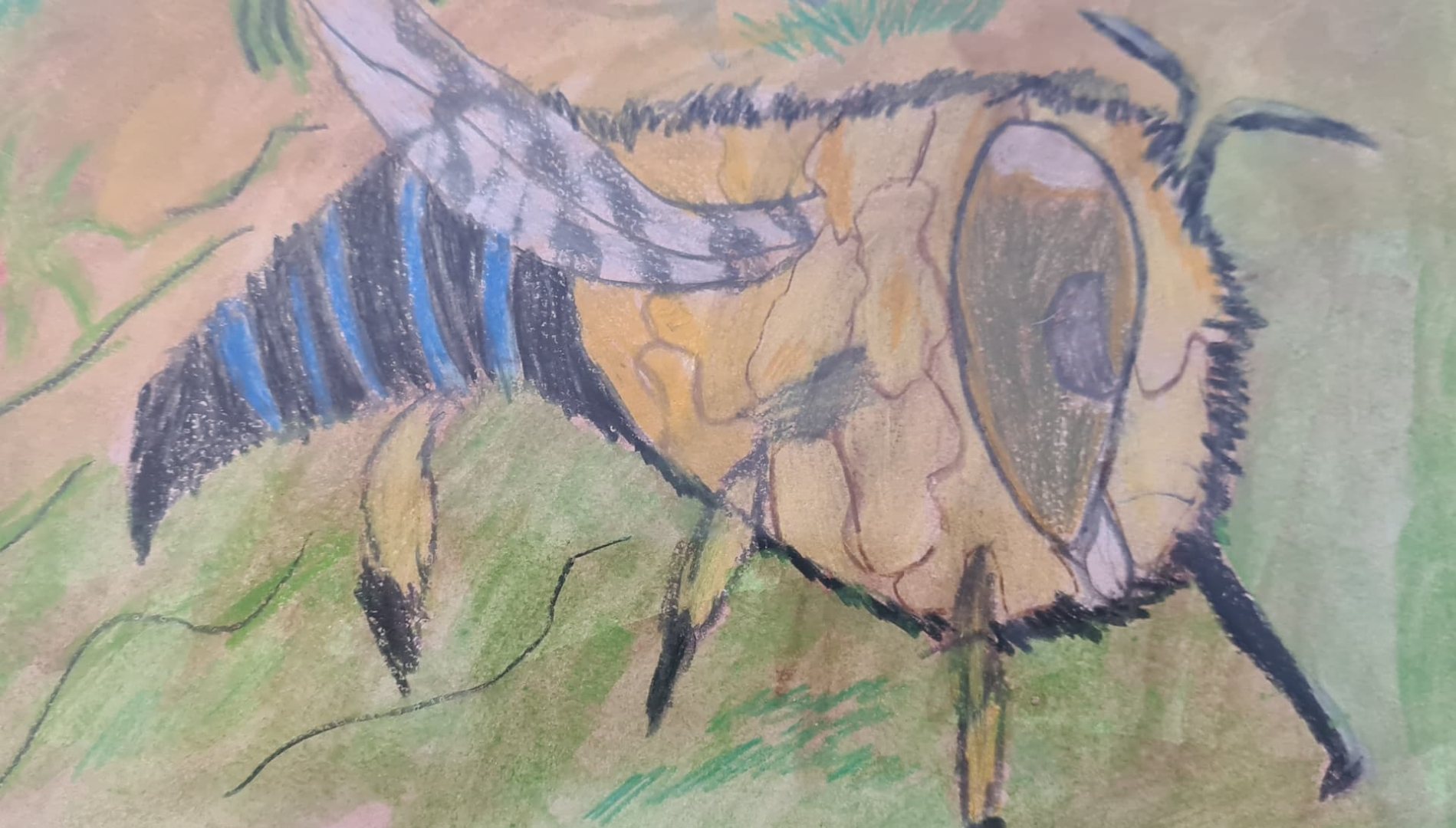 CHARLES WHITEHEAD - Blue Banded Bee at the Beach
Pencil, water colour, acrylic, 24 x 32cm
Artist statement
My artwork is about the beach and bees, both of these things are important to me as I live by the beach and have a beehive in my garden. My Mum is a beekeeper and I love bees and know how important they are for pollinating most of our crops and flowers. The worldwide population of bees is in decline and these beautiful insects are critical for our food production. Blue Banded Bees are amongst our most beautiful Australian native bees. They are about 11mm long and have bands of metallic blue fur across their black abdomens.
Blue Banded Bees are solitary bees, they don't live in hives or produce honey. This bee is visiting the beach.
I am in Year 3. I love drawing, painting, art and nature.
Judges' comments
Fantastic fresh artwork of a local bee, full of character & honesty

Such an honest beautiful drawing capturing the importance of our native bees
Prize
$500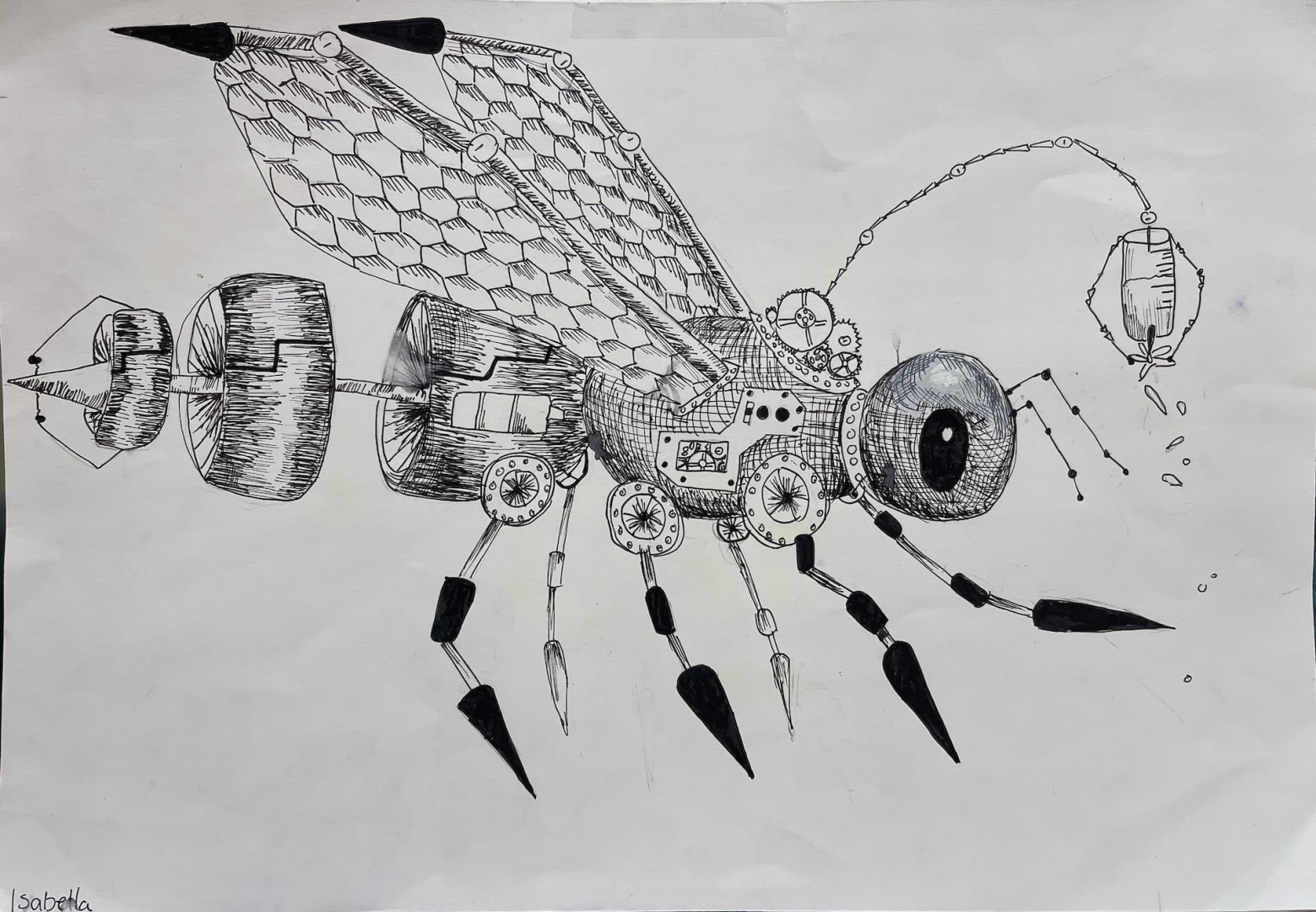 ISABELLA NIU - Robotic Saviors
Black pen, 29.7 x 42cm
Artist statement
There has been an alarming decline in global bee populations since 2006. The potential consequences of worldwide bee extinction would be disastrous for our food sources.
In my artwork Robotic Saviors, I created a robot bee as a symbol of hope to sustain pollination in the absence of living bees. I want people to know that we need to protect real bees and find ways to keep them safe. We have the responsibility to find innovative and sustainable ways to ensure the continuation of essential ecological processes for a harmonious coexistence with nature.
Judges' comments
A wonderful imaginative exploration of nature, science and drawing
Prize
$500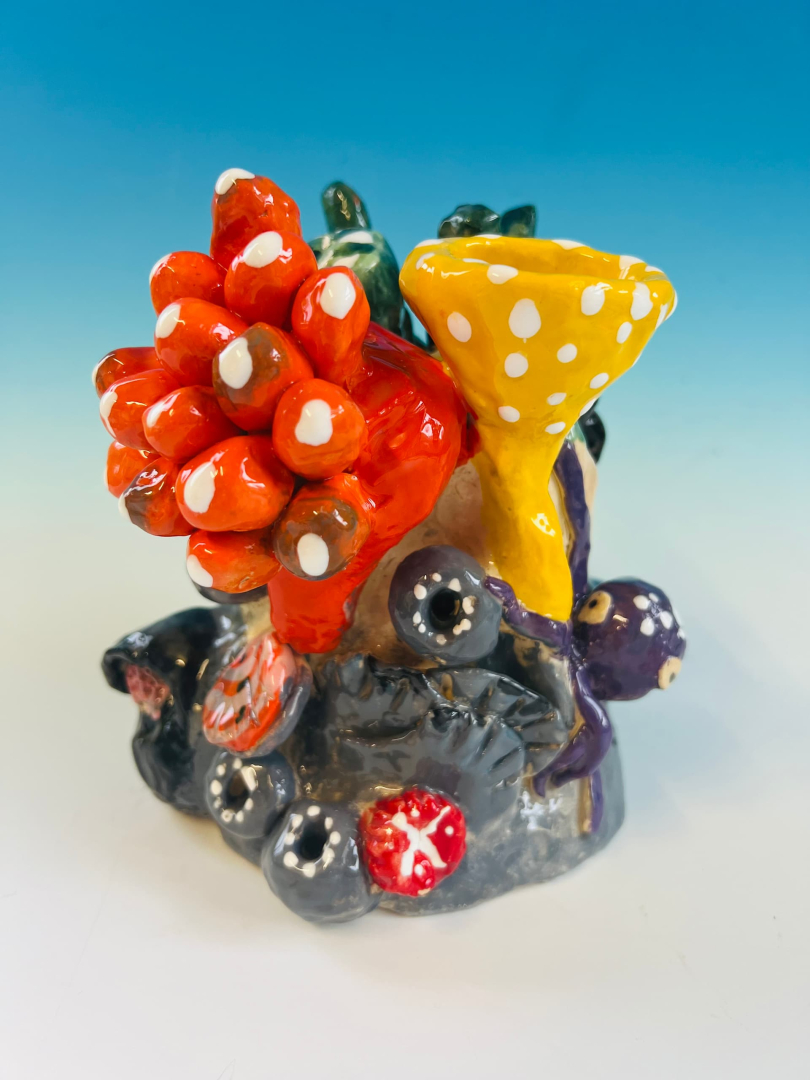 IMOGEN MADDISON - Life and Death of a Coral Reef
Artist statement
Walker Ceramics School earthenware, stoneware, Amaco underglaze, 35 x 25 x 25cm
When I visited the Great Barrier Reef it made me sad that it has started to lose its beauty and that it is dying due to humans polluting and destroying it. My sculpture represents the beauty of the reef through the use of vivid colours but the dark colours show how it is starting to fade and how the animals that live in the reef might lose their home. I used techniques including pinch pots, coiling and hand sculpting to create lots of shapes and textures to show the variety of wildlife that make up the reef. I hope my sculpture motivates us to act now to save the reef and all the animals and plants that live there.
I have always loved drawing, colouring and painting and have attended art classes since I was 6. Just over 2 years ago during an art class I made pinch pots out of clay and quickly developed a passion for ceramics.
Judges' comments
Fabulous ceramic investigation of a coral reef. Full of colour and joy and a call for knowledge and protection.
Prize
$500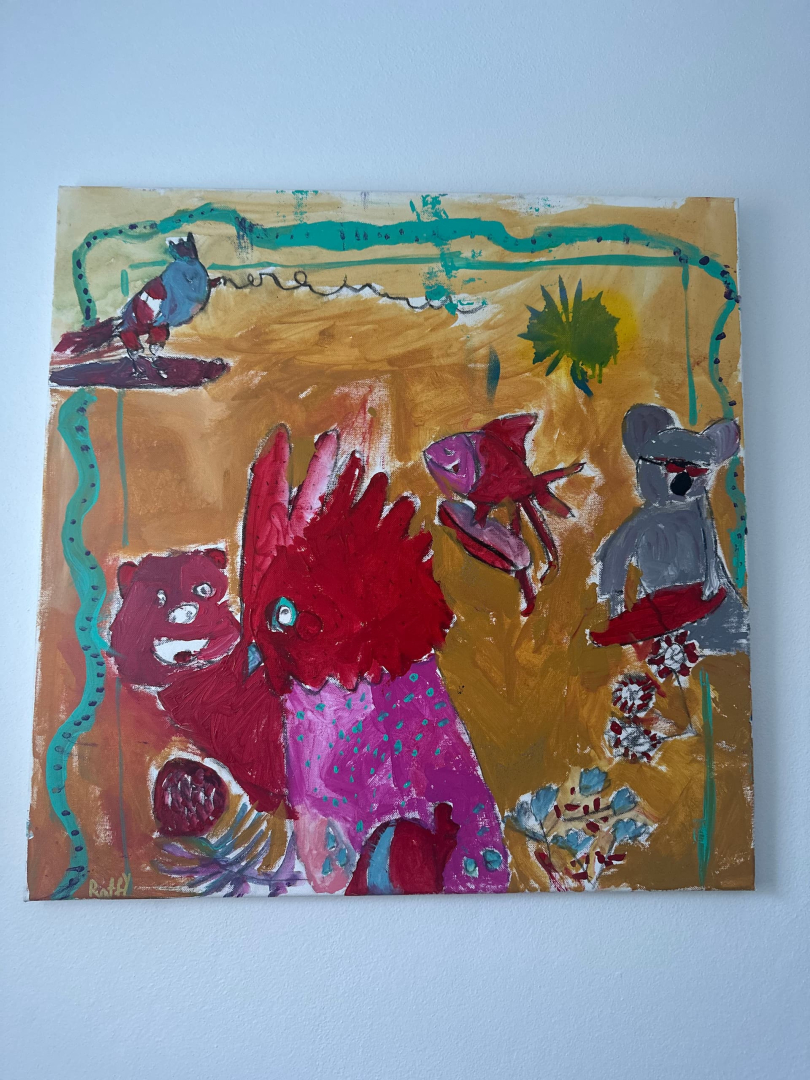 RAFERTY STANLEY - Cheeky Quokka and his friends
Acrylic on canvas, 40 x 40cm
Artist statement
I love nature, and the animals I see in Australia. I especially love sea animals. I also love painting and drawing. It makes me happy to make a painting of beautiful Australian animals we need to take care of for our future.
Raffy is 7 years old in Year 1. Drawing and painting is a passion, and he spends all his spare time with a pencil or paintbrush in his hand. One of his favourite things to do is attend after school art classes.
Judges' comments
Such a lively, loving painting sharing Rafferty's love of nature and calling for the care of our natural world.
Prize
$500
Highly Commended
DANI MU - Alive
Alcohol markers, pencil, 25 x 70cm
Young artist/designer 13 - 18 years
Two Joint winners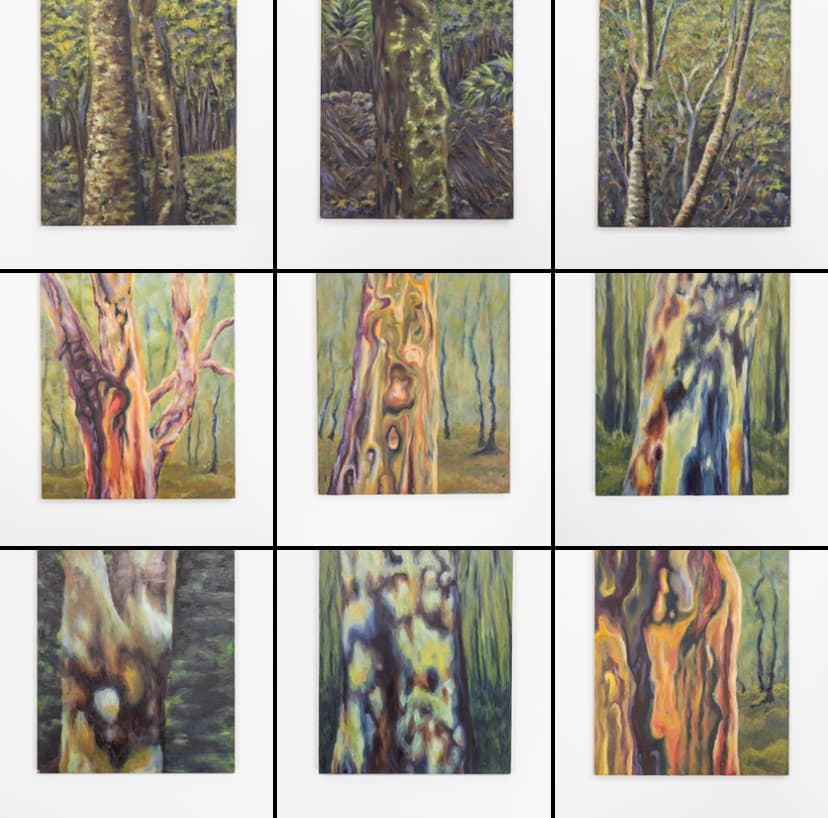 CHARLOTTE YAN - Devolution
Acrylic paint, paint medium, ink, 100 x 170cm
Artist statement
Devolution is the idea of reverting back to a form from the past over time. My collection of works explores this concept by examining the impact of humans on what once was a pristine environment.
My investigation of Narrabeen Lagoon revealed a history of light industries which punctuated the banks of the lake. A program of revival and replanting has resulted in regenerated vegetation with little evidence of the sites' polluted waters and industrial past.
Judges' comments
A beautiful painterly study of the richness of trees – both aesthetically and for a regenerating environment.

A very beautiful, considered investigation of the Narrabeen Lagoon.
Prize
$1,000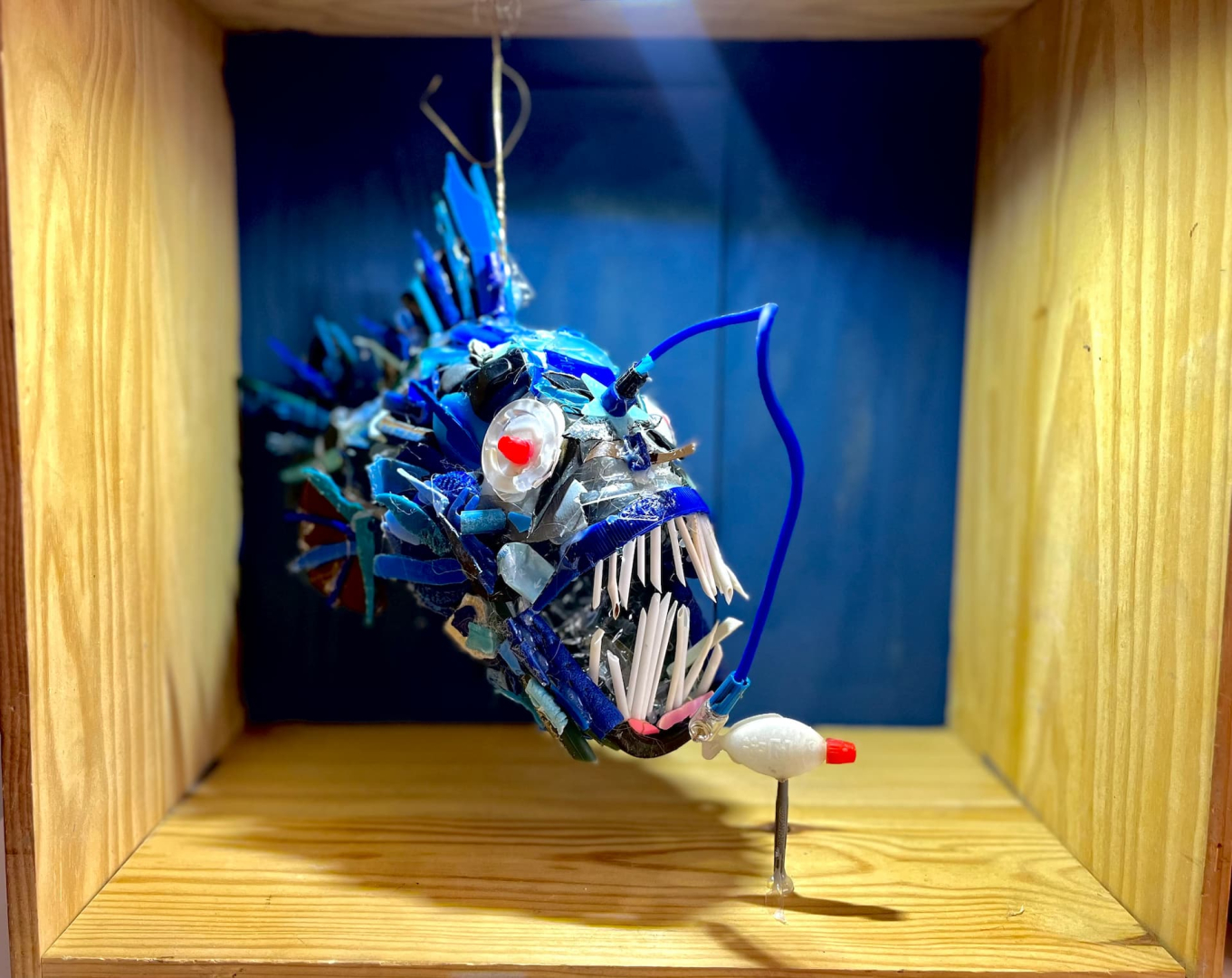 JASPER HARTMANN - Plastic or Prey
Found beach plastic, found wooden box, paint. 60 x 75 x 25cm
Artists statement
I created this work using scavenged beach plastic mainly from the Eastern beaches of Sydney. I also used an old wooden box found on the roadside. My idea was to demonstrate the impact of micro plastics on our ocean creatures and the fact that plastic is becoming the "dominant species" on our planet.
I am a year 9 student who loves drawing and painting and also customising found objects and clothing. I love the idea of turning everyday junk into something amazing.
Judges' comments
A wonderful sculptural depiction of a deep-sea fish using the noxious plastic found materials polluting our seas.
Prize
$1,000
Highly Commended
EMBER McCABE - Ripple Effect
Black artline pen on paper, using a mixture of hatching and stippling techniques, 117 x 84cm