Manly
The Place
Manly: known as the gateway to the Northern Beaches and Sydney's premier beach destination offering an eclectic mix of waterfront restaurants, bars and laneways bustling with cafes and independent traders.
The town centre is nestled between the harbour on one side and the ocean surf beach on the other, just 17 kilometres north west of Sydney CBD and 15 minutes away on the fast ferry. The Corso is the spine of Manly stretching from harbour to beach, lined with local heritage buildings. Branching off The Corso, Darley Road, Sydney Road, South and North Steyne and Belgrave Street as well as the vibrant evolving laneways all offer an array of shops, cafes and services.
Manly is a very happening place. There's a lot to do from snorkelling at Shelly Beach, to cycling the length of the famous Manly Beach. Early morning beach training and ocean swims start each day and as the sun goes down quirky night-time venues open, frequented by a youthful population from around the world. Events pepper the annual calendar, always offering something extra, even to long term Manly locals.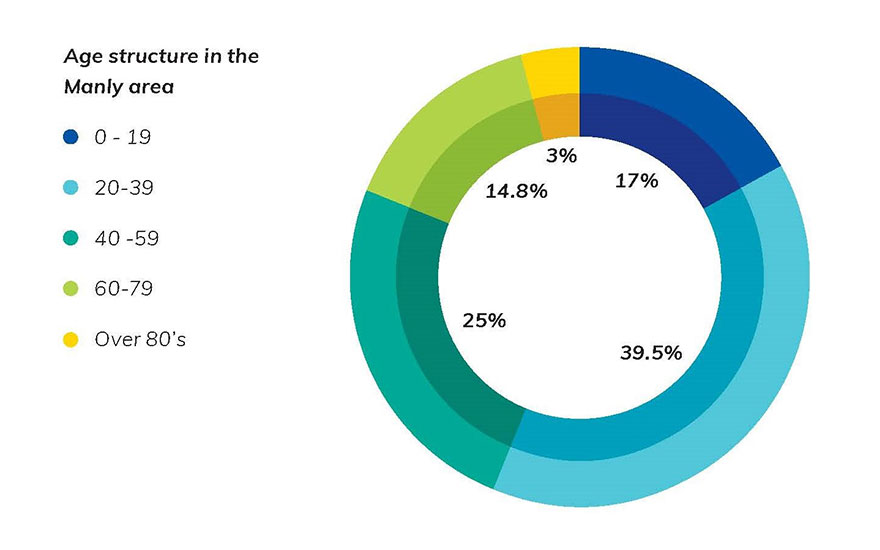 The People
Manly is home to a multicultural community with a large European influence.
Like much of the Northern Beaches, Manly has a health and wellbeing vibe with many healthy food choices, yoga studios and fitness clubs. Manly is also the entertainment centre of the Northern Beaches with a busy nighttime economy and a number of large events through the year.
The area surrounding Manly town centre has a resident labour force of 9,210 people, 68.9% work full-time which is significantly higher than the Northern Beaches and Greater Sydney figures of 61.2%.
The Manly population is a youthful one with a far higher proportion of 25-39 year olds than the rest of the peninsula. Manly is also a multicultural hub for the Northern Beaches with large UK, European and South American communities.
What's Happening Here?
Manly is Sydney's premier beach suburb. It's defined by its natural assets; impressive beaches and surf breaks, coastal walks, ocean pools, marine reserves, National Parks and the harbour.
Manly makes the most of these gifts, with thriving surfing, scuba-diving, swimming and surf lifesaving scenes. Manly is a busy tourist hub that attracts international and local visitors. Visitors are warmly welcomed, with a concentration of visitor services, accommodation and recreational offerings in the town centre.
The Corso, an open-air shopping mall, boasts global and independent traders, buskers, water features and playgrounds. Waterfronts, side-streets and laneways are bustling with restaurants and bars, cafes and boutique retail.
In the summer Manly is at its busiest, but there's activity all year around. Taste of Manly Food and Wine Festival and Manly Jazz are popular annual events, and markets, carols, sporting-events, exhibitions and festivals are popular fixtures on the events calendar. Manly is also an employment hub. It has a high level of local job containment, employing almost 4700 workers from the Northern Beaches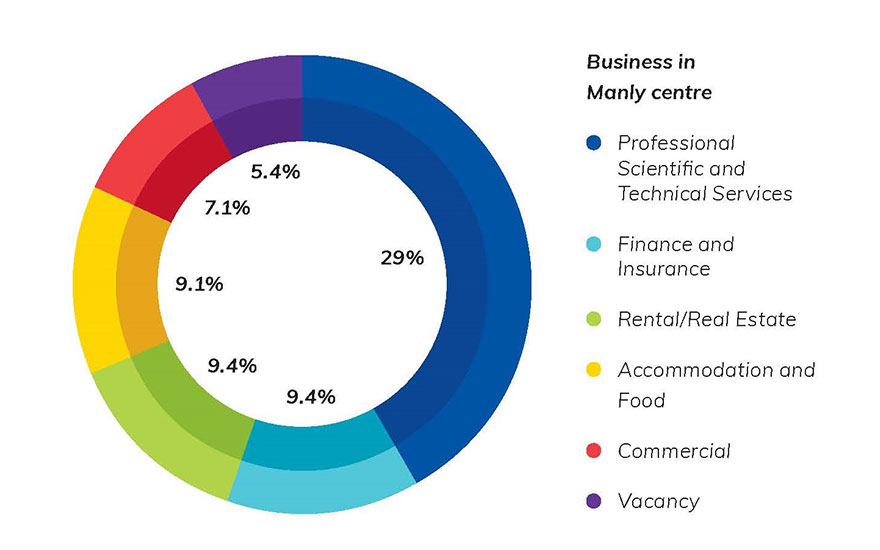 Who is doing Business Here?
Manly town centre has significant hospitality and retail offerings.
Accommodation and food services constitute 9.1% of local industry while retail makes up 6%. The scale of the accommodation and food sector is much larger than the NSW average, and shows Manly's economy is underpinned by tourism. Retail industry levels are proportionally high in Manly.
Professional, scientific and technical services represents 29% of industry in the Manly town centre, which is markedly higher than the Northern Beaches (20%), and NSW averages (13%). A significant driver for local economy and employment, this industry group is largely housed in first and second storey offices and includes occupations such as architects, engineers, market researchers and other consulting professionals.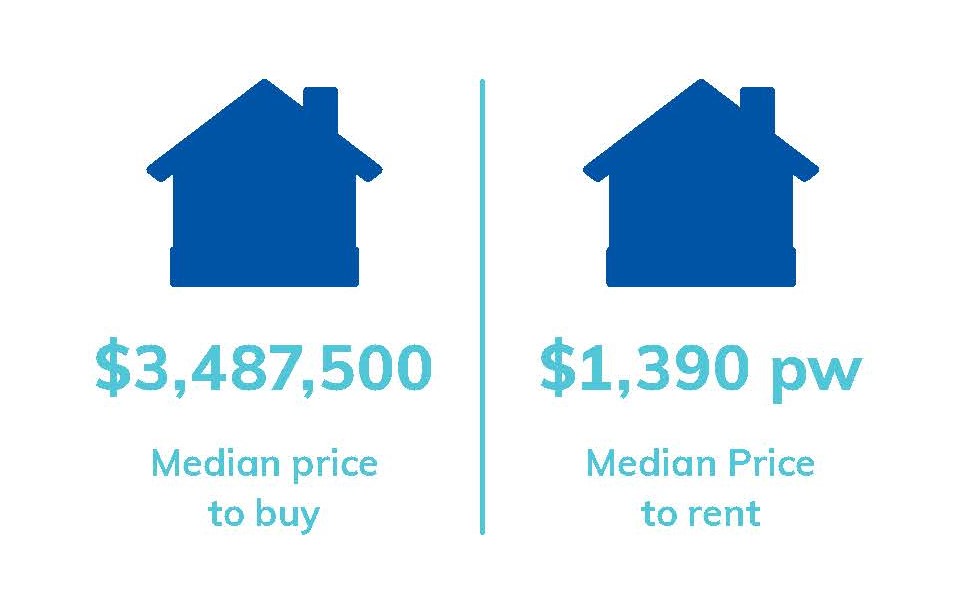 Land Use
Across the Manly suburb, 10% of all dwellings are free-standing houses. The majority of these are outside Manly CBD 1.
Home ownership rates (49%) are lower than the Greater Sydney average (59.2%) 2.
A slightly lower than average number of households own their property outright (25.1%) compared to the Greater Sydney average (27.7%) 3.
The proportion of renting is high at 42.7% compared with the Greater Sydney average of 32.6%. Renting in Manly is highly concentrated within the CBD 4.
Rental of private properties is popular in Manly with 544 homes and 222 private rooms available through online websites in October 2018 5.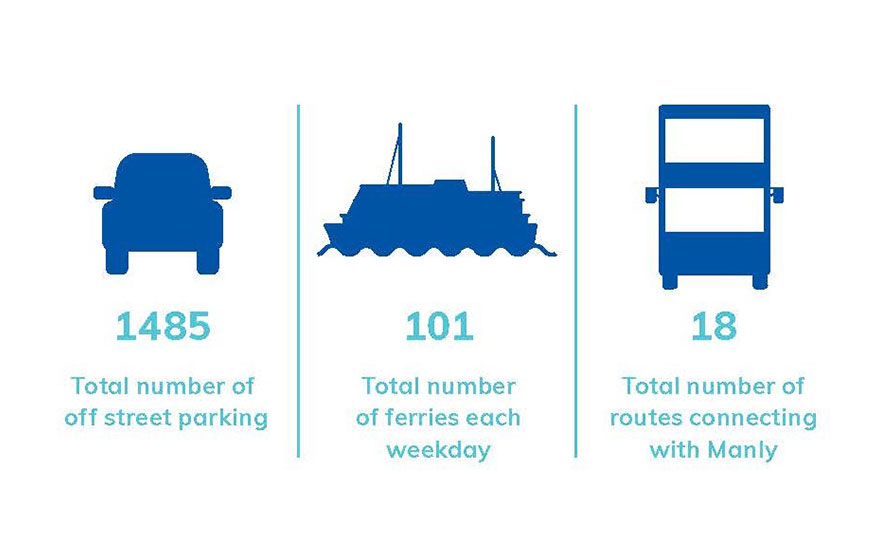 Getting There And Around
The Corso, Sydney Road and surrounding laneways offer pedestrian friendly zones with The Corso being the main tourist attraction.
Many visitors flock from the ferry wharf through The Corso and down to Manly Beach; Australia's best beach as voted by Trip Advisor in 2018. Manly is a very accessible centre with multiple modes of transport on offer. There are 18 different bus services that stop in Manly town centre, plus Council's Hop Skip and Jump bus linking Manly town to the suburbs of Manly ward. Ferry services connect Manly to the CBD and many on and off-road cycle paths, provide recreational routes and promote cycling as a method of transportation. Once you arrive in Manly, there is space to park over 600 bicycles.
Manly town centre has a walk score of 97 which means it is a walker's paradise as daily errands do not require a car. Manly is also the end-point of two long distance walks, firstly the Bondi to Manly walk which stretches 79km around Sydney Harbour and the soon to be completed 36km Coastal Walkway from Palm Beach to Manly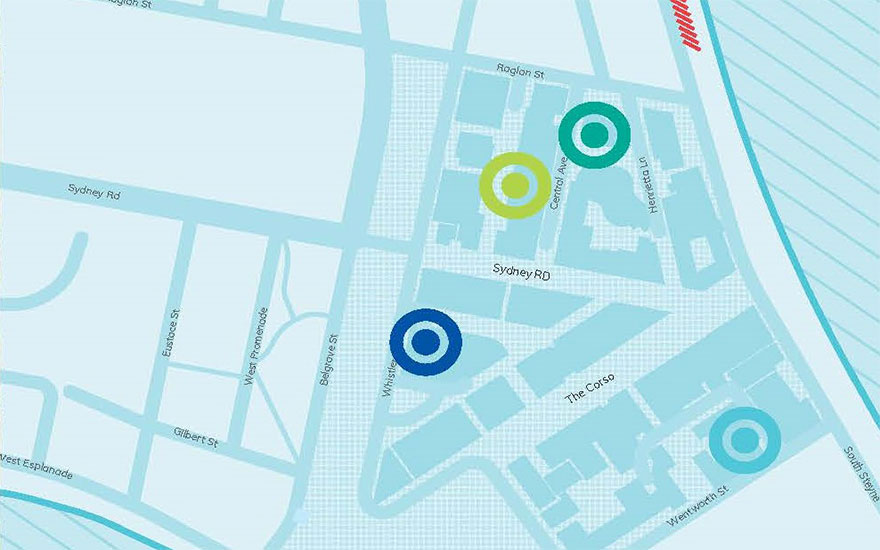 Parking
Manly town centre has four Council car parks with two hours free parking.
Pacific Waves - 170 spots, 2 hours free parking
Manly National - 212 spots, 2 hours free parking
Whistler Street - 313 spots, 2 hours free parking
Peninsular - 292 spots, 2 hours free parking
Beachfront - 378 spots, 4 hours free parking to residents
---
References
* 1 https://profile.id.com.au/northern-beaches/dwellings?BMID=20&WebID=340
* 2 https://profile.id.com.au/northern-beaches/tenure?BMID=20&WebID=330
* 3 https://atlas.id.com.au/northern-beaches#
* 4 https://profile.id.com.au/northern-beaches/tenure?BMID=20&WebID=340
* 5 https://www.airdna.co/vacation-rental-data/app/au/new-south-wales/sydney/manly-fairlight/overview