What is a PPA?
A power purchase agreement (PPA) is a long-term renewable electricity contract between a buyers group or buyer and a generator or vendor.
Why would I consider a PPA for my business?
A PPA can help local businesses make significant savings on their energy bills. It will also help businesses offset their carbon emissions, boost their environmental reputation and contribute to meeting global and local climate targets. While businesses with high electricity usage (over 100MWh/year, or approximate energy spend greater than $32,000) are most suitable, we encourage smaller businesses to also consider registering their interest. 
Council has made excellent savings since putting a PPA in place, and we are well ahead of anticipated dates in our climate change targets.
How can Council help secure a good PPA for my business?
We're supporting local businesses by helping to facilitate a group of buyers from the Northern Beaches business community to secure a 100% renewable, long-term electricity PPA.  A buyers group can collectively scale up buying power whilst cutting time, complexity and the cost associated with 'going it alone'.
We appointed Business Green Energy in March 2023 as the aggregator to facilitate the buyers group for Northern Beaches businesses and other high energy using organisations to tackle rising energy costs and carbon emissions.     
We hope to execute the group PPA in early 2024. We are now encouraging businesses to share their interest in participating in a PPA and sign up to our buyers group today.  
Why is Council involved in promoting a PPA?
There are more than 32,000 businesses on the Northern Beaches who, between them, are responsible for 38% of C02 emissions, of which around 61% is from electricity emissions. This is markedly higher than residential electricity emissions in relation to overall residential C02 emissions.
We're assisting local businesses with their sustainability goals via Council's Sustainability Business Network.  By supporting them to join a group PPA, we hope they can achieve their net zero goals, and help deliver Council's commitments towards net zero in the community:
reducing carbon emissions in our community by more than half by 2040
achieving net zero emissions by 2050 (although are looking to achieve this by 2030)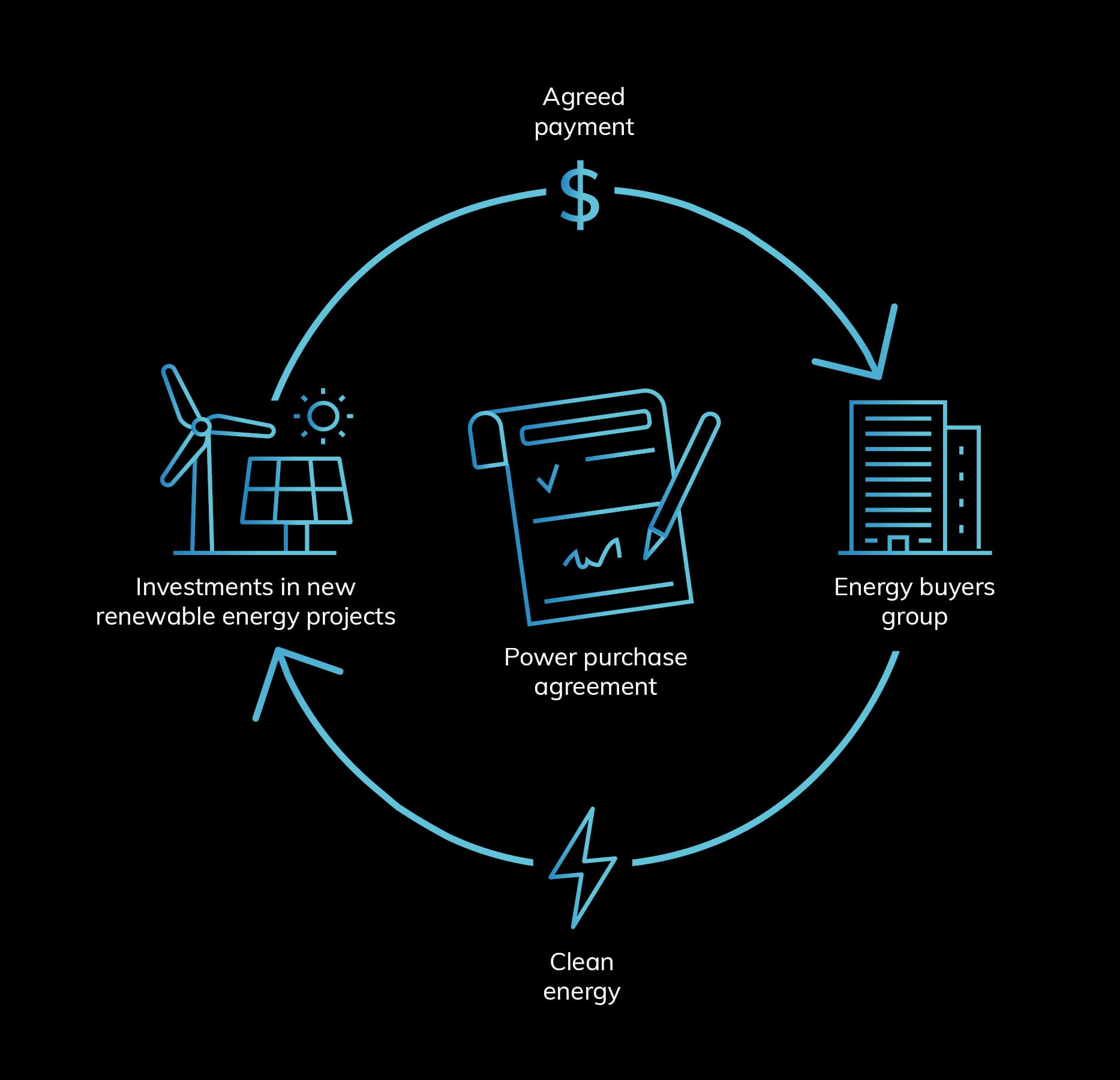 Information webinar
Check out the recording of our latest webinar, held on 22 March Switching to renewable energy webinar to discover the benefits of a PPA for businesses and organisations.
Where can I register my interest for my business to join a group PPA?
If you are a local Northern Beaches business or organisation (with premises and electricity consumption within the LGA) and would like to register as a potential interested buyer, please complete the short form below. This information will assist us in determining your suitability for a group PPA. We will contact you as and when more information becomes available.