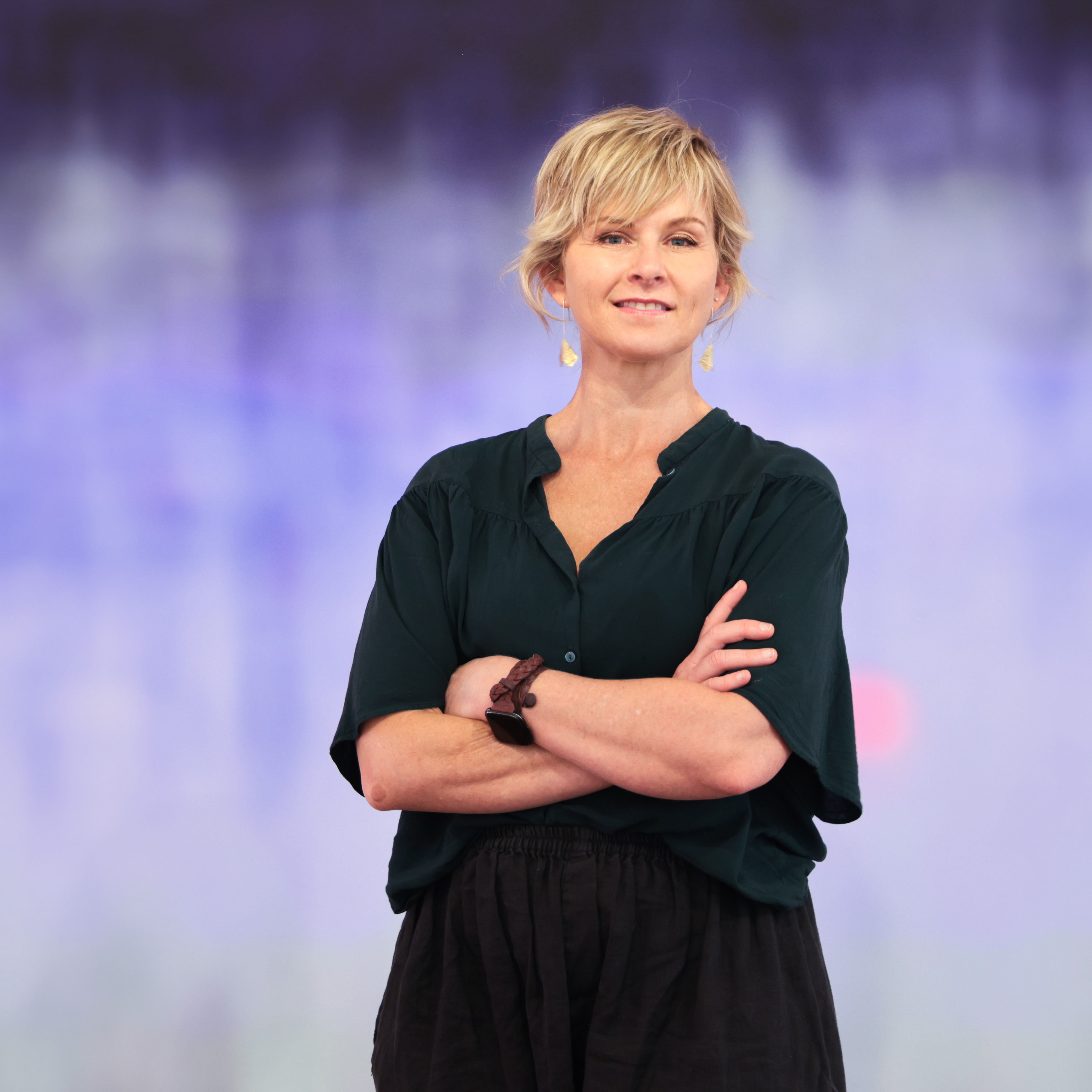 Local Creative - Susie Dureau
Susie Dureau's oil paintings, light installations and spectrogram collages are portals into other worlds: both real and imagined. Translating environmental concerns and personal experiences into visceral landscapes, her works draw you in and invite non-literal interpretations. They speak of the wildness and primal nature in humankind.
With a practice based in curiosity and a belief in continuing education, Susie has studied at the National Art School, Charlie Sheard Painting School (formerly in the Northern Beaches), University of Brighton (England), and University of Technology Sydney. She lives with her family on the Northern Beaches.
See Susie's work in her current exhibition at Curl Curl Creative Space, 'Soundscape: Dialogues with the natural world'. Wed 18 - Sun 29 Oct, 10am - 6pm daily. Find out more.
Rumour has it (based on your interview with the Art Wank podcast) that you have an incredibly tidy studio. In an interesting contrast, your work often has a wild energy to it.
Is a clear physical and mental space important to the way you work?
I believe my studio habits began for practical reasons - I was using lead-based paints and I had young children so naturally I was taking every precaution to make sure that no paint ended up where it shouldn't be. Having said that, I do feel internally chaotic a lot of the time so having order in my external world is a way of channeling that energy in a specific direction. It's probably a bit of both!

You've described your work as "an investigation into the forces that bind humankind into a kinship relationship with the more-than-human world".
What is the 'more-than-human world' to you, and why did you start investigating it?
More-than-human is a term used to describe everything in the world that is not human. It was first coined in the 1990s by a posthuman philosopher called David Abram. It's a counterpoint to the term 'non-human' because it acknowledges the agency of the world that exists independently of human perception (and is therefore not defined by its role as 'not' human).
I began this investigation because as a landscape painter I feel an ethical imperative to respond to the current climate emergency and the best way that I could do that was by challenging the way I had been looking at the landscape, and to listen to the landscape - to better understand all the entanglements between lives in the landscape - human life being just a small part of that.

Drawing upon 15th Century European oil painting techniques, your work often contains classical aesthetics applied in an entirely contemporary way. You've also written about the 19th Century Romantic painters and how you share their enquiry into the connection between people and the natural world.
What are the key influences on your work, from the art world or elsewhere?
I think all art builds upon its predecessors. The oil techniques that were developed by the 15th C European painters have stood the test of time and can be applied to contemporary concepts. In these soundscapes, the lens of modernism persists, and I'm aware of the influences from abstract expressionism and colour field painting. And yes, the sentiment of the Romantic painters in there too… seeking to express the human experience as it navigates between technology and the natural world. As a contemporary artist, I'm aware that my work inevitably involves reinterpreting ideas and technologies that have brought us to this moment.

Your current exhibition visualises sound recordings. What interested you in this?
The shapes of sounds as seen on the spectrograph astounded me. Each bird I recorded had its own unique shape, and some of the most intricate and delicately structured shapes resulted from what, to my ears, were the most obnoxious of noises: a cockatoo's vocalisation forms little towers of lace, and the lorikeet's chattering forms drifts of bubbles.
I began to hear differently once I could see the sound, and vice versa. For example, the pulsing that you will see in the images of the kookaburra call prompted me to listen more intently, and it followed that I began to feel the vibrations of the sound in my body.
This is what I refer to as 'cultivated curiosity' - noticing a little thing and allowing it to take you in a direction you hadn't thought of before. I consider the process as a kind of technologically-mediated synesthesia because the boundaries between the senses come down.

The works in your upcoming 'Soundscapes' exhibition are the most abstract depictions of landscape in your published works so far. However, perhaps they're also the most directly connected to it, with actual sounds from the natural world deciding the shape, texture and tone within the works.
Do these works capture something you haven't been able to in more literal portrayals of the natural world?
It's true. In many ways these works are my most 'whole' depictions of the landscape to date. They aim to express my experience in the landscape, which of course, is informed by so much more than a scene before my eyes. Included are elements of the scene that were out of the visual frame but contributed richly to the landscape in that moment.
It is serendipitous that fresh landscapes emerged from the sonic shapes. Elements of Western landscape painting, including atmospheric perspective, the horizon line, and the interplay of circular and vertical forms, surfaced as I delved into the layers of spectrograms. I see it as evidence of the beauty and complexity of the natural world, that I might arrive back at a scene that I might imagine before my eyes, via sound.

You seem to be exploring new mediums and techniques all the time, from oil paintings, to working with light and video, and now sound. You've described this inter-disciplinary approach as a way to expand your vocabulary around paint.
What is your next exploration, will it be a departure from paint?
Actually, I want to go back to paint for a while! The beautiful thing about painting is that it comes from the body. All the ideas that I've been exploring, I want to bring back into my physical being and painting is a way to do that. Experimentation has been essential to that process - it's in my nature to be curious and seek new ways of doing things.