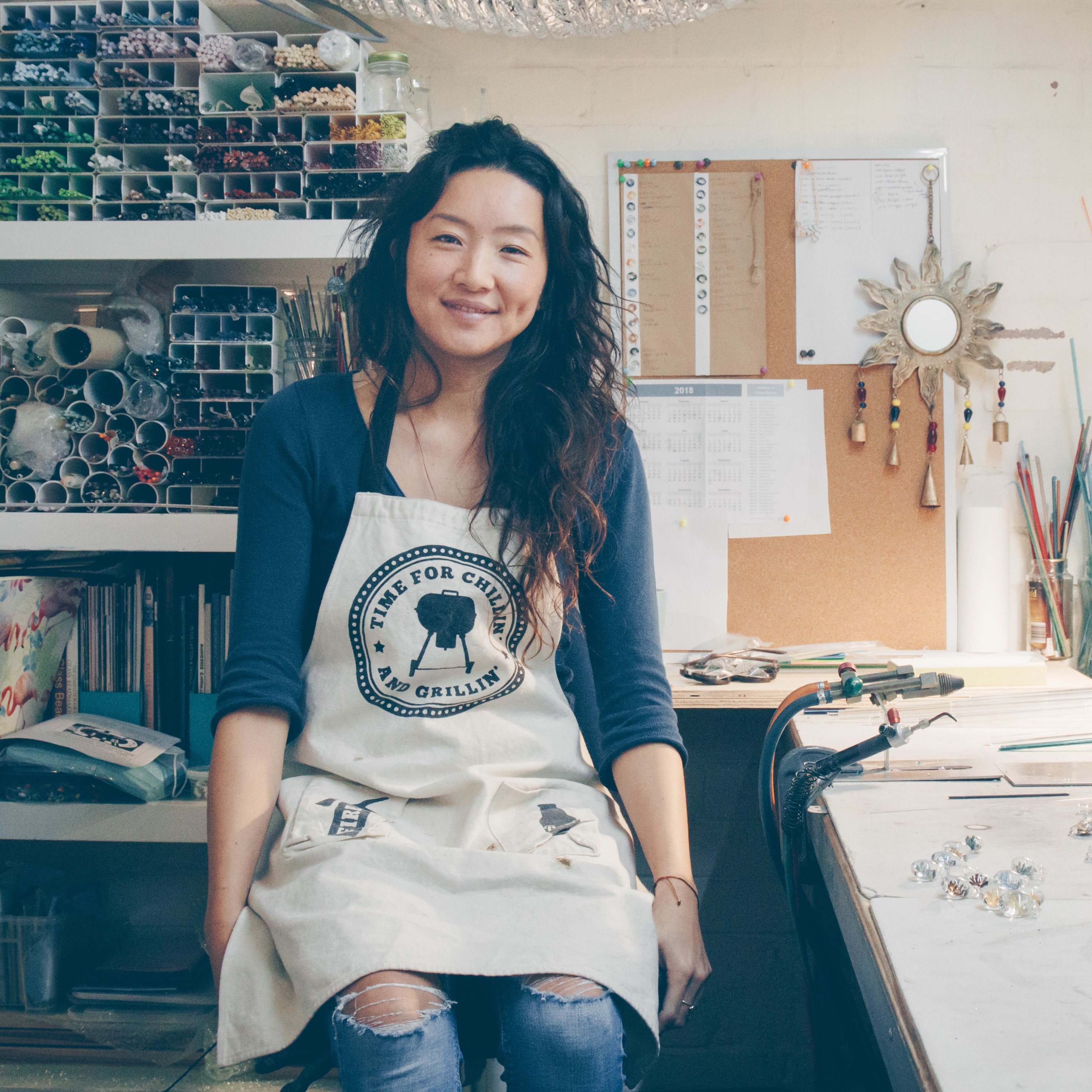 Local Creative - Mai Oshima
Japanese-born Mai Oshima started her business as a glass artist and designer in 2013 and has developed a wide range of jewelry and sculptural pieces inspired by the Australian landscape, particularly the ocean and beaches where she surfs.
Mai is one of the most popular designers in the Manly Art Gallery & Museum Design Shop, where you'll find her glass jewelry inspired by the organic shapes and hues of the coast. The Design Shop exclusively features local artists and makers from the Northern Beaches.
In 2005 Mai completed a Bachelor of Fine Arts from Kurashiki University of Science in Japan, where she developed a firm foundation in the art of making objects in glass under the guidance of internationally renowned artists Toshio Iezumi and Akihiro Isogai.
Mai works in a coworking studio space, La Creme Creative Inc in Brookvale. When crafting her handmade jewelry, sculptures, and straws, she uses a variety of glass such as Italian glass, recycled glass (empty bottles and window glass) and Borosilicate glass (Pylex glass).
See Mai's work at the Makers Takeover of Manly Library, part of Creative Open 2023. See the full program.
Can you please tell us briefly the process of making your glass pieces? How long does it take you to make one piece?

The main technique I use is called flame working. I use a type of Bunsen burner, which is connected to a gas bottle and oxygen concentrator, and melt the glass rod or tubing to shape the glass in the flame. I need to use specialised tools as the hot glass and fire cannot be touched by hand. Depending on the type of work, I will work in the flame between 10 to 40 minutes for each piece. Finally, glass needs to cool slowly so after making the work I place it in a kiln to cool it overnight.
How do you determine the correct temperature for the glass you're working with?
I can roughly estimate the temperature by watching the colour and movement of the glass being worked on. As glass heats up it softens and changes colour. The glass will crack if the temperature is not right and cannot be repaired, so keeping it the right temperature is very important.
What is the most challenging piece / shape you have ever created?
I made a wave sculpture when I was in residency at the Curl Curl Creative Space. It was created by combining 100 glass canes into two waves on a wooden frame. The process involved melting glass rods, mixing colour and pulling them out to create a wave shape. I repeated this process 100 times. It was very challenging to create the wave shape because I couldn't touch the glass with my hands. Assembling the two waves with so many pieces of glass was a challenge!
Which other art forms do you enjoy and how do they influence your glass jewelry?
Previously I focused on the technical possibilities of glass, but now I am also interested in glass as jewelry. Over the last few years I have started incorporating sterling silver into my work. Using silver has enabled me to broaden my horizons.
How did you come about being a design shop supplier?
I participated in the handmade market held by Northern Beaches Council about 8 years ago. One of the staff from Manly Art Gallery & Museum approached me and suggested I contact the gallery shop. I have been a supplier since then. I have received great feedback on my jewelry, particularly the stud earrings which I have been told are "selling like hotcakes!"
What initially drew you to the Northern Beaches area and how do you incorporate the surrounds into your art practice?
The ocean is a big inspiration for me. I often get ideas while I am swimming or surfing in the water. I came to the Northern Beaches because I fell in love with the beaches here.