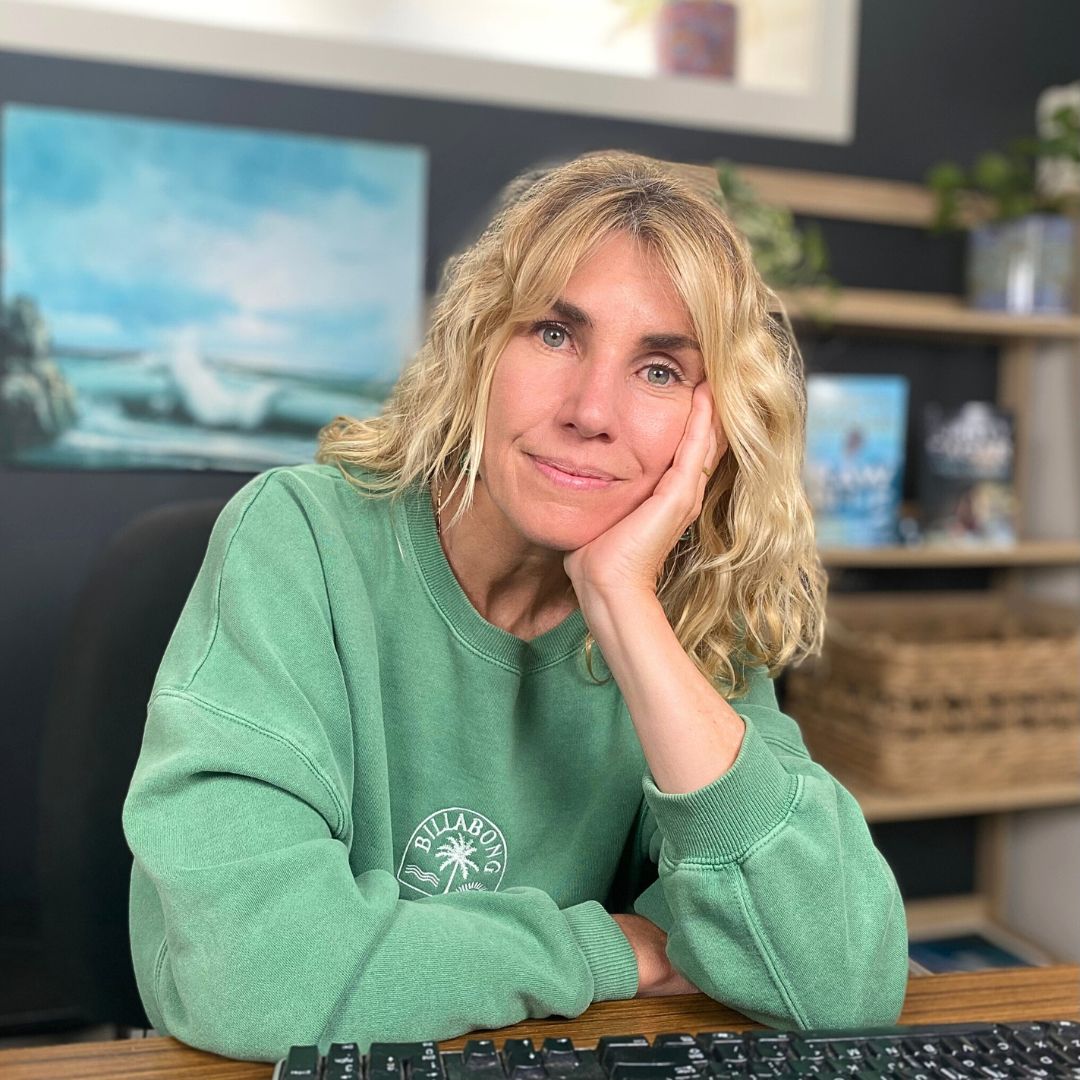 Local Creative - Kirsty Eager
Kirsty Eager is an author, screenwriter, and surfer. Not always in that order.
An award-winning author, Kirsty is currently working on the screenplay for the film adaptation of her novel Raw Blue. Sharing her knowledge and experiences in creative writing, each year she speaks to thousands of students, making her craft accessible and intuitive.
Having grown up on a farm in Central Queensland, now you'll find Kirsty on the crest of a wave with fellow members of the infamous North Narrabeen Boardriders' Club.
Before you were first published, you travelled around Australia in a troop carrier named Tony Adams. Was it named after the English football (soccer) player, and why that name?
Wow, that's some in-depth research! Yes, our troopy was named after the English football player, because it was also an old warhorse with a drinking problem. I'd become fascinated with Tony Adams, captain of England and Arsenal, after reading his memoir, Addicted. That troopy took us the whole way around the country and only broke down once – although he did us the great favour of crossing the Nullabour and making it to Kalgoorlie before doing it. I wish we'd never sold it.
Further, how did travelling around the country impact your writing?
It gave me the headspace and time to start my first attempt at a novel. Before that I'd been working on trading desks in Sydney and London and it was a pretty hectic lifestyle. And before that I'd been juggling jobs putting myself through uni.
Taking that time out meant the chance to establish a writing habit. More importantly, I experienced what it was like to be obsessed with a story. That in turn meant my attitude to work changed. I was prepared to do whatever it took to get by, as long as it allowed time and energy to be creative. It's not been easy, but it's been rewarding in other ways, and I got better at living with uncertainty.

Your award-winning novel Raw Blue is being developed as a feature film. What has this process been for you, and how have you found the shift from writing a novel to writing a screenplay?
When Raw Blue was published, I felt a tremendous sense of grief. I wrote its first draft in an intense two months (later, I found out I was pregnant with my first child, so maybe that was the source of the ferocious energy) and the story helped me in ways I can't even explain. Instead of racing to get it published, I was protective, reluctant to let go. When it was released, I lost access to a world and characters that I needed.
Writing the screenplay has meant going back into that world. And enough time has passed that I can see new layers to the story. That all sounds very romantic, so I should also say that it has been HARD. As my producer often remarks, adaptation is the difficult way to learn the art of screenwriting, especially when the main character's journey is internal. It is a completely different art form, and I don't think I could have learned it any other way than doing it (again and again and again, thanks to its many drafts). Like the rhyme, you can't go over it, you can't go under it, you have to go through it.

Along with your collaborator, cinematographer Nicholas Price, you've been awarded an Arts & Creativity Grant from Council (Congrats!) to help fund the post-production of a short film based on a moment from Raw Blue.
Why did you want to make the short film, and why did you choose this moment?
Nick and I (and the thirty or so other locals involved with the short film) are stoked to have received an Arts & Creativity Grant to help cover the costs of post-production. It's a showcase for all involved and we can't wait to share it.
In the beginning, we wanted to make the short film because it was based on a scene from Raw Blue and worked as a proof of concept for the feature.
As it developed, though, the project took on a life of its own, and pretty much demanded we make it on its own merit. The result is a successful standalone short, which means we'll be able to enter it into film festivals. It's about a young girl who finds joy in surfing as her family implodes during a day at the beach. If you can remember being a kid and shouting, 'Just watch then! Mum! Dad! Watch me!' – you'll relate. If you're a parent who's completely lost your patience on what's supposed to be a 'Good Day' – you'll relate.
Lastly, production was challenging: four locations, four primary cast, twelve supporting cast, shooting in the water, shooting in cars . . . and it worked. We're so happy with how it came together. It shows what we're capable of as a team and a community. It introduces an impressive new talent in our lead, Bodhi Jay Moana, and benefits from the contribution of experienced industry professionals, like actor, Matt Starling, and composer, Dylan Frost.

You grew up on a farm in Central Queensland and regularly return there. You now live on the edge of the coast and surf in the infamous North Narrabeen Boardriders' Club. What attracts you to the extremes of these environments?
The natural world in both places. This will sound weird, but life here for me is water and air, and life in CQ is earth and fire, so moving between the two makes me feel whole. Also, the people I surf with have lots in common with the people I grew up with: they're wild and they know how to have a laugh. I love them very much.
Also, is it too obvious to assume that North Narrabeen is your favourite surfing spot on the Northern Beaches?
In all its moods and conditions.

You seem to be passionate about teaching creative writing, and sharing your knowledge and skills. Why is teaching important to you, and why do you think learning about creative writing should be important to all of us?
I think it's important that we become story smart. Humans are the only species who communicate in stories. We are consuming stories all the time, and it's good to question some of them, and, of course, to develop storytelling as a skill for your own life. While people struggle with creative writing, they intuitively understand story, and when they view writing through that lens, it's a breakthrough. I help them with how to funnel story into words in a step-by-step way.

Your work is often described as being more candid than typical YA (Young Adult) novels. For example, the Australian Bookseller and Publisher journal has said your latest book Summer Skin "is a book that all older teens should read for its frank discussion of sex, feminism, relationships, and growing up."
While Clementine Ford (Australian writer and broadcaster) has described it as, "Realistic, modern and moving . . . as smart as it is hot. The feminist love story that girls have been waiting for."
You're very honest in your writing, while caring for your reader at the same time. What is your approach to writing for and communicating with young people?
I'd hope it centres around respect. I know I can tap into that time in my own life very easily. Also, I've spent the last twelve years working with schools and students, and the young people I've met are kind and open and honest, so I would hate to do them the disservice of moralising or glossing over the real stuff. And I believe that what we connect to in stories are the characters' emotional journeys, so it's important to include all of the emotions, not just the easy or acceptable ones.

What influences your writing? Other authors, or inspiration from elsewhere? Are there things you think we should be reading, watching, or doing?

Lived experience is probably the biggest influence. By that, I don't necessarily mean that everything I write is based directly on my life, but it's informed by it, and also by people I've encountered, or been fascinated by, for whatever reason.
I'd hate to be prescriptive, but what I've noticed with my own habits is that I am now viewing stories at a tremendous rate and I don't necessarily appreciate them as a result. I've always been a big reader, but now it waxes and wanes. I'm trying to be more disciplined about cordoning off reading time every night – simply because you're more engaged when you're reading; it's better for your brain.

What's the next story you want to tell? And will it be as a novel or film? (if you're allowed to share that!)
I'm developing two other projects at the moment. They both have potential as novels and/or TV series. I've also just realised as I answer this that they are both about parenting, but in wildly different ways.
Photos