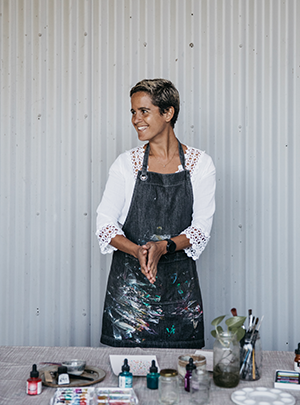 Local Creative - Rosario Huergo
Argentinian born, Northern Beaches local Rosario Huergo is one of our studio resident artists, currently residing in our Curl Curl Creative Space. With ten years of practice behind her, Rosario's painting has evolved over time, incorporating new techniques and materials to her works, including inks, lino cuts, paper, plastic, acrylics and pastels.
She uses the surrounding nature of the Northern Beaches as her inspiration, including the bushland and ocean, with each work telling a story that invites the audience to interpret in their own way.
What initially drew you to the Northern Beaches area and how do you incorporate the surrounds into your art practice?
I was initially drawn to the Northern Beaches area because of my deep love for nature and the ocean. Moving to Australia, my goal was to live close to the water and immerse myself in the beauty of the natural surroundings. The Northern Beaches area is filled with magical places that inspire me and help me reconnect with myself. When I go for walks, I always look for different plants, rocks, shapes, and textures for inspiration for my paintings and drawings. I also collect materials that I can use for painting or as inspiration for my art. Sometimes, I even take paper and ink to the beach and let my creativity flow.

As a photographer, I am constantly taking pictures of the landscape and beaches, which is another source of inspiration for my art.
How do you hope the studio at Curl Curl Creative Space will develop your connection to the local arts community?
I am excited about the opportunity to have a studio at Curl Curl Creative Space because I hope it will help me connect with the local arts community. I believe there is a big movement happening around the Northern Beaches area with art, music, and culture, and I want to be a part of it.

Attending art exhibitions and meeting local artists always inspires me. I hope that having a studio at Curl Curl Creative Space will enable me to build a strong network of artists in the community and collaborate on new and exciting projects together.

Art is a universal language that connects people from all walks of life, and I hope to use my studio space to create a welcoming and inclusive environment where artists and community members can come together to share their passion for art.
You have a diverse practice across various media, including painting, plastics, and photography what inspiration keeps you motivated to continue to make new work?
My main inspiration for creating new work is life itself. My paintings often tell stories about things that have happened, my thoughts, or my feelings. They are a reflection of the constant change and growth that we all experience in life.

Trying new things and experimenting with different mediums is also a great source of inspiration for me. I love creating an open space to play and explore my creativity without any restrictions or boundaries.

Ultimately, creating is a therapeutic and joyful experience for me, and I am constantly motivated to keep making new work because it brings me happiness and fulfilment.
Last year you did a diploma in art therapy and now you're studying creative expression. How do you hope to use these qualifications in the future?
After completing my diploma in art therapy, I wanted to learn more so I started studying creative expression and my goal is to create a safe and playful space where the community can come together and express themselves through art.

I believe that creativity is an essential part of who we are as humans, and my hope is to help others realize their creative potential. My vision is to create an inclusive environment where people can come and express themselves without fear of judgment or criticism. By using my qualifications in art therapy and creative expression, I hope to inspire and empower others to tap into their creativity and use it as a means of self-expression, healing, and personal growth.