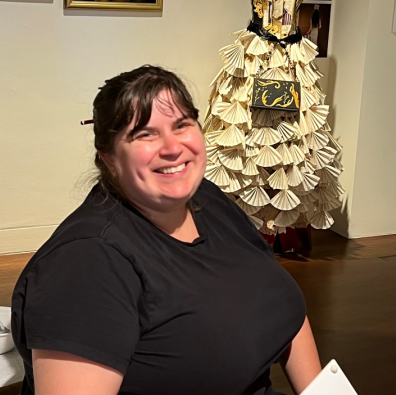 Local Creative - Jodie Dowd
Jodie Dowd is a Noongar basket weaver, curator, and consultant, belonging to the Menang, Gitja, and Wangai nations of Noongar Boodjar (Noongar Country, Western Australia). The Northern Beaches has been her home for the past three years. Jodie was recently selected for the 2023 Emerging Curator Program.
In its inaugural year, the Emerging Curator Program offers a mentorship to a curator in their early practice. Supported by the Manly Art Gallery & Museum curatorial team, Jodie is delivering an exhibition as part of the Creative Open program at Curl Curl Creative Space.
Jodie's exhibition is a direct response to the announcement of the 2023 NAIDOC theme, For Our Elders. Featuring multidiscipline works by seven First Nations artists, this exhibition honours Elders, Ancestors, animal kin and Gai-mariagal Country through song, poetry, paintings, photographs, and cultural practices such as weaving and bush dyeing.
Exhibition
For Our Elders: Honouring our Knowledge Keepers
Mon 3 – Sun 9 Jul, 2023
Curl Curl Creative Space
What skill sets or areas of practice are you hoping to develop through the Emerging Curator Program? What has been your biggest take away?
This program has enabled me to build connections on the Northern Beaches with local First Nations community members and the extended community. Building these connections has been important as I am still a visitor to Gai-mariagal Country and wanted to ensure that I acknowledge and honour the local community and Country. This program and the connections I've made have enabled me to hone my collaboration skills with fellow curators, community members and creatives, while also learning practical design exhibition from the team at MAG&M.

To prepare for the exhibition I did a Walk on Country with Karen Smith of the Aboriginal Heritage Office and some of the artists who will be part of the For Our Elders exhibition. This grounding experience saw us walk barefoot together through Dee Why lagoon overflow, over sandhills and rocky platforms to Long Reef. This walk was important for us to introduce ourselves to Country and learn the history of the place, see animal kin on Country, and listen to yarns. Moments from our walk were captured in photographs which visitors can view at the exhibition.
What are the goals / stories of the exhibition? What message are you trying to convey?
The exhibition focuses on community responses to this year's NAIDOC theme "For our Elders" to honour our knowledge keepers. Elders are the heart of our families and culture, as they carry our stories and cultural practices. It is an opportunity to honour their resilience, strength and guidance.

Each artist in the exhibition shares stories about their Elders through different mediums:

Worimi artist Krystal Hurst, Gillawarra Arts, through watercolours;
Wiradjuri writer Nathan mudyi Sentence, the Archival Decolonist, through poetry;
Wiradjuri artist Skye Burton, Colour for Country, through paint;
Barkindji creative Kent Morris, Kent Morris Art, through digital media;
Yugambeh-Minjungbal and Tanauta creative Courtney Marsh through weaving; and,
Noongar singer-songwriter Bumpy honours our Elders through song and weaving.

I have used words and photography to honour our Elders.

I'm particularly excited about a collaborative artwork we're creating as a shared response to the NAIDOC theme. First Nations Community are coming together and using eco-dying techniques with Gianna C Hayes. We're also sharing knowledge about bush tucker with Bush to Bowl which makes that experience extra special.

This public program was made possible through a NAIDOC grant from the National Indigenous Australians Agency.
How do you think the Curl Curl Creative Space will enhance your exhibition?
I love the history of this place from its origins as an old Scout Hall to becoming a cultural hub for all the community to gather and create and learn. This creative space focuses on sustainability, and I love how it honours Country with gardens surrounding the building, enabling birdsong to filter through the exhibition space or wildlife to watch over an outdoor workshop.

The Curl Curl Creative Space offers a blank canvas which made this exhibition very easy to visualise and curate. The flexible layout has enabled me to keep the exhibition open and circular, with visitors able to decide how they view the exhibition. e9 Design and I have co-created a special seating area in the heart of the space for community to gather, weave and yarn with Elders, the artists and myself.
What public programing will you run in conjunction with the exhibition?
There are a range of free public programs accompanying the exhibition, including:
Exhibition Opening
Sun 2 Jul, 1pm
The official opening of the exhibition is a free ticketed event during NAIDOC week featuring a Smoking Ceremony by Bush to Bowl, Elders opening address, an exclusive performance by award-winning neo-soul Noongar singer-songwriter Bumpy.
Limited tickets available, registrations essential.
Weaving Bridges workshop
Fri 7 Jul
The Aunties at Weaving Bridges are offering a free weaving workshop during the exhibition to celebrate NAIDOC week. Find out more on the Gai-Mariagal Festival website.
Events Sold Out
Drop-in weaving sessions
Elders, artists and the curator will be onsite throughout the week and will be offering afternoon drop-in weaving sessions on select dates. If you wish to bring in your own raffia to use, Tegan at Ngumpie Weaving and String Harvest have weaving kits for sale both online and onsite at the store in Narrabeen.
Interested in the Emerging Curator Program?