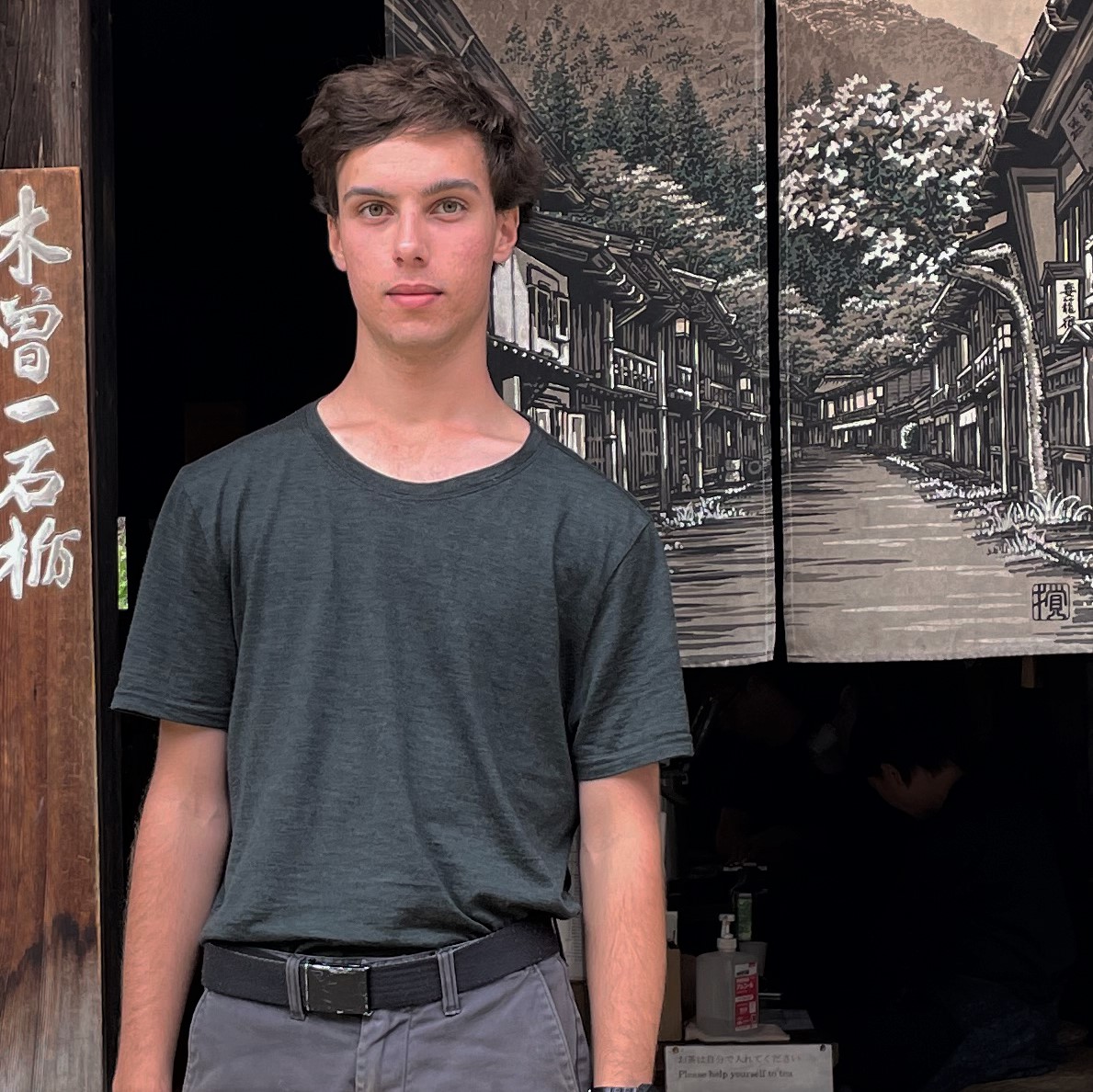 Local Creative - Enzo Munro
Multi-disciplinary artist Enzo Munro is a finalist in the 2023 Environmental Art & Design Prize with his work, Scrapyard Hound. At 16 years old, Enzo has recently found a passion for welding and working with scrap metal. In particular, he describes repurposing found objects, like bicycle chains and smoothie cups, to target a modern audience and reframe our perceptions of waste.
Inspired by the growing trend of 'Junk Art', where waste products are transformed into artworks, Enzo hopes his work prompts us to consider the true scale of the waste issue and appreciate the imperfections of life. The story behind his sculpture is of a stray dog cast out of society, like an old car exhaust treated like a piece of junk. This work asks us to appreciate the potential of waste, both creatively and practically.
See Enzo's work as part of the Environmental Art & Design Prize, 4 - 27 August 2023. The work of Young Artists and Designers can be seen at Mona Vale Creative Space Gallery, with other sections at Manly Art Gallery & Museum and Curl Curl Creative Space. Visit the website for further details.
What is the environmental message of Scrapyard Hound?
In creating 'Scrapyard Hound' I wanted to draw attention to the increasing amounts of junk being produced in today's world. It is sad that the mentality today is to always buy new stuff, rather than repairing or repurposing what you already have. I took the opportunity to repurpose material that could have otherwise gone to waste by creating a sculpture from it.


Where did you find all the metal pieces to create it? Is your kitchen missing a smoothie cup?
Fortunately, no kitchen appliances were harmed in the making of my sculpture. Materials were mostly sourced from local scrapyards and mechanics in the Brookvale and Manly area. It was quite a challenge to source all the pieces, as many pieces were mixed with plastic and rubber, which cannot be welded. I was originally planning to use an old engine for the body section, but soon realised that it would be way too heavy! The majority is car parts, such as exhaust filters, suspension, etc., as well as a motorbike chain for the tail, which I could bend and weld to achieve a nice shape.


Why did you choose to make a dog?
I chose to make a dog, inspired by my own (real) dog Ronnie. I aimed to make the sculpture to-scale with her. This made the design process easier, as I could compare the sculpture to her throughout construction and see which scrap pieces would be the most suitable. The rustic nature of the sculpture also reinforces my theme of environmental awareness, in recognising the effect of pollution and waste on animals.


In your artwork's description you mention the growing trend of 'Junk Art'. Can you tell us a bit more about that art movement, and why you like it? Also, are there any artists working in Junk Art you're inspired by?
Junk Art is a form of art where everyday objects, waste, etc. are repurposed into an artwork or sculpture. It has a recognisable environmental focus, both by raising awareness of environmental issues, and repurposing materials that would otherwise go to waste. It is also quite interesting to look at, being able to recognise objects that you see and use in everyday life. One artist I was particularly inspired by was Chris Bissett (@ecophage on Instagram), who creates sculptures and other items from scrap metal, including a miniature camera.


Welding isn't a common skill for young people. How did you learn to weld and what do you enjoy about it?
I first learned to weld in Year 9 Engineering at NBSC Manly Campus. I really enjoyed it, so I decided to do a welding project the next year. It is fun being able to create things out of metal, which is normally seen as hard and static.
I have only done MIG welding, which uses a welding rod with metal wire inside, which is heated up to a very high temperature and melts on contact with a surface. It's quite hard to get the hang of, but after doing it so much to make this sculpture I can say I have significantly improved. My teacher, Mr Forsyth, has a wide knowledge of welding and design processes, and helped me every step of the way to create my sculpture and develop my skills.


What kind of artworks would you like to make in the future, will you keep on making Junk Art?
I have done quite a bit of art recently, especially ceramics. I will probably make another scrap metal artwork in the future, as I have really enjoyed seeing all the seemingly unrelated pieces fit together into a coherent sculpture. I also wish to get into blacksmithing and metal shaping, which are similar to welding but have different techniques and processes.