The winners of the 2021 Eco Awards were presented at a special ceremony held at Glen Street Theatre on Wednesday 12 May.
Mayor Michael Regan said "these awards celebrate ordinary people, the unsung heroes, doing extraordinary things for the conservation of our environment and recognise community members who have volunteered their time and effort to enhance the region's diverse and valuable, natural habitat."
2021 winners
Congratulations to the 2021 winners and highly commended awardees.
Caring for Bushland
Winner: Rosalynd Gooding
Highly Commended: Lesley Stevens
Caring for our Coast
Winner: Brendan Donohoe
Highly Commended: Northern Beaches Clean-up Crew
Caring for our Waterways
Winner: Friends of Narrabeen Lagoon Catchment
Highly Commended: Anne Lanyon
Caring for our Native Animals
Winner: Joan Reid
Highly Commended: Justine Stewart
Sustainable Resources Award
Winner: Ann Jackson
Highly Commended: Joeline Hackman
Sustainability and Climate Change Award
Winner: Zero Emissions Sydney North
Highly Commended: Anyo Geddes & Sophie Scamps
Youth Individual Achievement Award
Individual Lifetime Achievement Award
---
Caring for Bushland
Winner: Rosalynd Gooding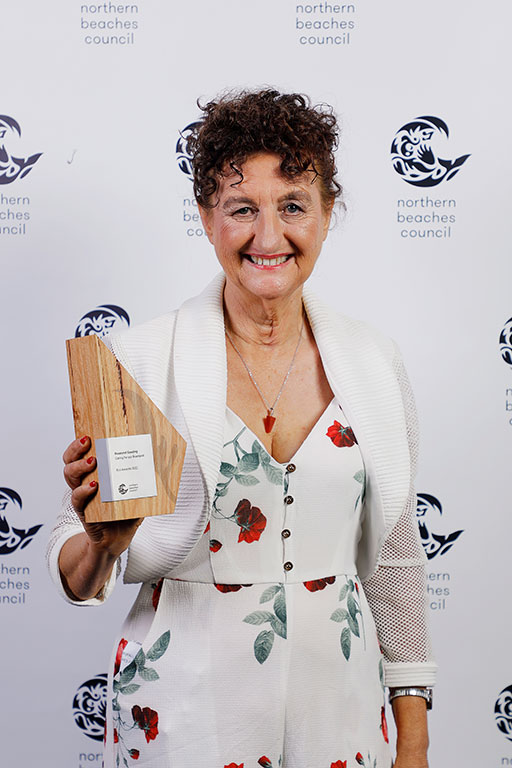 Rosalynd Gooding has played a leading role and worked tirelessly in the campaign to protect the Hillside Road Littoral Rainforest. Rosalynd ran a very successful campaign, for over 20 years, to finally protect the Endangered Littoral Rainforest on Hillside Road at Newport with the support of her neighbours, other Hillside Road Residents and the community. This Littoral Rainforest on Hillside Road, which adjoins Attunga Reserve, is an important wildlife corridor for the surrounding reserves including Porter Reserve, Kanimbla Reserve and the Crown of Newport Reserve in Newport.
 Rosalynd gained support of local residents, participated in many local community and Council meetings; spoke at independent assessments and environmental court hearings, and initiated an extensive letter writing campaign to the Council and local politicians. In the initial submission and following submissions. Rosalynd strongly urged the Council to preserve the site from any development. On 28 August 2019, Northern Beaches Council and the NSW State Government announced the purchase of the rainforest blocks in Hillside Road, Newport.  The Community, led by Rosalynd, had finally been victorious.
Caring For Our Coast
Winner: Brendan Donohoe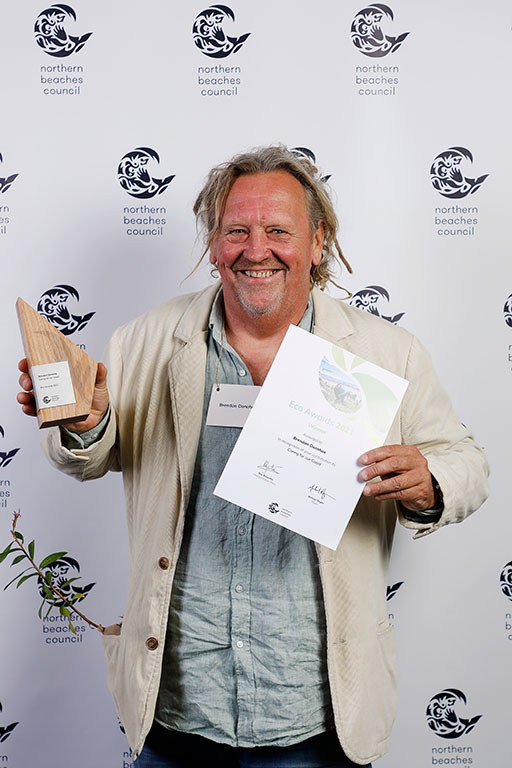 For the past 25 years Brendan Donohoe has been at the forefront of initiating protests, projects and programs with the pure aim of ensuring the protection and enjoyment of our waves and beaches in perpetuity. Brendan has a happy knack of gathering community members together, mentoring, leading and getting things done. Some of the many local projects include: - Rise Above Plastics Campaign; Working with Council and SLSC's to minimise the built footprints on our sand dunes; lobbying successfully for the upgrade of the Warriewood Treatment Plant; initiating & supporting the first local Boomerang Bags communities. In Avalon & Manly, giving evidence to Senate Inquiries regarding beach pollution findings; leading successful paddle outs for campaigns such as Fight for the Bight and Stop PEP 11; supporting the campaign for a Sydney Marine Park, as well as ongoing engagement with Sydney Water as the population grows and the outfall overflows in storm events put surfers and swimmers health at risk.
Brendan has devoted his last quarter of a century to reducing ocean pollution, preventing local marine habitat loss, challenging unsustainable coastal developments and sharing his understanding of coastal systems. "Use science and tell the truth" is one of Brendan's mottos.
Caring for our Waterways
Winner: Friends of Narrabeen Lagoon Catchment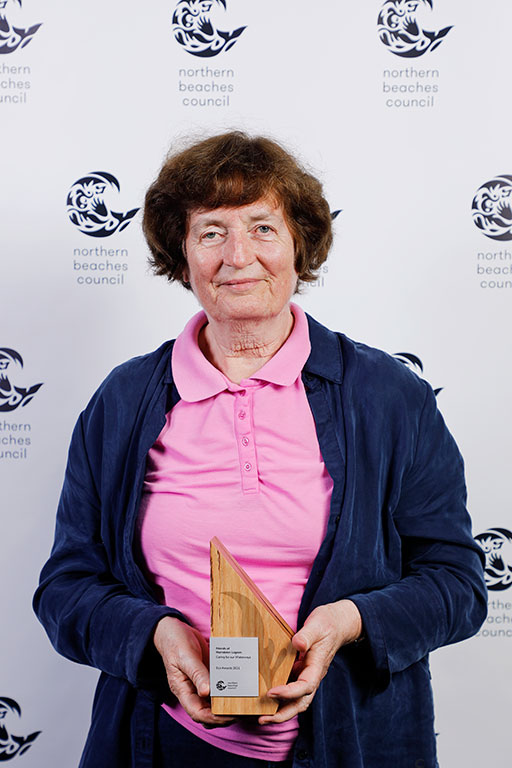 The Friends of Narrabeen Lagoon Catchment Committee members have been involved voluntarily over the years with various biodiversity surveys, creek studies and wildlife observations to add to the database of information about the high conservation values of the bushland in the catchment.  
Friends of Narrabeen Lagoon Catchment have organised four forums per year since 2005 related to local Aboriginal heritage and the flora and fauna of the area and methods for protecting those values.   They also organise regular bushwalks as well as weekly bush regeneration activities in Belrose and Wheeler Creek areas.   
They also prepare submissions to Northern Beaches Council when plans are being developed (e.g. the Housing Strategy) that will feed into the new Local Environment Plan.  Friends of Narrabeen Lagoon Catchment have worked alongside the Metropolitan Local Aboriginal Land Council to arrange for a grant to rehabilitate bushland badly degraded by mountain bike activities and to set up protection with signage for important Aboriginal heritage areas.
Caring for our Native Animals
Winner: Joan Reid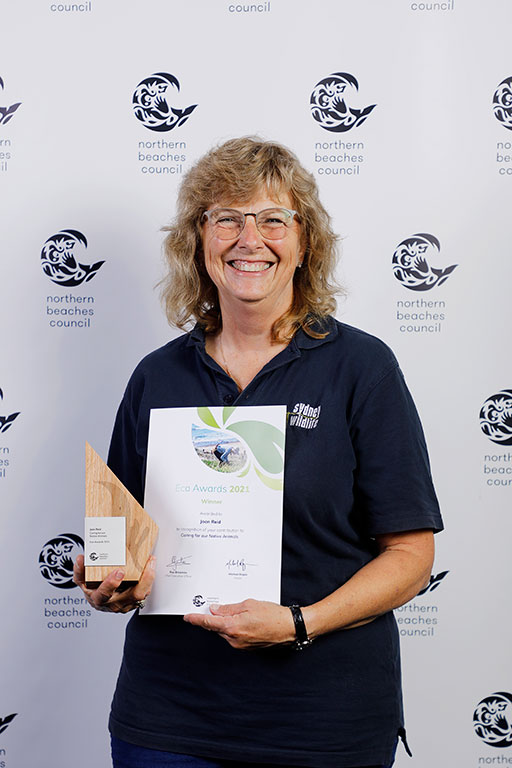 Joan Reid has been a volunteer with Sydney Wildlife Rescue for at least 14 years. Joan has been instrumental in fundraising for multiple wildlife projects that has exceeded an amount of $600,000!  She also manages the Sydney Wildlife Rehabilitation Facility, co-manages the Sydney Wildlife Mobile Care Unit, has set up multiple projects on Global Giving and does voluntary shifts in the wildlife office.   
Four to five years ago, Joan embarked on discussions with the Metropolitan Local Aboriginal Land Council to use part of Waratah Park (the old Skippy Park) in Duffy's Forest for the rehabilitation of injured wildlife.    The facility has seen hundreds of animals come through from initial entry to 'bush-fit' over the years - everything from kangaroos, sugar gliders, wombats and wallabies to turtles, goannas, sea-gulls and bandicoots. She has helped to write multiple training booklets for Sydney Wildlife Rescue which are essential for the correct rescue and care of our more unusual species. 
Joan  spearheaded the fundraising to buy and convert a Jayco Motorhome into a clinic for the treatment of injured wildlife. The Mobile Care Unit is now being used for regular 'clinic days' every week and multiple patients are being helped by our volunteer vets outside the Coastal Environment Centre in Narrabeen every week. 
Sustainable Resources Award
Winner: Ann Jackson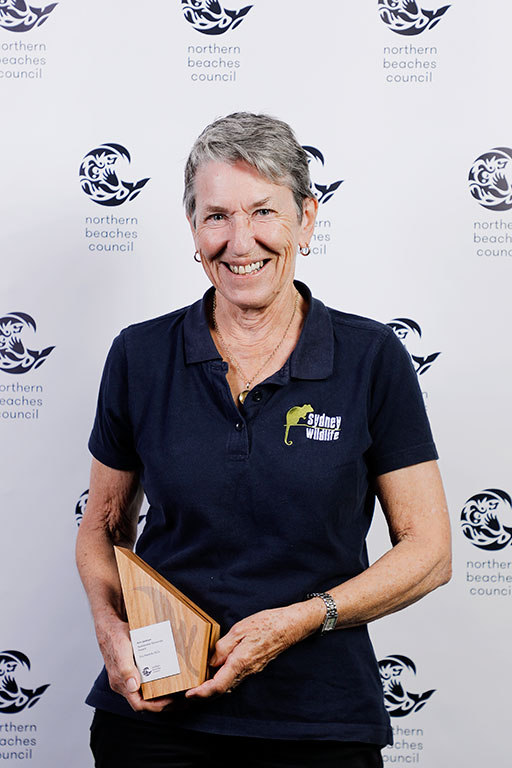 Anne Jackson is a wildlife carer, and a penguin warden at Collins Beach. In March 2019 Anne started a project called Medi Divert. This not-for-profit, was established to collect clean unused medical equipment from local hospitals, including Northern Beaches, and distribute it to vets and wildlife carers who provide free veterinary care to injured wildlife. 
Her concept was to collect-medical waste which was increasingly going into landfill, and that could easily be re-purposed and recycled.  Because of her interest in caring for injured wildlife, she saw a possibility of using these waste goods in animal care.  
In the two years that Anne has been doing this she has kept more than 2,000 KL of medical equipment out of landfill.  She has also saved 700lt of fluids from our waste water. Much of these fluids were used for animals injured in the fires of 2019/2020.  
As a Sydney Wildlife Rescue (SWR) member, Anne asks fellow members to nominate vets and organisations in the Sydney Basin, who look after native wildlife very well, to receive these supplies. 
Sustainability and Climate Change Award
Winner: Zero Emissions Sydney North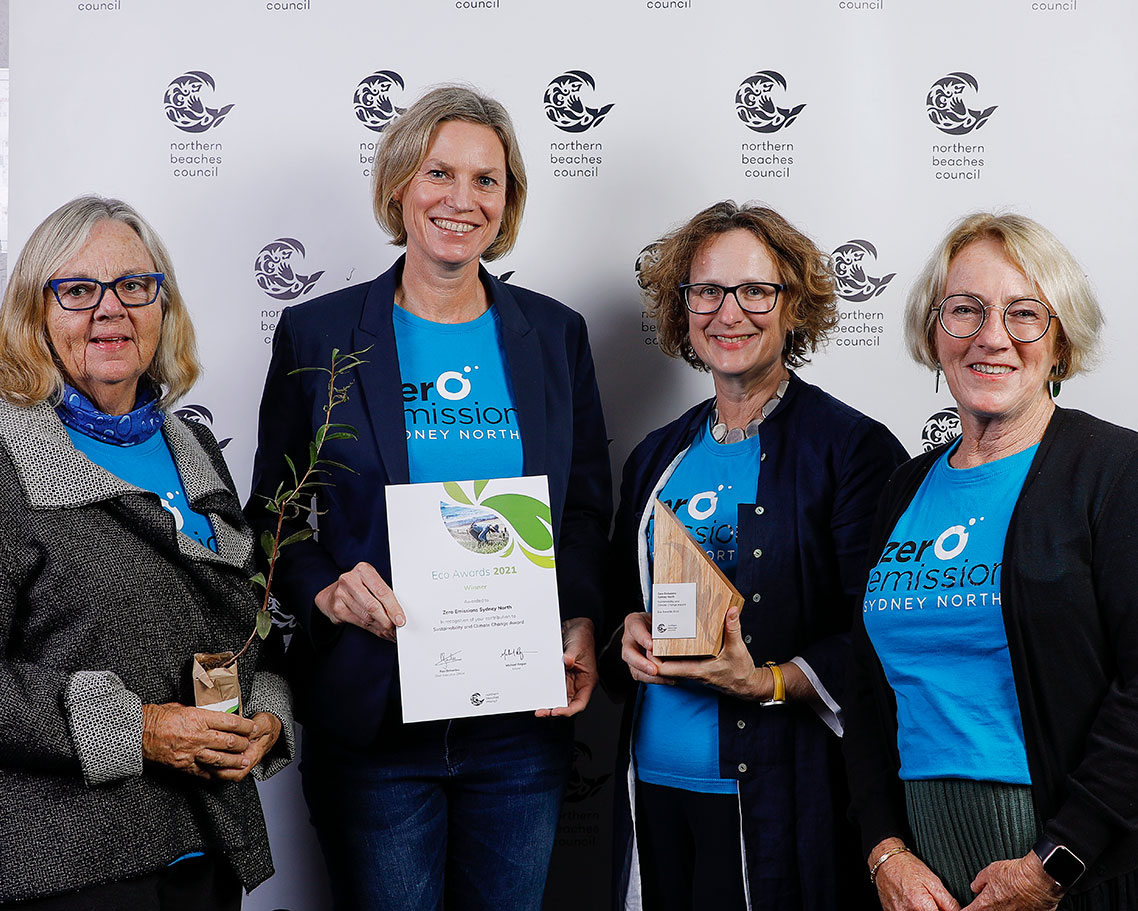 Zero Emissions Sydney North is a not-for-profit association of volunteers, working across the Northern Beaches and Lower North Shore. They are part of the national Beyond Zero Emissions network and their first urban zero carbon community.    Zero Emissions Sydney North was formed in 2019 (the first meeting took place in a café in Manly) and launched officially in 2020. 
Their mission is to offer our community swift, practical action to lower our emissions and support the work that Northern Beaches Council is already doing in this area. The Community Giving Fund will install solar systems for local charities and not-for-profits to lower their power bills and free up funds for their core programs. The aim is to build a community of like-minded people who learn from each other, inspire each other and keep each other on track to take action on climate change.
Youth Individual Achievement Award
Winner: Stephanie Evans
Stephanie Evans is the 17-year-old founder of the organisation, "Seas of Change." Seas of Change aims to raise funds and awareness for a variety of marine and environmental conservation efforts, including dugongs, sea turtles, climate change and plastic pollution.
Steph and her team run school talks, fundraisers and events in the community with one of their main focuses being to empower youth to take a stand for their environment, with a focus on the schools in the Northern Beaches. Among other things, Steph has been an Ocean Youth Ambassador and spoken in support of the Climate Emergency Declaration at the Northern Beaches Council.
She was also awarded Northern Beaches Council, 2021 Young Citizen of the Year. The School Talks Program has been able to educate, inspire passion and stir emotion within children by helping them to realise that they have a voice and can make an impact by following their dreams, even at a young age.
Individual Lifetime Achievement Award
Winner: Phil Colman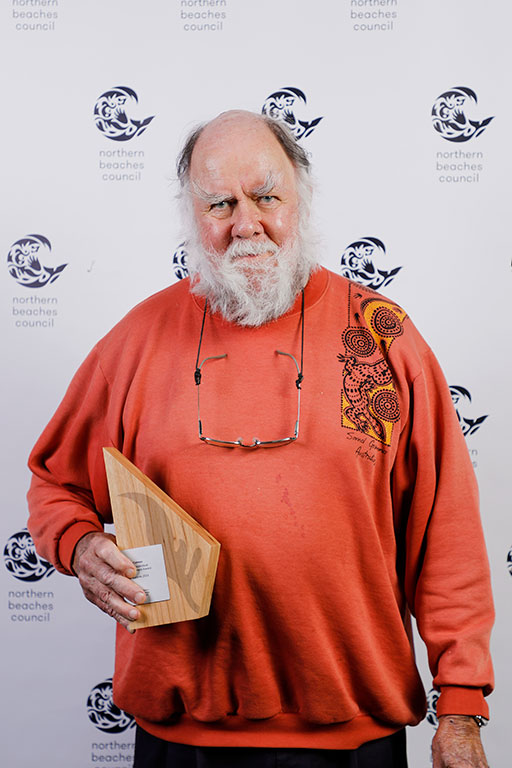 Phil Colman has made a lifelong contribution to the preservation of coastal environments on the Northern Beaches and the education of residents and visitors.
He is currently best known for his work at Long Reef. Phil's association with Long Reef has been a lifelong and passionate story of achievement and throughout his life he has actively championed measures to protect the reef. He was a driving force in the area being declared an Aquatic Reserve over 40 years ago and in the establishment of the Environmental Education Room in the former boat shed located at  Fishermans' Beach, Collaroy.  
Having observed and studied the marine environment and in particular temperate shore platforms for most of his life, Phil has become the expert that educators, scientists, journalists, government departments, students and interested members of the public go to for information about the fauna and marine flora of Long Reef Aquatic Reserve.
Phil was a founding executive member of the Narrabeen Lagoon Committee in 1977, which was formed to protect and preserve Narrabeen Lagoon and its remaining undisturbed natural catchment. He provided scientific information and played a leading role in organising public meetings and campaigns. 
Phil's influence on preserving the environment, though direct action and education, clearly extends not only throughout the Northern Beaches, but well beyond.