The Creative Library is a space for all who wish to learn, teach, explore, create and exhibit - no matter the skill level. It is a safe and accessible area for community members to come together and explore their creativity.
Located on Level 1 of Manly Library, the Creative Space is available for drop-ins or to book for exclusive use. Find out if the space is available for drop-in use by calling ahead on 8495 5023.
Space details
A sink (for water-soluble supplies only)
Linoleum floors for easy cleaning
Natural light
Easels
Large wall space
Tables, chairs and lounge space
Bookable glass cabinets and hanging rails for exhibitions
Enquiries
Are you interested in hosting a workshop or exhibition? Book the Creative Library during opening hours. After-hours access can also be arranged.
Cost: $30.80 per hour
$15.40 per hour for non-profit use
To register your interest, please submit a booking request form.
For further information, please email creative.library@northernbeaches.nsw.gov.au
Latest news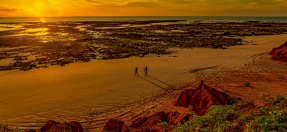 This month the Creative Library has Reg Gibson's artworks on display. Reg Gibson is a local Northern Beaches artist who...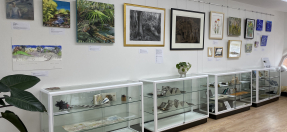 During December and January, the Creative Library has a group exhibition led by Rachel Carroll that was inspired by the...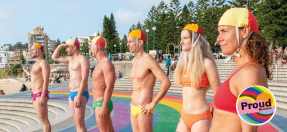 To coincide with Sydney World Pride, Lifesavers with Pride are hosting a photography exhibition in the Creative Library.